El Faro is an investigative newsroom that shines a light on corruption in Central America. Subscribe to our newsletter.

"We're not torturing here and we're not killing. What we're doing is defending a country and defending the majority."
That's not Nayib Bukele, but rather El Salvador's presidential commissioner for human rights and freedom of expression, Colombian attorney Andrés Guzmán, in an interview with El Faro's Carlos Martínez published in Spanish on Monday night.
"In terms of what is internationally defined as torture, I haven't seen it in El Salvador," he said.
Later in the interview, though, Guzman accepted that he has yet not interviewed any former detainee under the state of exception and did not clarify whether he has met with relatives of the at least 153 people, according to human rights monitor Cristosal, who have died in prison in the last year and a half.
The basis for his defense: "I can tell you with total tranquility that in the Attorney General's Office there are no reports of torture."
He tried to divert attention back to the gangs, and to how the reality of violence has changed under the state of exception.
"The true victims in this country, who are the victims of the gangs, are reporting [to the authorities]," he said, and spoke of "reparations for so many victims after so many years." "A year ago," he said, "El Salvador was a totally different country and violence was totally different."
The commissioner, appointed in April, asserts that his job is to "generate a presidential entity to liaise between the entities that work on human rights." But he has not met with any human rights groups and says that whether El Salvador should allow the Inter-American Commission on Human Rights to visit "is not a relevant issue".
As for monitors like Cristosal's public documentation of "a systematic policy of generalized torture" in Salvadoran prisons, potentially constituting triable state crimes against humanity, Guzmán responded that he has not read their reports "officialy".  "Nobody has sent me an email, or to the commission, saying, 'Andrés, we're sending you this report.'"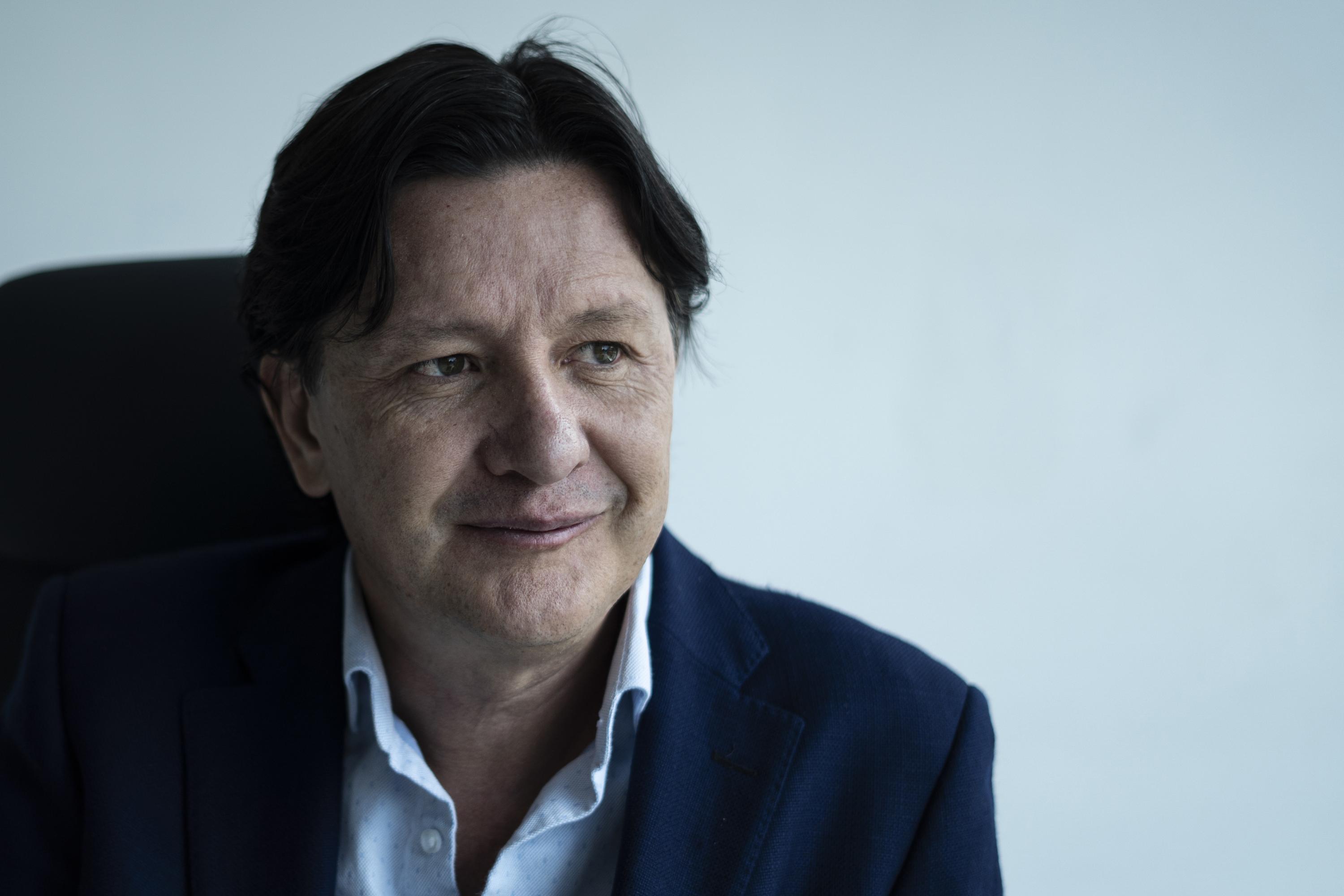 "If there is a single case identified by this office, we will call for an investigation," he continued, "but the Attorney General's Office must be the one to investigate, because I can't start investigating on my own."
"Have you spoken with anyone who was arrested under the state of exception and left [prison]?" Martínez asked.
"Mmm… like I said, no."
Repeatedly asked about testimonies of prison torture published by El Faro, the commissioner stressed: "If a security guard hit someone or tortured, then they should be prosecuted and every consequence must be applied, even if they must go to jail. Because they are responsible for hitting them, and you can't blame an entire state for that."
A photo with Blinken
With more than 70,000 people arrested under the state of exception since March 2022, the Legislative Assembly approved legal reforms two weeks ago, on July 26, to facilitate mass trials of up to 900 people at once. Hearings for hundreds of people at once have kneecapped the public defender system.
"You should discuss those matters with the Minister of Justice and Security because those are issues for his office," responded Guzmán when pressed about the stripping of due process rights. "Human rights have nothing to do with procedural guarantees."
Guzmán is a Colombian attorney specializing in investigating cyber crimes, according to Spanish newspaper El País. While claiming to eschew political ideology, he has publicly worked prominent cases tied to the Colombian right, which has developed a notable affinity for Bukele under the state of exception.
Guzmán told El País that he first met Bukele in El Salvador in 2022 and that, when he was appointed in April 2023, he knew little about the local politics. He said that the president "explained to me, in general terms, everything that is happening."
A central goal of his tenure in San Salvador, he asserted to the outlet, is to support the Bukele government's plans to become "totally digital."
An extremely select few Bukele administration officials speak with the press, and even less so with local outlets; this is the first on-the-record interview that a Casa Presidencial official granted to El Faro in the more than four years since the president's June 2019 inauguration.
Human rights were, purportedly, one of the topics of discussion yesterday during a private meeting between U.S. Secretary of State Antony Blinken and Salvadoran Foreign Minister Alexandra Hill — their first official meeting since Bukele took power.
Their official photoshoot appears to mark a diplomatic success for Bukele; in 2021 no U.S. official received him when he traveled to Washington and he has had an extremely confrontational relationship with the Biden administration.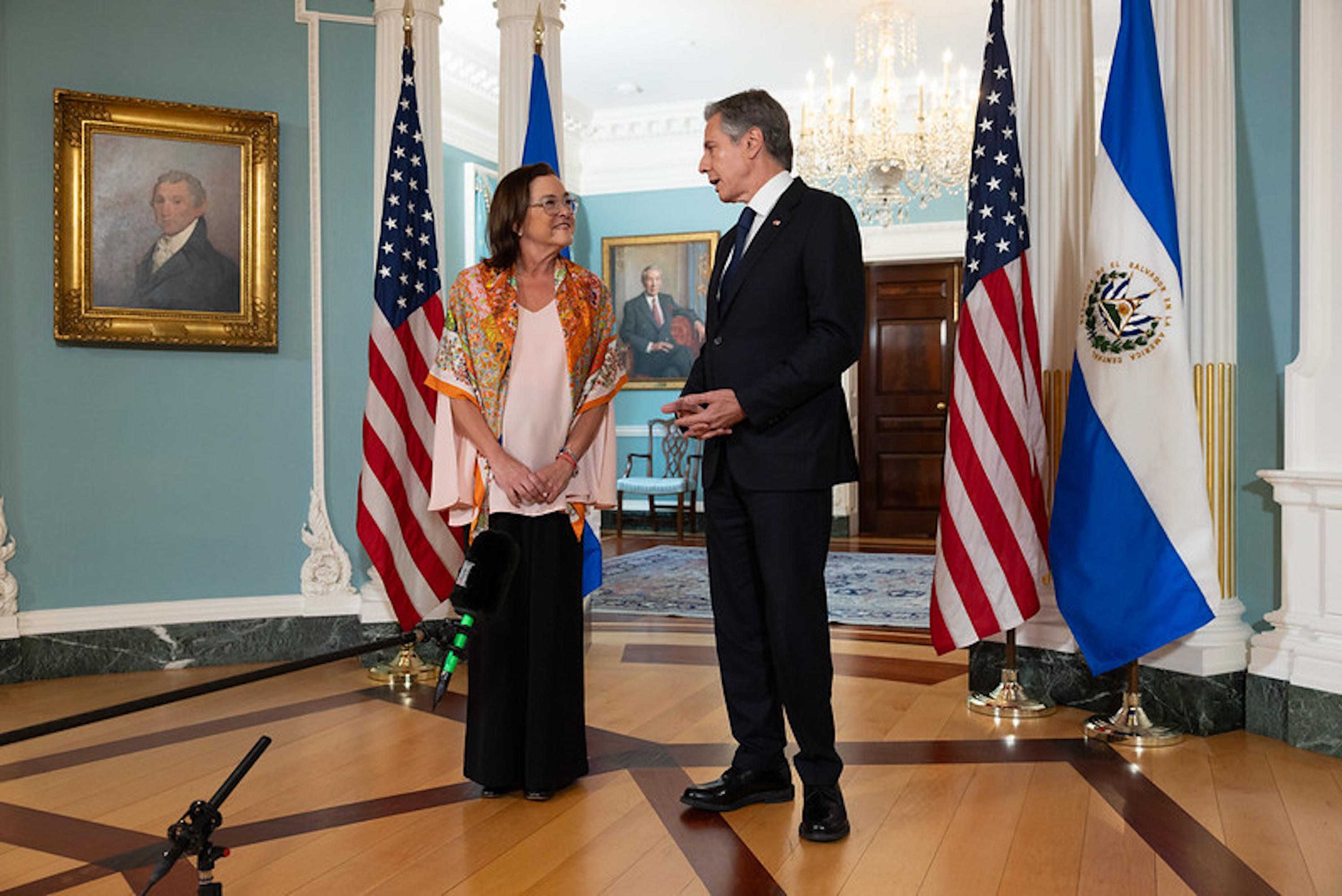 Sources in the Biden administration have privately asserted in recent months that the U.S. no longer sees utility in publicly butting heads due to Bukele's nimbleness on social media and popularity at home. But they insist that the U.S. continues to privately criticize the mass human rights violations and attacks on the press and rule of law.
The power of Monday's images, though, could weigh more than the alleged quiet criticism, reflecting a dramatic shift in U.S. strategy toward El Salvador just as relations with the government of Guatemala face their deepest crisis.
Strikingly, yesterday Blinken called the Bukele administration "an important partner in advancing" good governance and human rights in Central America, just six months before Bukele is set to seek reelection despite an explicit constitutional prohibition.