Judge Gloria Patricia Porras Escobar left Guatemala for the United States on Tuesday, April 13, the same day that the Guatemalan Congress decided not to swear her in for a third term as chief magistrate of the Constitutional Court. She left in the thick of night, just before her judicial immunity was set to expire, to avoid a potential arrest warrant. Seven years ago, former Attorney General Claudia Paz y Paz was forced to do the same.
The obstruction isn't just a veto, dressed up in the courtroom garb of a suspension of a magistrate who in recent years symbolized the resistance against the dismantling of Guatemalan anti-corruption institutions. It's also one step further, and perhaps a decisive one, in the strategy to capture — or recover — the justice system, drawn up in 2013 by economic and political elites terrified by the genocide trial against Efraín Ríos Montt.
It's no happenstance, then, that on the same day Porras was sidelined, the Congress opted instead to appoint Roberto Molina Barrero, who two years ago ran for vice president on the ticket of Zuri Ríos, the daughter and protégé of Ríos Montt. Or that attorney Leyla Lemus, a confidant of President Alejandro Giammattei and, until weeks ago, a member of his cabinet, likewise joined the court. Despite pressure from the United States and various European embassies, Guatemala appears to have all but forsaken judicial independence.
The legal argument for not appointing Porras, who was nominated by San Carlos University, is weak but labyrinthine, resembling the similar move in 2019 which, with the vote of Porras, barred the presidential run of another prominent face in the fight against corruption, Thelma Aldana, as she held a slight lead in the polls. On the basis of alleged procedural errors, an appellate court approved a motion to suspend Porras's appointment without informing her, and just hours before the planned swearing-in, to preclude any potential reaction. The president of Congress, Allan Rodríguez, was not only willing to leverage the last-minute injunction to exclude her from the swearing-in; some reports indicate he deliberately delayed the session until the official notification came in.
El Faro interviewed Porras on Sunday, April 18, outside Washington, D.C. She claims to have caught wind of the maneuvers against her ten days before the swearing-in — moves which she denounces as "a violation of the rule of law." "This is an affront to democracy, and each and every citizen of the country should be offended," she says, insinuating that only pressures from the Guatemalan public and civil society organizations can overturn the outcome. This weekend, an open letter signed by some 250 Guatemalan former public officials, intellectuals, and a hundred human rights organizations condemned the events of April 13 as "illegal" and an "assault on the Constitutional Court."
The new court, without Porras, will rule on a slew of legal questions, including concessions to suspended mining and hydroelectric projects, dozens of suits against judges viewed as independent, and the injunction against a law approved at the start of 2020 giving the executive broad powers to limit financing to civil society organizations, or even annul their legal status, for reasons of "public order" and without the consent of a judge.
In spite of the bleak backdrop, Porras sits in an open-air cafeteria with her mask on and speaks with the prudence of a judge and with disconcerting optimism — as if believing in the fairness of the Guatemalan judiciary were her professional duty — in making her case to the embattled attorney general, as well as the magistrates confirmed by those harassing her in court. She also sends something of an epic message to attorneys in Guatemala, though the message reflects a certain tragedy: "You don't need to corrupt yourself to reach a high judgeship."
Why did you leave Guatemala? What are you doing in Washington?
For days I had unofficial information that I wouldn't be sworn in, so I decided, while the situation played out, to tend to academic commitments I had made but which weren't yet on my calendar. The [American] Bar Association invited me here to give some interviews and conferences on the rule of law, an unavoidable topic following the barring of my swearing-in. I'll also take advantage of my time here to meet with representatives of the Inter-American Commission on Human Rights, because it granted me protective measures and I want to review my situation.
Do you think that the blocking of your appointment violates those protections?
It not only violates the measures; it's a violation of the rule of law, an attack against my country's democracy. My swearing-in was denied on the grounds of an injunction against my appointment, but one which didn't meet the core requirements for legal standing. While it's true that our law establishes that no motion is immune from injunctions, we judges must review the compliance and substance of each request, and there is no substance to this matter. It's a simple complaint from a participant in the magistrate nomination process alleging he wasn't notified of the result.
There are two fundamental issues here: first, that the nomination procedure established by the Higher University Council, which does not mandate that participants be notified in writing, was public, meaning that the allotted time to object to the nomination process would have been immediately after publication or the first session. Otherwise, the candidates and electors conferred validity on the procedure through their participation. In that sense, the motion for an injunction was extemporaneous. I wasn't notified, either, but as it was all public, I found out I was the only person elected.
Thus, the injunction didn't meet the procedural requirements, but it also lacks substance. The fact that he doesn't agree with the decision of the Higher University Council of non-notification shouldn't in any way affect the selection process. He could, by way of injunction, demand that he be directly notified of the results, but that cannot affect the selection process, which occurred before the public notification.
You said you were warned this would happen. Who is looking to keep you from being a magistrate?
I have faced harassment for years, but it has intensified in the last two. In that span, some 60 articles for impeachment were filed against me before the Supreme Court of Justice. 40 of them were dismissed outright, but the rest have been processed, so each time I issued an unpleasant ruling, they have threatened, through different avenues, to move forward with impeachment. It is without a doubt a war of attrition.
What cases generate this type of response? Those involving corruption, impunity. My vote has tipped the scales in some cases against corruption, and that has rankled various actors: people within the state, people tied to organized crime…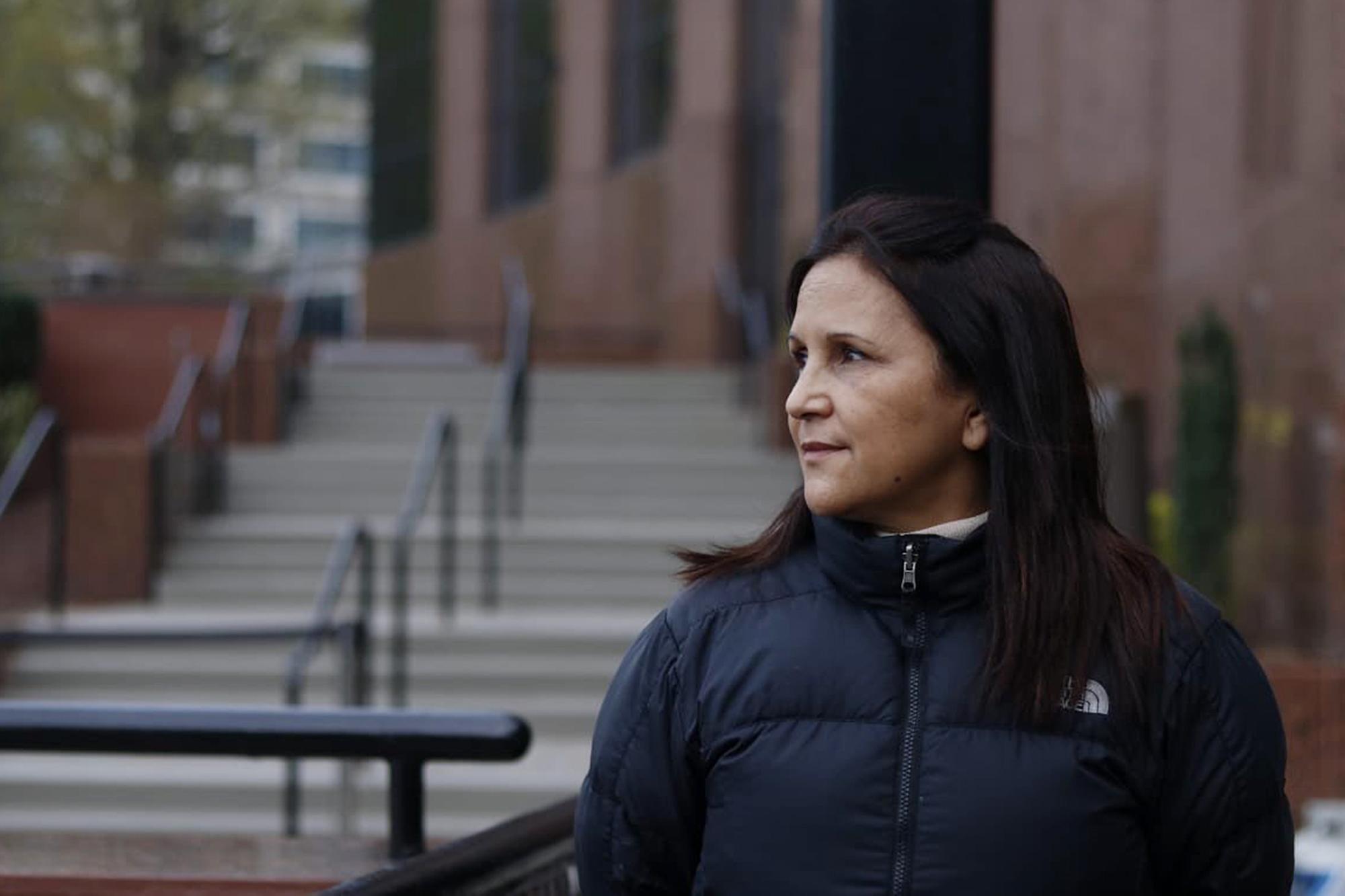 Who is threatening you?
I don't want to mention names because I need to observe certain judicial ethics, and because I want to avoid creating new pretexts in my country for confrontation and bickering. But you only have to review the speeches of the various politicians. Their statements are public. Look at the speech given on the 13th just before the swearing-in of the magistrates. I'd say it's important material to review and interpret. Each line of that speech refers to a ruling that they have disagreed with. As a judge, I obviously heard them out, and it seems to me that each phrase referred to a ruling issued in the past two years.
What role is the president, Alejandro Giammattei, playing in this obstruction against you?
It's very complicated for me to say what specific role he plays, but what I will say is that the role of the Constitutional Court, and mine as judge, is to try to guarantee the due balance between powers within the state, as well as between those powers and the citizenry, because injunctions were conceived to protect citizens from abuse of power. It's precisely the placement of individual rights at the forefront which put me in this complex situation. I have no personal qualms with the president, nor with any public official. I simply have limited myself to doing my job, interpreting the constitution, and that has not been pleasing to some.
You've been accused, like other key figures in the Guatemalan judiciary, of politicization. What is your response?
I've been accused of political activism, but I feel that those assertions are hollow because every case passing before the court first goes to debate in the Plenary. A resolution is not the exclusive decision of Gloria Porras, but a collegial decision involving five or sometimes seven magistrates. I have no political party affiliation, nor do I seek to benefit any party. The simple act of defending the rights of vulnerable groups makes me the target of accusations, such as that I am a leftist.
In a recent interview with El País, you said you trusted the attorney general to act on your behalf in this case. But on Saturday, it was made known that the attorney general removed the anti-corruption prosecutor Stuardo Campo from office on the same day that he was set to call for the revocation of former president Jimmy Morales's immunity. Do you insist that you trust the Attorney General's Office?
I was a public defender, and I have examined the accusations against me from that lens. I also tried cases with the Public Prosecutor's Office. And from any angle or perspective, the accusations against me don't constitute a crime. I don't say that in an improvised or self-interested way. As an attorney I've dedicated 20 years to criminal law, so yes, I hope that with the intervention of the attorney general and prosecutors assigned to this matter that the case will be immediately dismissed. I would expect nothing less.
Is that overly optimistic? Right now, do you think that there's sufficient institutional or social strength in Guatemala for a decision made by Congressional leadership to be reversed?
Look, there's a global health crisis, a pandemic, that I can't overlook. But I think that the people are present, and are not in agreement with what happened. I also believe the people should participate in the discussions. Obviously I'm not proposing events that would put anyone's health at risk, but I do hold out faith and hope that the people taking these actions will at some point have the maturity and good sense to follow the law, for the good of the country.
Can Guatemalan civil society and human rights organizations have an impact at times like this?
I think they play a fundamental role, not only the organizations, but each individual. I know this isn't an affront just to Gloria Porras. This is an affront to democracy, and each and every citizen of the country should be offended — especially the Higher University Council and San Carlos University. If the nominees of other entities were approved, why was the swearing-in of their nominee blocked because, according to some, she thinks differently? That's what enriches the tribunal! I can't ignore my nature, which is to enforce human rights. Everyone knows that in Guatemala. And I think we should all participate in building the political future of the country, which includes the selection of judges.
Two weeks ago, the United States government's special envoy to northern Central America visited Guatemala. You met with him and other members of the justice system. What did you discuss?
I attended the meeting as part of a group of people they identified as allies in the fight against corruption, and it was an honor. But we also spoke of human rights, of the causes of migration, which is concerning not only for our country but for other governments. We agreed that all of the topics driving migration pass before the Constitutional Court — corruption, for example.
And you also spoke of judicial independence.
Obviously. One of the reasons they named me is because I'm an independent judge.
And just a week later, Congress barred your confirmation. Do you think the opinion of foreign governments such as the United States carries any weight today?
Guatemala can't live in isolation. No government anywhere can. Globalization is a reality.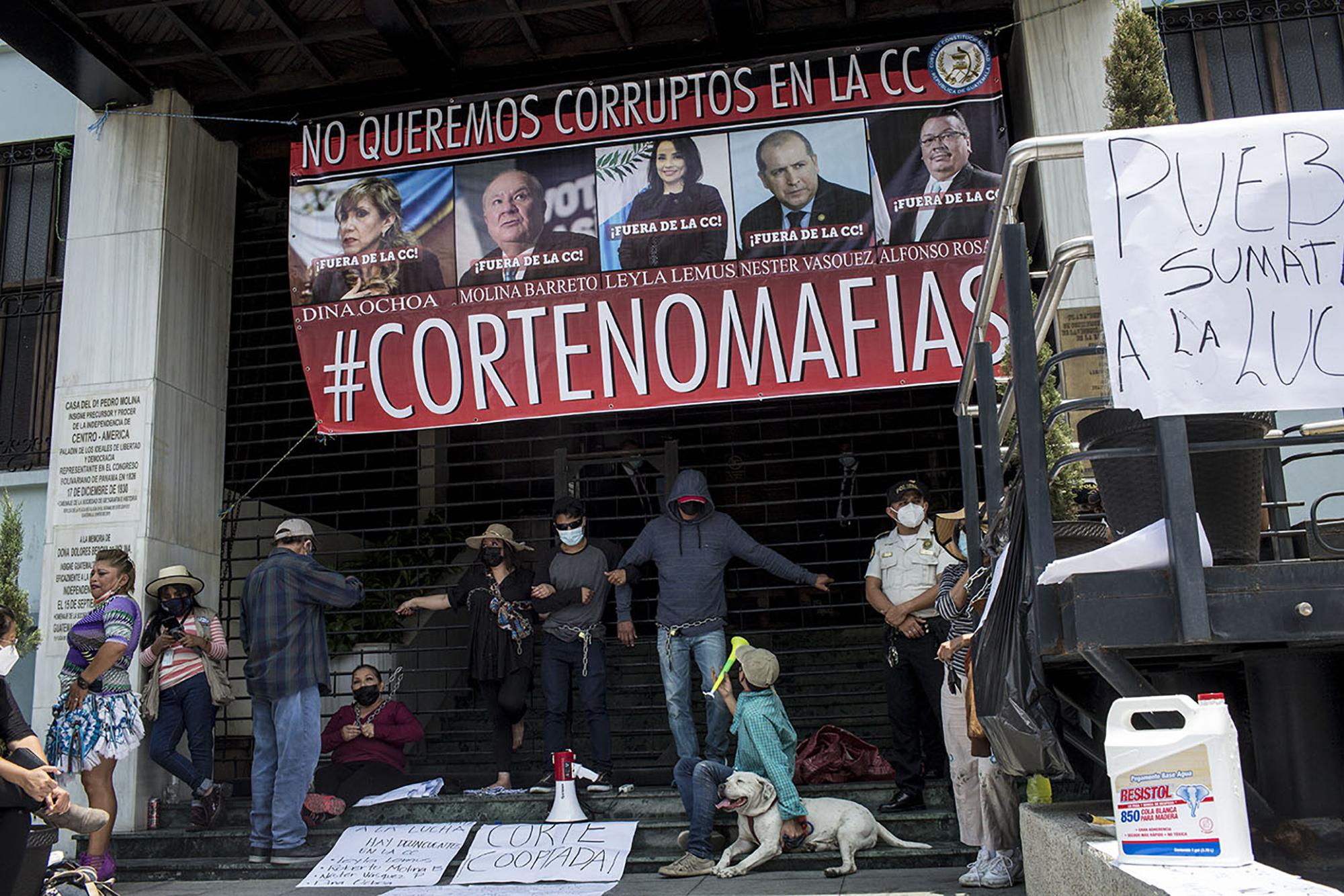 You've been threatened with dozens of lawsuits and have no shortage of powerful political and economic enemies. What made you aspire to a third term on the Constitutional Court?
My ten years of independent work give me composure and maturity that would benefit the court. In other countries, judgeships are for life because they value the experience accrued over time. But above all it's important for me to tell people, "Look, in my ten years on the court, I haven't corrupted myself. I can continue to be an independent judge." That's the message I wanted and still want to convey to good lawyers in the country: it's good to get involved, and you don't need to corrupt yourself to reach a high judgeship."
You say that, days before the vote, you knew about the plans to block your swearing-in. Why did you choose to stay silent at that time, and why did you opt to attend the ceremony?
The people who let me know ten days before the swearing-in asked for anonymity, and they told me forcefully: "They won't swear you in. It's better to leave it as it is." On Tuesday April 13, as I headed to Congress, someone wrote to me: "Please don't attend. This will be a public humiliation." But I can't set aside my responsibilities. The Higher University Council placed its trust in me, chose me, and I had to go and try to see that the process went according to the law, or at least that an explanation was given for not swearing me in. That way, the reason wouldn't be that I didn't attend, or that I was evading presenting myself to Congress. My responsibility was to be there, and now it's on me to follow up with this injunction, which I hope will soon be revoked, as the law prescribes.
And if that doesn't happen?
If not, I'll have to face down the legal proceedings with the trust that at some point the judges will have the temperance and knowledge to do what's right.
In 2014, Claudia Paz y Paz left Guatemala hours before losing her immunity as attorney general, and she spent years before returning. Her successor, Thelma Aldana, was granted asylum here in Washington. Other female judges have also fled the country for their safety. Is your name on that list?
I don't think I have any legal reason to abandon my country. I intend to return to Guatemala, but I need to breathe and dedicate my time to productive activities while this process unfolds. When the injunction is resolved, if not before, I'll return to Guatemala.
Even if that means risking detention or imprisonment?
Nothing can be ruled out when the rule of law isn't working, but I repeat that I hope that things in my country will move in the right direction, and that includes the settling of this injunction and the summary dismissal of all of these suits against me for decisions I dutifully handed down. There is no reason to go after me.
You said a few days ago that you hope things will change in Guatemala. What can propel that change of course, when all observers say that in the past years there has been constant backsliding in terms of judicial independence and the fight against corruption?
If you lose hope and say, "There's nothing left to be done," the only thing left to do is to abandon ship. And I can't think that way. I believe there are brave, principled people in Guatemala who will fight for the rule of law, as I'm doing. It would be easier to think, "Well, Gloria Porras, you've been on the court for ten years, leave things as they are." No. I'm here, fighting the good fight. Whether on the court or not, I swore to protect the constitution, and I will continue to do so.
If you keep fighting, as you say, what do you fear could be the consequences for you and your family?
Unfathomable, the kind of thing that shouldn't happen in this century. Hopefully good sense wins out and we don't reach those extremes.
*Translated by Roman Gressier