When three Salvadoran migrants left home in mid-January to join the migrant caravan that originated in Honduras and was crossing Guatemala, they didn't think they would end up in jail in their own country. For weeks, as the migrants planned their trip to the United States, the human trafficking unit of the National Civil Police surveilled and profiled them as co-authors of a human trafficking scheme disguised as a migrant caravan. The manila cover of their thick joint case file reads that, according to prosecutors, their victim was "humanity."
The sting operation produced accusations against three Salvadorans of promoting human trafficking over WhatsApp: Fátima Pérez, owner of a small pupusa stand she ran out of her home in Sonsonate; Juan Rufino Ramírez, a security guard in San Salvador; and José Eusebio Asegurado, a farmer in Usulután. The main evidence listed in their case file, processed in San Salvador criminal court, is the testimony of "Anonymus" (sic), an undercover cop who infiltrated two group chats.
To build their case, prosecutors leaned on the definition of 'promotion' of human trafficking laid out in Article 367 of the Penal Code, which defines a human trafficker as "a person who, on their own or through another, tries to insert or inserts foreigners into the national territory, gives them shelter, transports or guides them, or performs acts of promotion, with the purpose of evading customs authorities in this country and others." Convictions lead to between six and ten years in prison. In 2017, the legislature expanded the definition of human trafficking to include promotion.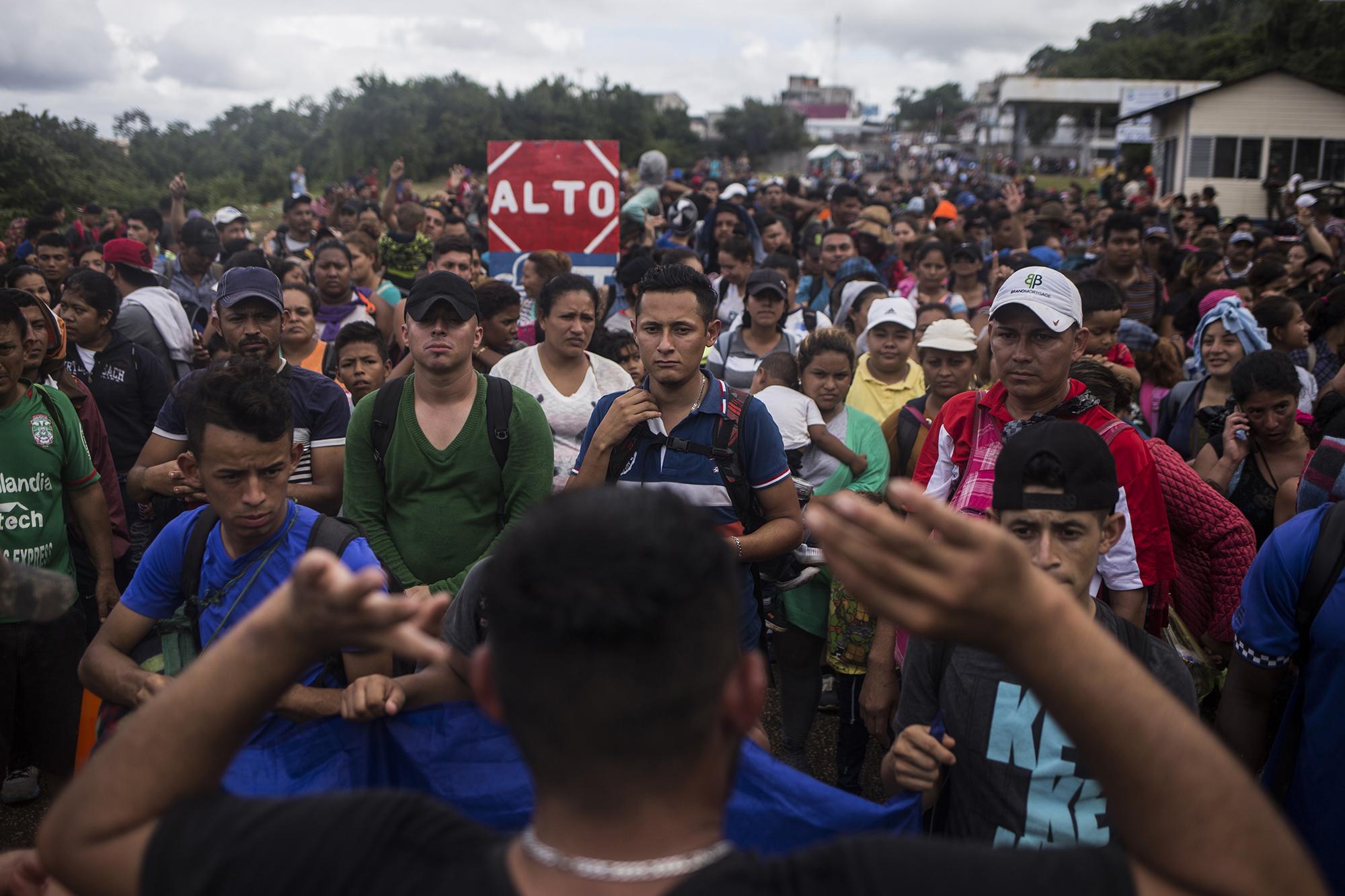 Four sources in the judiciary agreed, in separate consultations with El Faro, that under Salvadoran law prosecutors don't need to prove that any of the three migrants profited financially from the attempts at collective migration, or that they belong to a human trafficking ring. All prosecutors need, they said, is to show that they posted on social media to spread the word about a migrant caravan. "If the Attorney General's Office has evidence that they received money, that will strengthen their case, but it's not necessary. All they need is for them to say, write, or incite people to do it," said one of the sources. That's how this aggressive prosecution tactic has sent to jail — as they await trial — the owner of a pupusa stand, a private security guard, and a farmer. Under this logic, someone only looking to migrate can be treated as a trafficker.
Before Biden's election in November 2020, screenshots included in the migrants' case file show that a page called "Caravana de Inmigrantes 2020" appeared on Facebook. To date, the page has around 6,000 members. Prosecutors allege that Pérez, Ramírez and Asegurado joined the page in November, where at the time one of the general topics of conversation was a collective trip from El Salvador to Guatemala on January 15 to meet up with a caravan leaving Honduras. At press time, the case file contained no evidence that any of the three migrants created the page, and none of them were listed as administrators.
The case file also overlooks that, since at least the first week of October, other group members of the page published links to various WhatsApp groups announcing a "caravan from El Salvador" that would leave on January 15, or on October 30, or in November, or on December 10. Even so, prosecutors insist, without evidence beyond the testimony of "Anonymus" and inconclusive screenshots, that the three accused migrants were the main promoters of a caravan, as if they had managed to channel into one date the diverse plans that circulated in migrant group chats on social media.
El Faro sought comment from the Attorney General's Office on the findings of this investigation, but at press time they did not respond.
Fátima Pérez planned to leave El Salvador for the first time on January 15. She had never left before, her family says, and she never managed to leave then either. A migratory background check annexed to her case file also states that she has never entered or exited the country through ports of entry. Her aunt, who we'll call Karla (her family request anonymity for safety concerns), says her niece mentioned the trip only days before she left home, and that a friend motivated her to leave together. "She was so enthusiastic. I don't know what they put in her head to motivate her so quickly, because it was just, 'I'm leaving, I'm leaving,'" recounted Karla.
Pérez, a 24-year-old single mother, was born in Nahuizalco, Sonsonate, a town known for its Indigenous heritage and one of the sites of a peasant uprising in 1932 that led to a genocidal government crackdown known as La Matanza. Before the pandemic, she worked as a chef's assistant in the restaurant of "a colonel" near Cuscatlán Stadium, where El Salvador's national soccer teams play. With the economic shutdown due to Covid-19, she lost her job and moved out from Nahuizalco to stay with her grandparents on the outskirts of the tiny town of Santa Catarina Masahuat, just 13 miles from downtown Sonsonate, the department's capital.
From her grandparents' brick and sheet metal home with dirt floors and open doorways, she started a business selling pupusas and soups. The kitchen has room for various refrigerators and food preparation in a large open living room lined with plastic chairs, a refuge from the sweltering midday heat.
Four family members, interviewed separately by El Faro, concurred that she wanted to leave to give a better life to her four-year-old son. Her sister recalls the day of her departure. Pérez arrived early that morning, at her humble home lacking electricity due to the high installation costs. "God willing, when I cross (to the United States), I can pay for your lights," she remembers Pérez told her before setting out to meet up with the Honduran caravan. Her sister rejects prosecutors' claims that she was a human trafficker: "How could they call her a coyote if a coyote handles money?", she asked. "It's hard, because we're just getting by and figuring out how to pay the lawyer."
Her aunt not only denies that Pérez was a human trafficker; she also dismisses the idea that her niece had the cash flow to allow her to buy and resell bus tickets to others in her group. "Really no, because when she visited me and my husband to tell us that she was going to travel, she said she was going to buy her ticket," she recalled. "How, then, could she sell to others if she didn't have one?"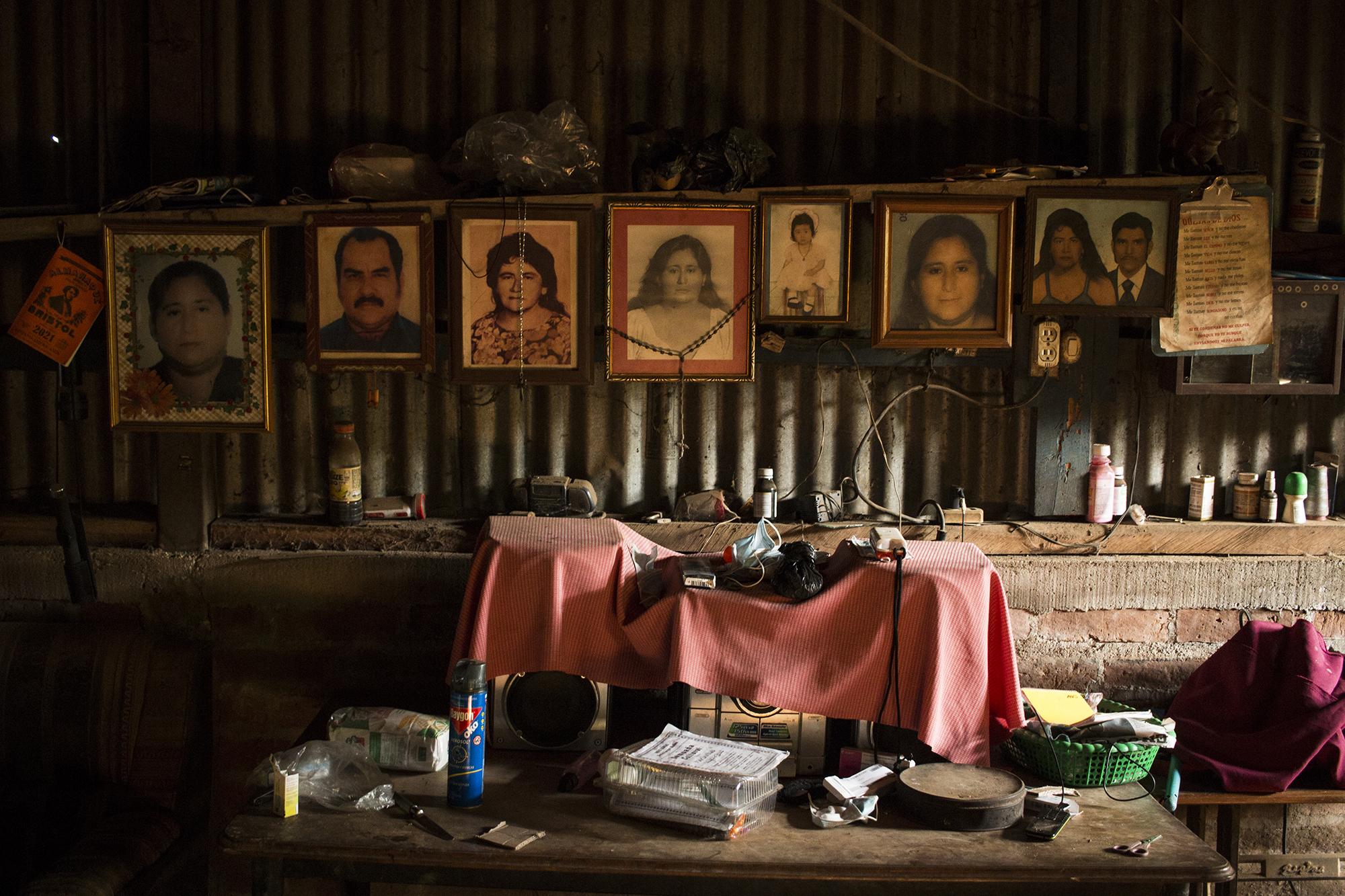 El Faro contacted the family of Juan Ramírez, the private security guard, but they declined to comment. The case file, though, says that Ramírez is single, 32, lived in Nueva Apopa, a community in San Salvador, worked in private security, and had no criminal record prior to his arrest. He tried to migrate to the United States once before, said the attorney his family hired in January, Moisés Guzmán. By the time he decided to leave the country, he had already spent months waiting for an appointment at the hospital for a leg he broke playing soccer, which never fully healed. "All that my brother did was create a WhatsApp group," Guzmán says his brother told him when the family hired him.
On the other hand, relatively little is known about the life of the third accused migrant, José Eusebio Asegurado, beyond what's stated in the case file: he's a single, 31-year-old farmer from Berlín, Usulután. His annexed file from the General Directorate for Migration and Foreigners says he's never left the country. El Faro tried to contact his public defender to learn more about the defendant, but at press time there was no reply.
From WhatsApp to a Prison Cell
On Christmas Eve 2020, the Attorney General's Office learned from a Facebook page called "Caravana de Inmigrantes 2020" that a group of Salvadorans was planning to meet up with a Honduran caravan headed for the United States in three weeks. The Attorney General's Office ordered the National Civil Police (PNC) to track down the supposed organizers. The PNC's Specialized Unit against Human Trafficking then gave an undercover agent a new phone to get onto social media and pose as a migrant looking to join the caravan in January.
The case file contains the testimony of Anonymus. On Tuesday, January 12, the agent downloaded WhatsApp under the name José, with a picture of the Salvadoran flag, and joined two WhatsApp groups which the Attorney General's Office had found on Facebook. "I was assigned as an undercover agent, not only to infiltrate WhatsApp and Facebook, but also in-person meetings," he wrote in his report.
Prosecutors allege that the conversations of the accused on WhatsApp and Facebook constitute a "direct intervention in illegal acts of human trafficking, in an initial, preparatory phase" in which they indicated to others, "step by step, what paperwork they needed on the set date to accomplish their goal." The screenshots annexed by the undercover agent in their case file, at press time, showed none of this.
The file only includes one screenshot from the Facebook group, in which a woman unrelated to prosecutors' case shared a link to a WhatsApp group. Of the three defendants, the case file only offers the Facebook name of Pérez. El Faro reviewed the Facebook page and found that the online behavior of Fátima Pérez starkly contrasts with the picture painted by prosecutors of a human trafficker.
On December 8, Pérez wrote: "I'm leaving on January 15. Add me to the WhatsApp group." Sometimes, she answered the questions of other migrants on the departure date. Once, she invited two people to a WhatsApp group. "It's on January 15," she wrote in December, followed by: "Send me your numbers so I can pass you the link." Other times, she left words of encouragement: "May God bless and guide you along the way." Nothing out of the ordinary in a group where hundreds of people discussed various needs and plans to migrate.
In El Salvador, all phone numbers are registered to the Unique Identity Document, or DUI. Those records, required when acquiring a new phone number, are centrally stored. Screenshots in the case file show that a number which prosecutors claim is linked to the DUI of Juan Rufino Ramírez founded a WhatsApp group called "caravana 503 el salvador," which amassed 55 members. Anonymus claims that Pérez and Ramírez administered the chat. On those grounds, after entering the chat undercover, authorities began profiling them both as coyotes, or human traffickers. They even went looking for them in their homes.
Days before Pérez's arrest, for example, police officers went around asking for her in the town of Santa Catarina Masahuat, where she lived with her grandparents. They spotted her at her sister's house, a short walk away, but registered the place as Pérez's house. On the day of the arrest they raided the house, confiscating police uniforms and firearm permits. The case file made no mention that these belonged to Pérez's brother-in-law, who, according to the family, is a private security guard and former police officer.
Authorities' first sting operation was against Pérez and Ramírez. Screenshots of conversations show that the group of 55 people discussed meeting up at the Terminal de Occidente, a heavily-transited bus station in San Salvador. From there, they would walk to the upscale residential neighborhood San Benito to purchase $60 bus tickets, complete with Covid-19 testing per Guatemalan customs requirements, from Transportes del Sol, a bus company. After purchasing the tickets, they would return to Salvador del Mundo Plaza, where they would sleep, before taking the bus the next day to Guatemala.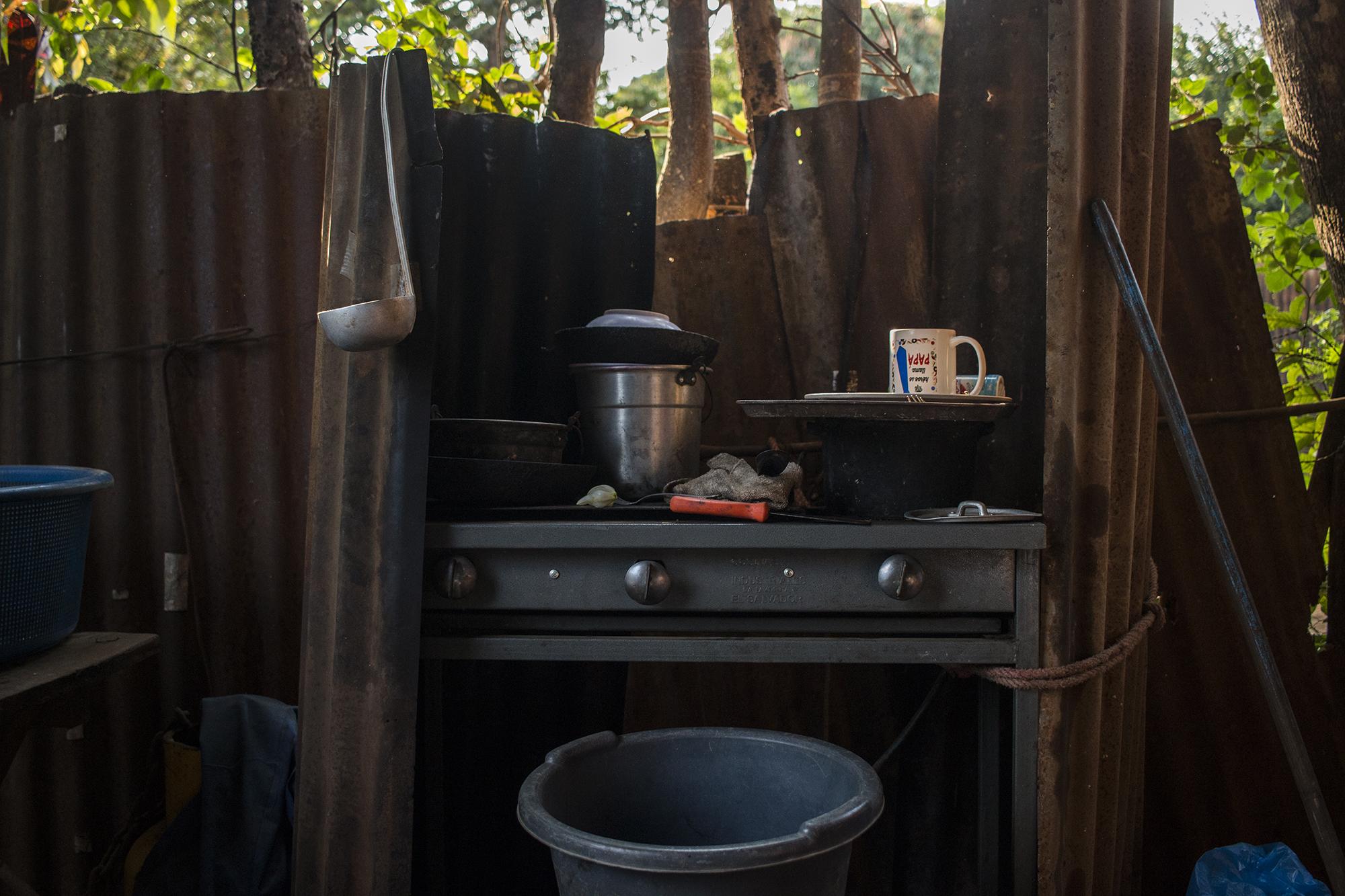 The following is a translated reconstruction of relevant segments of the WhatsApp conversation included by screenshot in the case file, beginning in the evening on January 12, 2021, between Ramírez and three other migrants.
—Ramírez: I'm kicking people out who confirmed they're not coming they were all talk and might as well get rid of them
—Migrant 1: On what side of the terminal will you be...on the side where you take the 8A or where the buses enter...inside
—Migrant 2: Where the buses enter
—Migrant 1: Ok
—Migrant 2: Gotta wait for the 34k goes to San Benito
—Migrant 1: … How much does it cost?
—Migrant 2: Costs a quarter and we get out where we walk
[...]
—Migrant 3: See u there friends
—Migrant 1: Ok send pictures of your faces and clothes to find you
—Migrant 3: See u there friends good night don't fall asleep I hope I won't either hahaha
—Migrant 1: I'll be there early
On the day of the trip to buy bus tickets in San Benito, Pérez has arranged to travel from Sonsonate with a group of migrants, whereas her friend, 'Migrant 1,' and Ramírez planned to arrive early so that nobody would get lost. Fewer people arrived than expected, causing a heated discussion. The conversation makes clear that Ramírez was a leader in the group, but at no time was there evidence that he benefited from his role. The next translated reconstruction of their conversation on WhatsApp begins just after 6am.
—Pérez: We're on the bus
—Ramírez: Sonsonate people, let me know when you're on the bus how many are coming
—Pérez: 6 of us. The bus is about to leave
—Ramírez: Seriously only 6 are coming
—Pérez: Yep, @Kiky and I
—Ramírez: The others chickened out I knew it whatever we'll give it our all without all the bullshit
—Pérez: Yeah the others didn't answer
—Ramírez: You guys come with everything you got and the others don't mean shit today I'll clean out the group
—Pérez: Cool see you there
—Ramírez: Yeah to migrate gotta be on your toes can't get cold feet
—Migrant 1: I'm on the bus. It's very true that's why we decided to go to the terminal together...because we're not all familiar...that's why we discussed it and decided to wait for Juan and everyone
At 8:25am, Ramírez wrote the group again
—Nobody move from the terminal. Don't do anything stupid. Besides we said 9am
—Pérez: We're at the terminal entrance
Around 9:30am, Pérez exited the WhatsApp group. By 10, Ramírez had expelled all of the chat's members. Less than an hour later, the police arrested both during the PCR Covid-19 tests which they purchased with their bus tickets. Guatemalan customs records included in the case file show that the others in the group made it to Guatemala.
In parallel to the first sting operation, the police was monitoring a separate WhatsApp group, administered by an unknown Mexican number, which it found from the same Facebook page. Asegurado, the farmer, was in the second group. The undercover agent claims that he joined the group of January 12 and found out about an in-person meeting two days later among people planning to migrate on January 15. When he arrived at the meeting point, he found only six people. They told him that someone nicknamed "Chevo," who prosecutors have profiled as José Eusebio Asegurado, was the trip's organizer.
According to Anonymus, Chevo told him that he didn't have the Covid-19 test to cross into Guatemala, but that he had agreed with "some friends from Usulután" to "slip through blind spots" in the border if they didn't manage to generate a large enough group to attempt a mass crossing at a port of entry.
Four hours after the arrests of Pérez and Ramírez, the authorities honed in on Asegurado. According to prosecutors, Asegurado wrote in the chat that Salvador del Mundo Plaza would be the point of departure for traveling by caravan to the United States. Screenshots included in the case file, though, at press time didn't uphold the assertion. The following is a translated reconstruction of the part of the chat annexed in the case file, starting in the afternoon of January 14. Asegurado wrote only one word: "Ok."
—Migrante A: I'm coming around six but I think some of us coming from departments farther away will get there earlier
—Migrante B: I'll get there around 5
—Asegurado: Ok
—Migrante C: I wanna go in the caravan. What's the meeting point
—Migrante D: I'm at the border of 'las achaques' it's a shitshow here
—Migrante B: There's no way through
—Migrante E: Where are you
—Migrante B: I saw someone said that that's why I asked
—Migrante E: What border are you at sorry
—Migrante D: La Hachadura
—Migrante E: And what's happening
—Migrante D: It's all closed
—Migrante E: They won't let you through? Is the military there?
—Migrante D: Yep
—Migrante E: Thanks for the information
—Migrante B: Gotta find alternatives somewhere else man. You haven't tried the border in Santiago by the mangroves they'll cross you over on raft and spit you out way up. It's another way of crossing
—Migrante F: That's all they're asking look at the picture and read
—Migrante B: On our way
—Migrante G: Outta here
—Migrante B: That's right
—Migrante H: Guys anyone wanting to do a Covid-19 test there are mobile cabins in Apopa
At 2pm on the day the group planned to leave, Anonymus went to the meeting point, Salvador del Mundo Plaza, and presented himself as a migrant who wanted to "go wet" to the United States, according to the agent's statement. Minutes later, an official from the Salvadoran Border Patrol arrived to demand immigration paperwork, and stopped Asegurado. After calling in his name to the Integrated System for Migratory Processing (SIGM), "his boss informed him that the person is profiled as organizer of the caravans," wrote the border patrol agent in third-person. Minutes later, the police arrested Asegurado.
Between the first two arrests — Pérez and Ramírez — and the third, a span of just four hours, the Attorney General's Office had started lobbing accusations on Twitter. "[Prosecutors] ordered the capture of two people accused of mass illegal human trafficking," the Attorney General's Office posted. "According to investigations, they are responsible for promoting and organizing migrant caravans, with the final destination of the United States."
The U.S. Embassy quickly joined the media blitz. "I applaud the actions taken by Salvadoran authorities against those looking to trick citizens with caravans and false promises. They are only promoting #UnViajeEnVano ("a trip in vain")," wrote then-ambassador Ronald Johnson, five days before he resigned on the day of Biden's inauguration, a fairly normal move in the diplomatic corps. The U.S. Embassy did not respond to a request for comment.
The police transferred the three defendants to holding cells in its Extraordinary Services Unit in Concepción, Ilopango, known as "El Penalito." They remain there to this day. The San Salvador criminal court judge was quick to deny bail during closed hearings, on the grounds that "the crime is cause for social and international alarm," according to the resolution from the bail hearings. "Especially in this case, where they imperil not only hundreds of people who, at their urging, will make a dangerous and illegal trip to the United States."
A New Law against Whatsapping Coyotes
The cases of these three migrants shed light on Salvadoran prosecutors' new strategy, publicly backed by the U.S. Embassy, to criminalize the organization of collective migration, under the pretext of combating human trafficking. At the end of March, the Legislative Assembly passed a new human trafficking law, sponsored by the Attorney General's Office, to newly criminalize those who 'promote' migration on social media.
"It's important for us to modernize our legal tools to more effectively investigate and prosecute" human traffickers, argued former Attorney General Raúl Melara, four days after the arrests, in front of the Assembly. "But beyond that, we should create a system that protects the migrant, which today we don't have, and that's why we hope this bill will be passed." 
When the outgoing Assembly passed the bill into law in March, Bukele promised to veto, arguing that "we can't continue criminalizing migration. Someone kidnapping and trafficking their victim is quite different from someone helping desperate people cross a border." On Thursday, May 13, Bukele vetoed.
When Ramírez's defense attorney motioned for the judge to grant bail, he supplied a series of documents meant to demonstrate that an individual is not a flight risk, such as electricity bills and property deeds. The judge, though, ruled that the documentation "did not generate the trust that, if placed at liberty, [the defendant] would comply with the justice system." The judge added that none of the documentation proved that Ramírez has "a life project that demonstrates that he contributes to society" and emphasized that, if freed, "there is the risk for humanity that, from his house, he could enter social media and continue promoting caravans."
On March 27, prosecutors requested that the judge approve a warrant for the Information Technology Unit of the Attorney General's Office to extract information from the defendants' phones, as well as a computer that was confiscated in the home of Pérez's sister but not mentioned in the report on the raid, with the purpose of proving that their devices are logged in or registered with the social media groups under investigation. Investigators will also look to collect data such as IP addresses, account names, and device types, whether there was direct, private communication between the defendants between January 1 and 15, whether they created the Facebook pages, and communications on the pages dating back to November. Prosecutors will then update their case file with this information.
This move suggests that the warrant will help identify other supposed organizers of groups of migrants. The Attorney General's Office, according to the warrant request, will also ask Facebook for information on all the group members, including email addresses, cell phone numbers, and geolocations. At the time of publication of the Spanish-language version of this investigation on April 26, the judge had yet to grant the warrant.
The cases against these three migrants will finish the discovery phase on May 26, when the judge will set dates for preliminary hearings. Marvin Cerén, Pérez's attorney, is looking to negotiate a plea bargain. "The bad part is, if she takes the plea deal, she'll have a record," the attorney told El Faro. "It's either that or risking a conviction, because as I see things, it's likely that will happen."
Editor's Note: This article was updated at the time of publication, from the original version published in Spanish in April, to include information on Bukele's veto on May 13, as well as the response from the U.S. Embassy.
*Translated by Roman Gressier