"Carolina Recinos, current Chief of Cabinet in President Nayib Bukele's administration, engaged in significant acts of corruption during her term in office." Those are the words of the U.S. State Department regarding one of El Salvador's most influential public officials, a member of the president's tiny inner circle of trust since he launched his political career nine years ago as mayor of the small town outside the capital, Nuevo Cuscatlán.
Recinos appears alongside four other people in a State Department report on former and current Salvadoran officials which it deems credibly suspected of engaging in corruption, sent to the U.S. Congress on Monday, May 17. Next on the list, in order, appear: Jose Luis Merino, a former leader of both the political party FMLN and Alba Petróleos, a petroleum company funded by the Venezuelan government and FMLN mayor's offices; Bukele's former minister of security, Rogelio Rivas; former Assembly president and GANA deputy Guillermo Gallegos; and Sigfrido Reyes, former Assembly president and leader of the FMLN.
The names are part of a longer list sent on April 6 to the office of Congresswoman Norma Torres (D-Calif.), which also includes officials from Honduras and Guatemala. The State Department classified the names in the first version of the document in April, impeding their release. Torres directly lobbied the Biden administration in the ensuing weeks to declassify the contents of the report.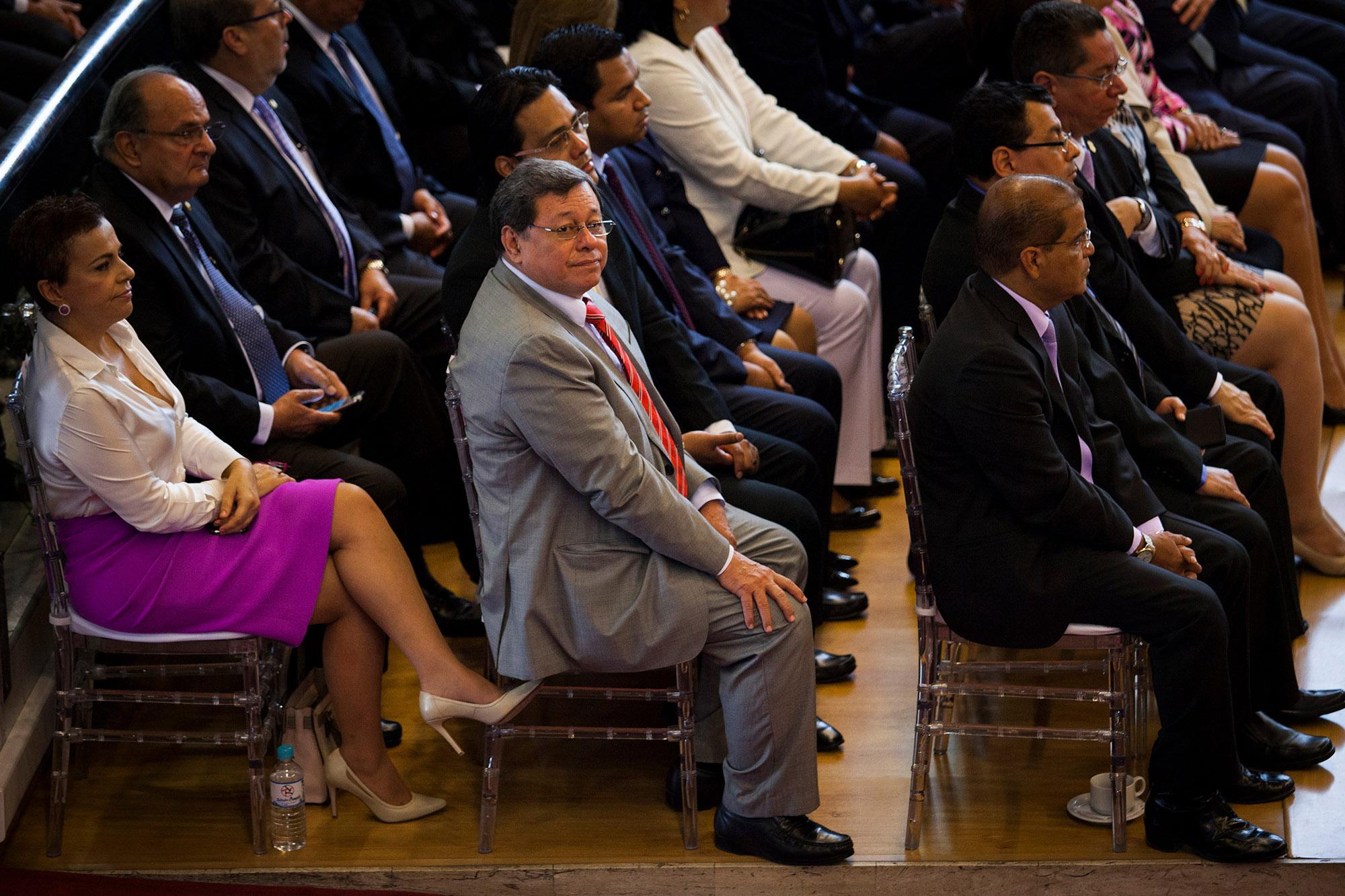 The State Department agreed on May 4 to declassify the section dedicated to El Salvador, according to the report reviewed by El Faro. The respective budget and foreign relations committees of the House and Senate, as well as Rep. Torres's office, received notice of the declassification on Monday, May 17. Rep. Torres announced on Monday that the report segments corresponding to Honduras and Guatemala would be released hte next day.
The document implicates former Security Minister Rogelio Rivas in "acts of corruption by awarding his own private construction company several noncompetitive and unadvertised contracts to build police stations and other buildings that fall under his official capacity and inflated the cost of materials." In 2015, Bukele won his second mayoral race, this time in the capital of San Salvador. In July of 2020, El Faro revealed that Rivas's company won 212 noncompetitive contracts with the San Salvador mayor's office during Bukele's tenure, while Rivas worked as an advisor to his office.
In the cases of both Merino and Gallegos, the document says that they were involved in unspecified "significant acts of corruption" during their time in public office. For years José Luis Merino was one of the main leaders of the FMLN, and from 2016 to 2019 served as vice minister of foreign affairs for foreign investment and development financing under then-president Salvador Sánchez Cerén. 
Merino also spent years directing Alba Petróleos, a Salvadoran private petroleum conglomerate run by FMLN leaders and funded by FMLN mayor's offices and the Venezuelan government, which over the years also entered the air travel, agricultural, and other commodities markets. A prominent private lender, Alba granted Bukele loans for $1.9 million in 2013. Over the years Alba has been tied to several corruption cases. 
In 2017, the U.S. Congress accused Merino of money laundering. In 2019, the U.S. Treasury imposed financial sanctions on the firm he managed, Alba. On June 1, 2019, Salvadoran prosecutors raided Merino's offices at Alba to gather evidence on money laundering.
Merino isn't the only official named in this most recent State Department list with ties to Alba Petróleos. In December 2014, a subsidiary of Alba Petróleos sued Carolina Recinos and her husband Arnoldo Bernal, the current ambassador to Russia, for non-payment of a loan worth $227 thousand. The suit resulted in the foreclosure of two of the couple's properties. Various sources from the FMLN claim that Alba issued loans based on personal closeness to its leaders and without sufficient guarantees of repayment. A 2014 investigation by El Faro found 16 companies tied to Alba Petróleos whose executive boards or legal representatives traced back to José Luis Merino and who were responsible for the allocation of millions of dollars' worth of loans.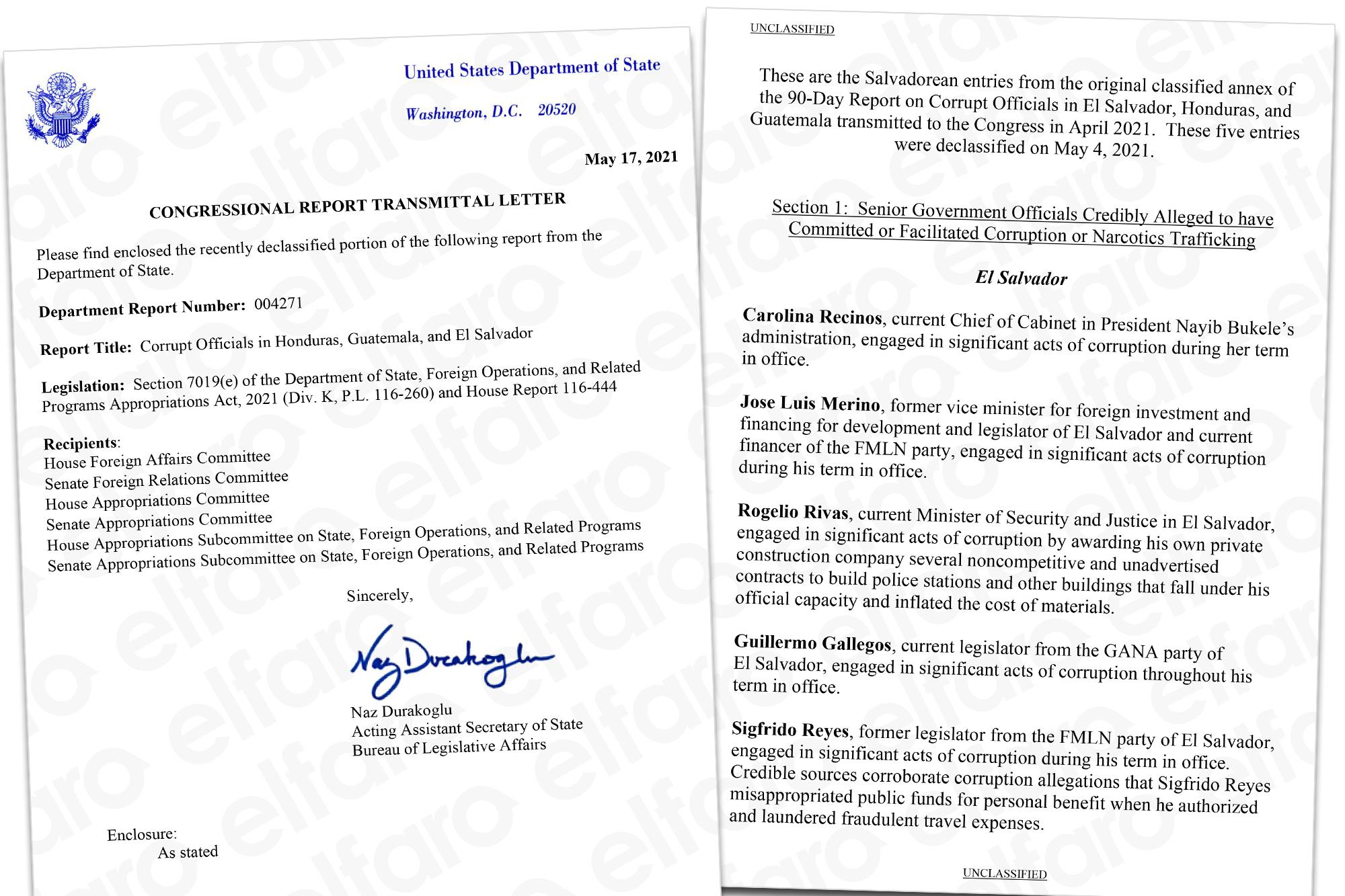 Loans from Alba Petróleos also touched individuals who would go on to form part of Bukele's cabinet. In September of 2019, El Faro revealed that the current vice minister of agriculture, Pablo Anliker, and former Treasury Minister Nelson Fuentes received loans from the same corporation. Anliker's company selling staple grains received $13.9 million from 2012 to 2016. Fuentes received a loan for $75,360. Guillermo Gallegos is one of El Salvador's politicians with the longest track record of evidence of corruption. He was a stand-out deputy with Arena before breaking away to GANA, a minority party which for years has consistently aligned itself with the party in power. Gallegos became president of the Assembly under the FMLN administration of Salvador Sánchez Cerén in 2016, when GANA was a staunch ally to the FMLN. 
The party, which served as the launching pad for Bukele's presidential run, has now fully realigned itself behind Bukele's new party, Nuevas Ideas. Throughout his time in office, which began in the Assembly in 2000, Gallegos has amassed a record of irregularities including filing for reimbursement for official trips he never took and diverting, as president of the Assembly, $550,000 to a non-profit organization run by his wife, for uncorroborated activities. In a 2017 audit of Gallegos's holdings, courts detected more than $3 million in unjustified net worth.
The State Department also points to former FMLN party leader and Assembly president Sigfrido Reyes as having "misappropriated public funds for personal benefit when he authorized and laundered fraudulent travel expenses." Since January of 2019, Reyes has faced an arrest warrant for embezzlement, money laundering, and fraud totaling $6 million. He fled the country in 2020 and received asylum in Mexico.
State Department officials declined to comment on Monday on the content of the report on the grounds that it was a "non-public" document sent to the Capitol. President Bukele, on the other hand, rapidly responded online as soon as the documents were made known: "Our 'friends' say they double-checked all of their files and information, and that there is no corruption in Arena," he mocked, in reference to what has traditionally been a close relationship between Salvadoran administrations and the United States. 
Later, around midnight Eastern Time, Bukele insisted on dismissing the list: 'Look at the names they publish, who is promoting it, the media outlets publishing it, those sharing it. They're the henchmen of George Soros. We already know their playbook and we know how to beat it," he tweeted. 
A Political Message
This list has no legal implications for those named, but the fact that the section on El Salvador was declassified sends a clear political message at a time of tense relations between the Bukele and Biden administrations. Bilateral dialogue has been particularly fraught since May 1, when the Salvadoran Legislative Assembly, under the absolute control of the president's party, Nuevas Ideas, illegally removed from office five magistrates of the Supreme Court and the attorney general, moves widely condemned internationally as a technical coup d'état.
U.S. lawmakers condemned the moves that same Saturday night, and in a public appearance on Tuesday, May 4, Vice President Kamala Harris stated that the United States "must respond" to the events. "The Salvadoran parliament moved to undermine its nation's highest court. An independent judiciary is critical to a healthy democracy and a strong economy," she said. The State Department declassified the segment of its report on El Salvador that same day.
Then, State Department Special Envoy Ricardo Zúñiga traveled to El Salvador last week to meet with Bukele, who during a previous trip in April had declined to receive him. The morning after their meeting, the U.S. diplomat told reporters that, "in our view, the best thing to do would be to restore the conditions that existed on April 30" — that is, reinstate the Supreme Court magistrates and attorney general. Bukele responded on Twitter: "The changes we're making are IRREVERSIBLE. We're not turning back, we're looking forward to the future. We hope you'll accompany us, but if you don't want to, we understand. God bless."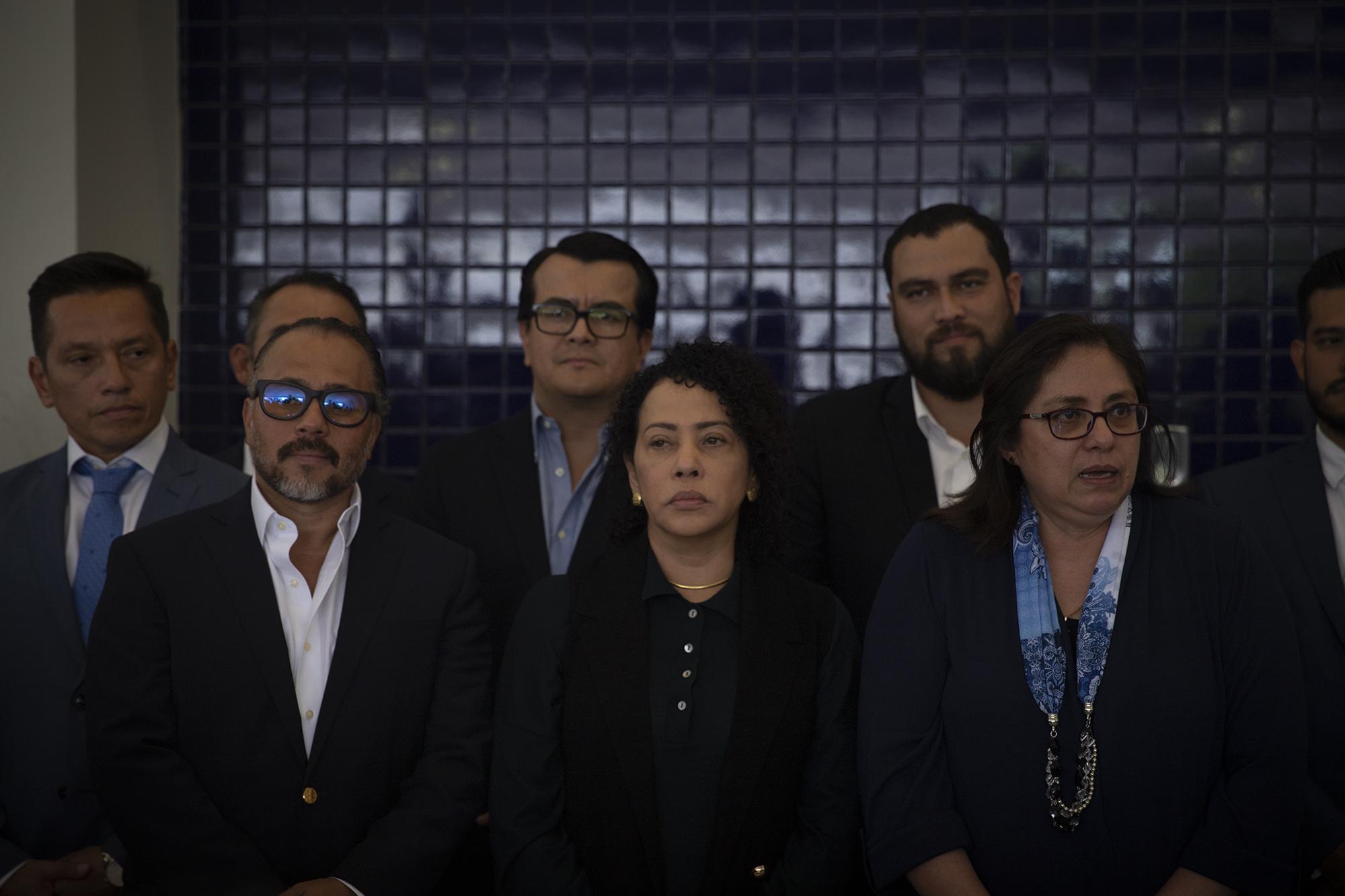 The document is the precursor to the 'Engel List' to be published this June. The U.S. Congress has determined the Engel List will name and immediately sanction public officials and private individuals in El Salvador, Guatemala, and Honduras involved — in the U.S. government's view — in corruption or the undermining of democracy in the region. 
The State Department sent the portion of the report involving Salvadoran officials to Congress on the same day that Vice President Harris met with five representatives of the Congressional Hispanic Caucus, of which Rep. Norma Torres is a member, to discuss plans of action to cut off migration to the United States. Since Biden took office in January, the United States has insisted that government corruption is one of the principal structural drivers of Central American migration.
The Biden administration has also repeatedly stated that anti-corruption policy in Central America is part of a bipartisan agenda with not only the commitment of the White House, but also of Congressional Democrats and Republicans alike. Levels of support for the Republican opposition for Biden's policy in Central America, though, are still unclear, especially amid the sharp political crisis in which migration to the United States' southern border has become a source of attacks against the administration.
On Wednesday, May 19, the House Foreign Affairs Committee will discuss a proposed resolution on El Salvador which, while acknowledging the reduction in homicides under the Bukele administration and applauding the creation of the International Commission against Impunity in El Salvador, condemns the removals of the Supreme Court magistrates, demands guarantees of the independence of the Human Rights Ombudsman, Court of Accounts, and Supreme Electoral Tribunal, and expresses hope that prosecutors will continue ongoing corruption investigations of officials in the Bukele administration. Sources from the House of Representatives say that, this time, the resolution will receive bipartisan support.
*Translated by Roman Gressier