On Wednesday, Élmer Canales Rivera, one of the most senior leaders of the Mara Salvatrucha-13 gang in El Salvador and a transnational fugitive known as "Crook de Hollywood", was captured in Mexico, according to two sources close to the arrest operation who spoke to El Faro.
After 21 years in prison, Canales was released illegally and in secret in November 2021 by the government of President Nayib Bukele, as part of the secret pact that Salvadoran authorities at the time maintained with MS-13 and both factions of the 18th Street gang to reduce homicides.
At the time of his release, the gang leader faced a 40-year sentence issued in 2020 for two homicides, and also owed a year of prison for trafficking prohibited objects in prison facilities. On July 26, 2021, four months before the Bukele administration aided his escape, the U.S. government had requested his extradition, accusing him of providing material support to terrorists, conspiring to commit acts of terrorism on U.S. soil, conspiring to finance terrorism, and conspiring in narco-terrorist activity.
The sources indicated that Canales was located in Guadalajara, the capital of the Mexican state of Jalisco, approximately two and a half hours from Mexico City. The official statement does not offer details as to the legal mechanisms that allowed Canales to fall into U.S. agents' hands.
According to an investigation published by El Faro in July 2022, the gang leader was last known to be in Mexico, where he arrived after Salvadoran authorities released him and took him to Guatemala, alongside his girlfriend at that time.
Canales is not the first gang leader to end up in U.S. custody after being captured on Mexican soil: on April 19, 2023, the Mexican Navy captured José Alfredo Ayala Alcántara, "Indio de Hollywood", a man also wanted by both the Salvadoran and U.S. justice systems. Mexican authorities put Ayala on a plane to Houston, Texas, where the FBI arrested him.
U.S. authorities had already expressed their doubts to Salvadoran authorities that Canales was still in custody in the maximum-security prison Zacatecoluca. In January 2022, the Supreme Court of Justice acknowledged receipt of a diplomatic note sent by the U.S. Embassy.
In the document acknowledging receipt, the Supreme Court wrote: "By way of this [diplomatic note] they have indicated that they received information that this wanted man was freed from confinement despite the existence of a pending extradition request and a red alert from Interpol. The United States Embassy thus requests an update on the current location of Canales Rivera."
El Faro has not confirmed nor obtained the magistrates' response to the Embassy.
Salvadoran government freed Canales
Investigations by El Faro determined that two Bukele administration officials assisted Élmer Canales' escape at the end of November 2021: Vice Minister of Security Orisis Luna, who is also the Director of Prisons; and Carlos Marroquín, the Director for the Reconstruction of Social Fabric, who was the official liaison between the government and the gangs.
In May 2022 El Faro published audio of a conversation between Marroquín and a leader of MS-13 in which the official acknowledged that he personally took Canales from prison to Guatemala. Marroquín told the gang member: "I pulled Viejo out from inside, brother, as a way of helping all you guys and to show you my loyalty and trustworthiness. I personally went to get him and took him to Guatemala."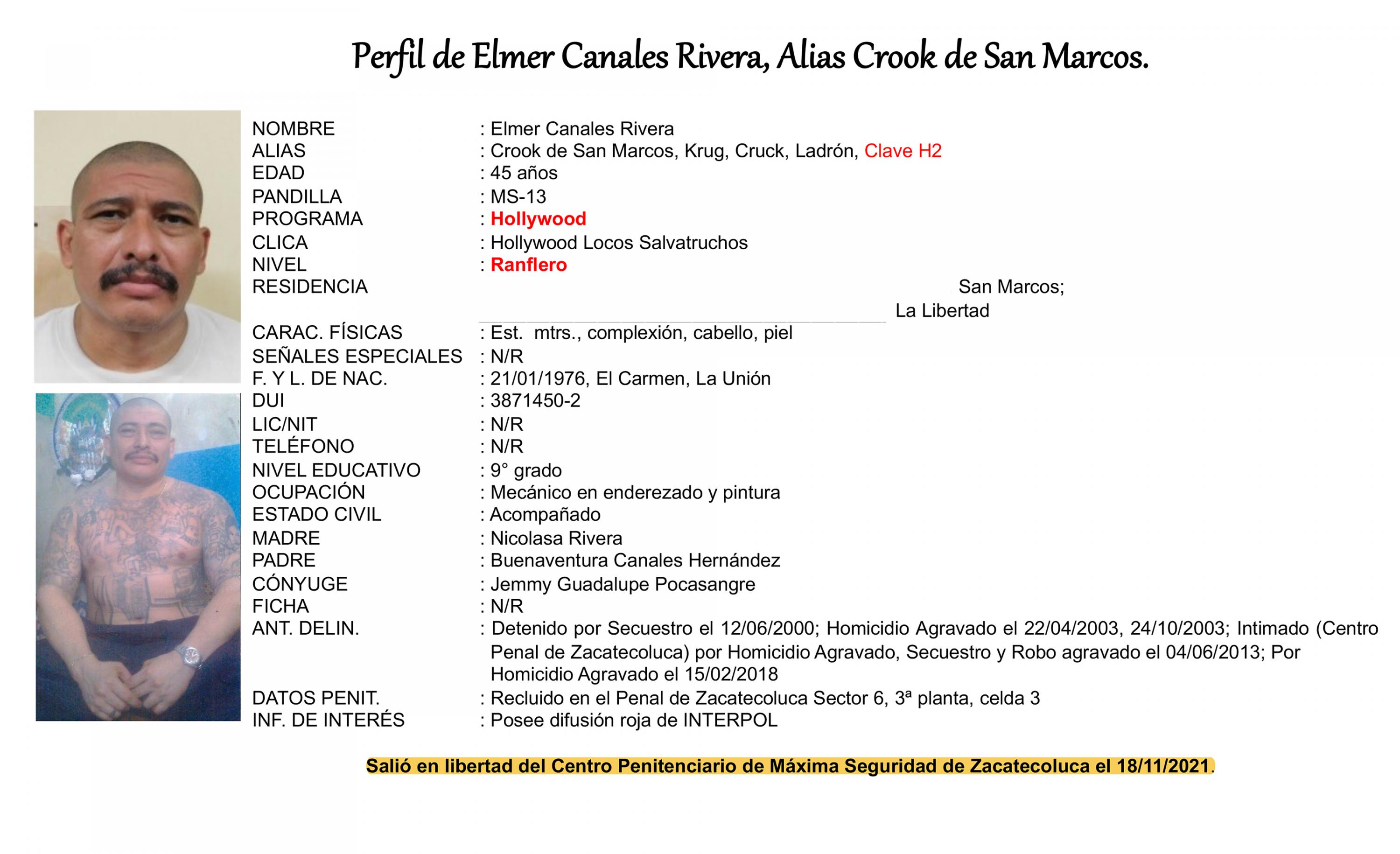 This conversation took place at the end of March 2022, on the weekend that the negotiations between the government and the gangs collapsed. MS-13 believed that the government had violated the terms of their agreement and, in retaliation, massacred 87 Salvadorans in three days.
In response to this attack, authorities approved a state of exception suppressing constitutional rights and allowing the National Civil Police and Army to capture any person suspected to be a gang member or collaborator without proof nor respect for due process. The state of exception has been extended for 20 months, and close to 75,000 people have been arrested.
Both Marroquín and Luna received economic sanctions by the U.S. Treasury, which applied the Magnitsky Law and revoked their visas, accusing them of secretly negotiating with gangs that the U.S. government has classified as transnational terrorist organizations.
According to Canales' file from the Prison Information System (SIPE), Crook was freed on Nov. 18, 2021, just one week after a gang massacre of 45 people between November 9 and 11. At the time the government held onto the negotiations, turning to gang leaders to smooth over tensions. According to information obtained by El Faro, Canales' release was designed to bring order to the ranks of MS-13 in the streets.
Who is Crook?
Canales was arrested for the first time on June 12, 2000, when he was 24 years old, for participating alongside two former police officers in the kidnapping of a man in the Costa Azul case, and he remained in prison until he was freed in November 2021.
His criminal record includes kidnappings, homicides, trafficking prohibited objects in prison facilities, and extortion, in addition to being one of the most senior leaders of his gang, labeled by the U.S. government as a transnational terrorist organization.
In 2002, while he was held in Apanteos Prison, he, Borromeo Enrique Henríquez Solórzano, alias "Diablito de Hollywood", and others founded the Ranfla, a sort of leadership board that later would become the top national authority of MS-13, responsible for expanding the use of extortion as the primary source of financing for the criminal organization.
In 2010, authorities transferred him to El Salvador's highest-security prison in Zacatecoluca. In 2012 he was sent to Ciudad Barrios, which at the time was completely controlled by the Mara Salvatrucha as part of an agreement with the administration of Mauricio Funes known as The Truce. After the collapse of those talks, Canales was returned to Zacatecoluca in 2015, where he stayed until he was illegally freed by the Salvadoran government in November 2021.