Politics
Nayib Bukele
El Salvador
Guatemala
Alejandro Giammattei
ef_english
Nuevas Ideas
Ernesto Castro
José Luis Araneda Cintrón
Andrés García Manzo
Bukele's Party Now Has a Clone in Guatemala
Family members of a Guatemalan publicist, who has partnered with Salvadoran president Nayib Bukele and Legislative Assembly president Ernesto Castro in launching multiple businesses, started the process last July of enrolling the political party Nuevas Ideas in Guatemala. If they gather the necessary signatures by January 2023, Nuevas Ideas will be allowed to participate in the 2023 presidential elections. Nuevas Ideas in El Salvador denies any association. The creators of the new party declined to speak with El Faro. 
José Luis Araneda Cintrón, a 27-year-old Guatemalan lawyer, began the process before Guatemala's Supreme Electoral Tribunal (TSE) on July 2, 2021 to found a political party called "Nuevas Ideas," the same name as that of President Nayib Bukele in El Salvador. The new party's cyan logo is identical to that of the Salvadoran party.
Araneda posed for a picture with Bukele in San Salvador, in Casa Presidencial, on the day of the 2021 Salvadoran legislative elections. He's the nephew of Pedro Andrés García Manzo Méndez, a Guatemalan publicist who founded in 2005 and 2006 two companies with Bukele and Ernesto Castro, Bukele's former private secretary and current president of the Salvadoran Legislative Assembly, and a third only with Castro.
Araneda was elected secretary general of the sponsoring group of Nuevas Ideas in Guatemala on April 9. According to documents he submitted to the TSE, joining him on the group's provisional executive board are his mother, Mónica Cintrón Méndez, and seven others including at least two employees of the law firm where he works.
The same week that Araneda asked the TSE to enroll the sponsoring group of Nuevas Ideas and validate the results of the executive board elections, two Guatemalan news outlets reported that Bukele visited Guatemala City.
El Faro reviewed documentation of the creation of the party, birth certificates, public contract procurement records in the online public database Guatecompras, merchant records in Guatemala and El Salvador, and social media to identify the founders of Nuevas Ideas in Guatemala. The newsroom also spoke with former employees of García Manzo's businesses and sought the response of each institution mentioned.
Nuevas Ideas in El Salvador denies any association with the sponsoring group in Guatemala. "Nuevas Ideas is only here in El Salvador," said party spokesperson José Navarro on Monday, Oct. 18, on a phone call with El Faro. "There may be initiatives and movements of enthusiasts in other countries, but there is no connection to our party."
The provisional executive board has until Oct. 29 to submit, among other documents, a constitution containing internal organs and regulations, its guiding principles, and a commitment to democratic values.
If they manage to gather signatures by January 2023 from 0.30 percent of all registered voters — some 24,600 signatures — then they will become a political party able to compete in the presidential, legislative, and municipal elections in June 2023 in a political landscape without a dominant party. By September of this year, 20 parties were enrolled in the TSE and at least another 26 had started the enrollment process.
The Bukele administration wrote in September 2020 that it would look to "convert Central America into a common homeland." The executive branch wrote in a press release that Vice President Félix Ulloa will present the draft of an agreement in 2024 to "create the Central American Union," and that the Salvadoran government would begin studying unification projects including the creation of a common Central American passport.
Bukele has also invoked the rhetoric of a unified Central America. After delivering 880 tons of pandemic relief food to Hondurans in November 2020, he tweeted: "One people." Then, in reference to the agenda of the president of the defunct Federal Republic of Central America from 1830 to 1839 to maintain a politically unified isthmus, he added: "Morazán's dream took a step forward yesterday in Honduras."
A party founded by attorneys
The provisional executive board of the sponsoring group of Nuevas Ideas in Guatemala is made up mainly of young attorneys. Araneda studied law at the private Francisco Marroquín University and works for the Guatemalan law firm Trust Consulting Group (TCG), according to his LinkedIn. In 2019, he registered as the legal representative of a restaurant purveyor and sold KN95 masks during the pandemic from his personal Facebook account. He claims to have done legal internships with the Ministry of Public Finance, the Guatemalan Embassy in Washington, D.C., and the Public Prosecutor's Office.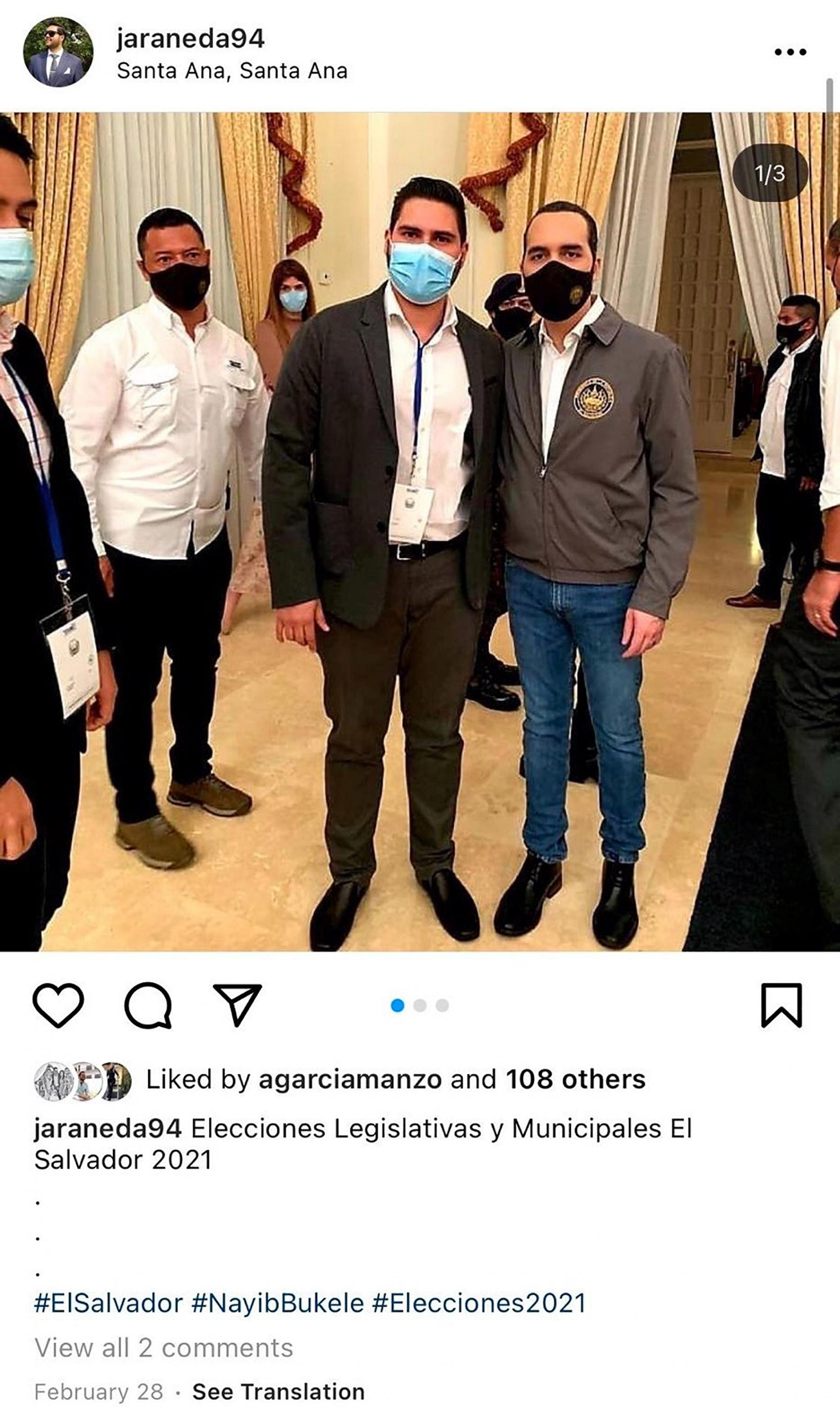 His mother, Mónica Cintrón Méndez, 47, is a telecommunications business administrator and the half-sister of García Manzo. On the provisional executive board of Nuevas Ideas Guatemala are also at least two colleagues who work with Araneda at the law firm TCG: Roberto Eduardo Kestler Ordóñez, finance secretary; and Blanca Estela Rodríguez, member secretary.
Kestler has charged the National Civil Police of Guatemala and the Ministry of Energy and Mining 486,000 quetzales (about $63,000 USD) for "technical and professional services" since 2020, according to Guatecompras. The banner of his personal Facebook profile reads: "I support General Ríos Montt." He published the picture on May 12, 2013, two days after Ríos Montt was convicted of genocide against the Maya Ixil people.
Rodríguez is a TCG employee who has registered as legal representative of at least 23 businesses under the law firm's address since 2009, in records notarized by attorneys of the firm, according to commercial records obtained by El Faro. On Jan. 24, 2020, ten company acquisitions were registered under Rodríguez's name and the firm's address, all in telecommunications, advertising, or news media.
Percy Adolfo Mena Villatoro, recording secretary, is a 27-year-old attorney who worked as a technical assistant in the office of current Attorney General Thelma Aldana from August 2016 until June of 2018. Stephanie Moes Villatoro, member secretary, is a nutritionist who graduated from Universidad del Valle.
The three remaining names on the provisional executive board are Luis Pedro Rossell Castillo, Diego Hernández Ruano, and Rodrigo José Barreda Pinto. Rossell, associate secretary, lists himself on LinkedIn as coordinator of marketing and development at the Guatemalan insurance company Seguros GYT. Hernández is an attorney and notary public who graduated from Francisco Marroquín University in 2018 and with experience in corporate law. Barreda began work in 2012 as regional sales manager of a transportation company in Guatemala City.
El Faro contacted Araneda on October 18 to request an interview. He initially offered to give it that day, but then asked to wait a week. In the ensuing days he didn't respond to messages about the interview nor written questions about the relationship between his party and that of Bukele and the possible participation of his uncle. García Manzo did not return multiple interview requests submitted to one of his businesses and his personal cell phone.
El Faro also sought comment from Bukele through the press and communications departments of the President's Office and from Castro through an advisor who said he would relay the message.
El Faro also sought comment from Kestler and Rodríguez through their work emails at the law firm TCG, as well as from Mena via WhatsApp, email, and Facebook and from Moes, Rossell, Hernández, and Barreda via their Facebook accounts. None responded. 
The publicist
"200 km separate us from a small government that acted in time and used its resources to save lives and return to normal, @DrGiammattei @GuatemalaGob @MinSaludGuate," tweeted Guatemalan publicist Andrés García Manzo Méndez on Sep. 7, 2021. He attached two photos, the first from the hospital at Industrial Park in Guatemala City where patients sick with Covid-19 lay on plastic chairs as they breathed through respirators. The next picture showed an immaculate row of ICU beds from Hospital El Salvador, the Bukele administration's signature project during the pandemic.
He added: "Shame on you all! What you've done is a sin! And you'll pay!"
García Manzo is a businessman with a long track record in Guatemala and El Salvador. In Guatemala he has for years managed businesses in digital marketing, event production, and restaurant purveyal. In El Salvador, he has done business with President Bukele and Ernesto Castro, president of the Legislative Assembly.
Grupo Atomika, a Salvadoran event production company founded by García Manzo, Bukele, and Castro in 2005, is still enrolled in El Salvador's National Records Center (CNR), but the last balance sheets were submitted in 2013. They were, respectively, secretary, president, and vice president of the company until 2010, when they were substituted out. La Barra, the company founded by García Manzo and Castro in 2006, changed its name and constitution in 2007, and since then García Manzo left the executive board.
In March of 2006, the three business partners also founded Sociedad 503 S.A. de C.V., a Salvadoran business dedicated to the operation of restaurants, bars, and nightclubs. The fourth partner in the venture was Nayib Bukele's brother Karim Bukele. Nayib Bukele and Castro held the roles of proprietary and alternate administrator, respectively, from 2006 to 2011. Since March 2021, enrolled as administrators of the business are President Bukele's twin brothers, Yusef and Ibrajim Bukele.
In 2006, when García Manzo was 26, the owners of Producciones Roma, one of El Salvador's largest event production companies, granted him power of attorney to take the reins of the company, according to documents from the National Records Center of El Salvador. The company was founded that same year by two partners: Ronald Calvo, a publicist and former vice president of Telecorporación Salvadoreña (TCS), El Salvador's television empire, and Mario Horacio Villacorta, owner of Two Shows Producciones. On LinkedIn García Manzo claims to be the general manager of Two Shows since 2005.
Mario Villacorta was also the owner of the nightclub Mario's in San Salvador's wealthy Zona Rosa neighborhood. The club closed around the year 2000 when the National Civil Police opened an investigation into suspicions that its waiters were part of a network selling drugs to clients. The club closed and was later purchased and operated by Nayib Bukele. The name changed from Mario's to Code.
El Faro called Producciones Roma to interview Villacorta about his relationship with García Manzo and Bukele, but at press time he hadn't responded.
García Manzo has also looked to do business with the Bukele administration. In December 2019, seven months after Bukele took office, the digital marketing agency that García Manzo directs, Dive Digital, publicly announced that it had met with Secretary of Innovation Vladimir Hándal to "present a project of a development and innovation hub for El Salvador as part of the central government's digital agenda," the agency wrote on social media.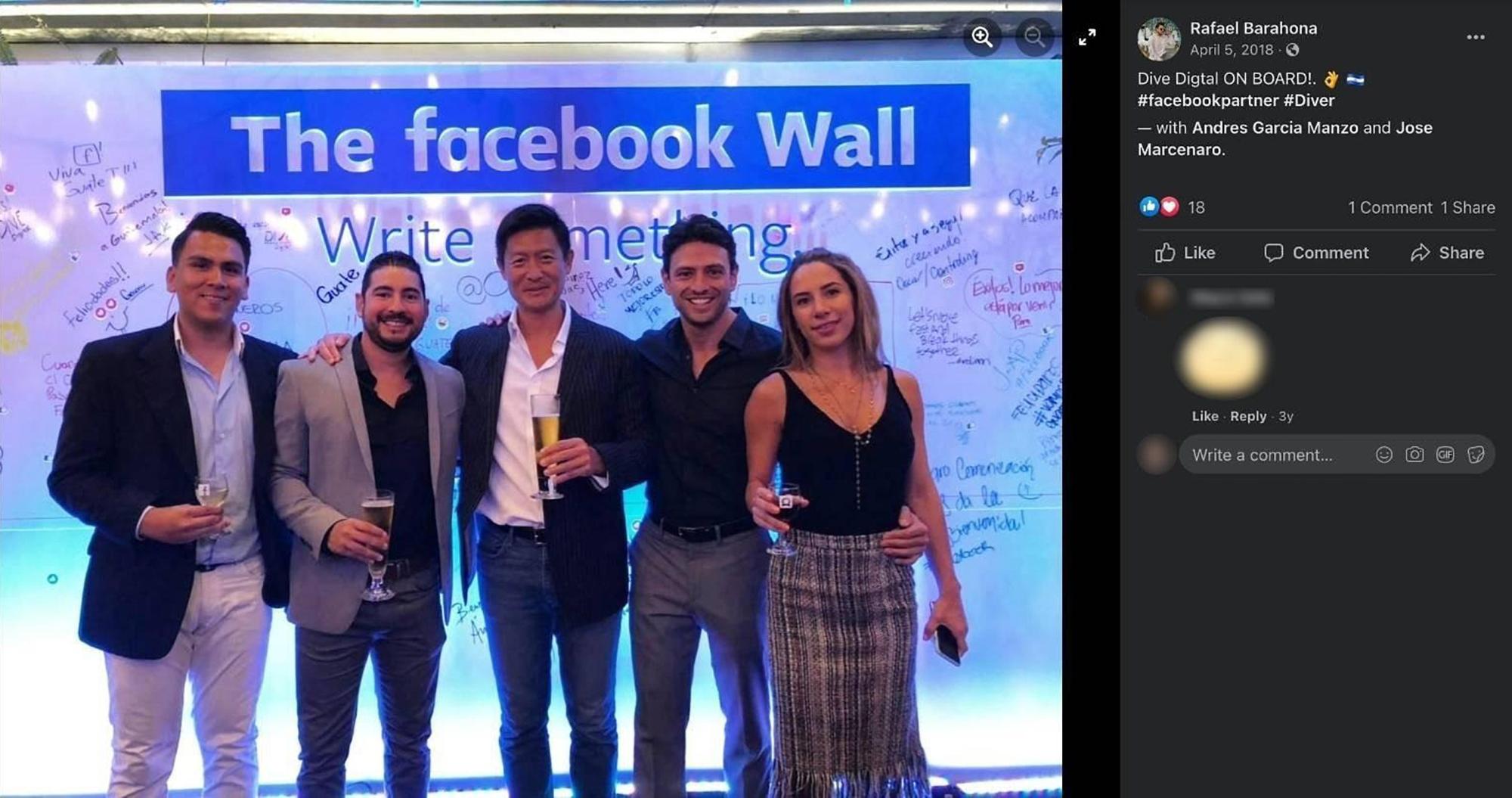 Rafael Barahona, who attended that meeting as Dive's commercial director, wrote to El Faro over WhatsApp that "we spoke about an ad placement project as a local innovation platform, but today, 22 months later, we never followed up on it." He added that "to date Dive has no contracts with the current government." 
Dive Digital is the commercial name of Camina S.A. de C.V., a Salvadoran business founded in 2007 by the ex-wife of García Manzo. Since 2017, according to the CNR, García Manzo has administered the business with José Marcenaro, who attended Dive Digital's meeting with the Secretariat of Innovation. García Manzo and Marcenaro renewed their credentials this June and will remain in their roles through 2023.
On May 1, the day of Ernesto Castro's swearing-in as president of the Legislative Assembly, García Manzo congratulated him from his private social media just after 6 p.m. "Congratulations and onward, new president of the Assembly @eralca1sv," he wrote in a private Instagram story reviewed by El Faro.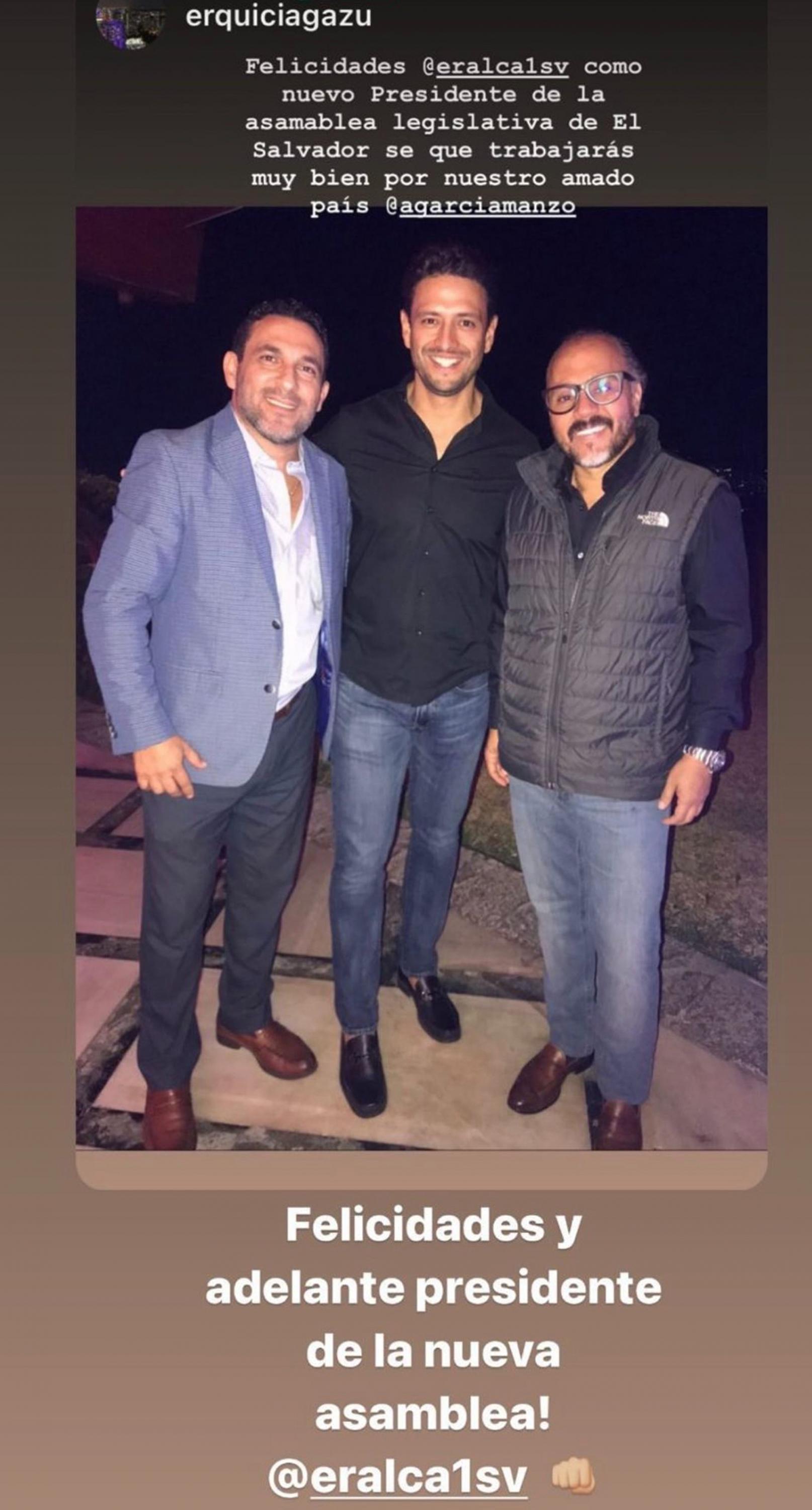 Hours later, the Assembly illegally removed and replaced the magistrates of the Supreme Court's Constitutional Chamber and the attorney general. The next day, García Manzo tweeted: "What's happening in El Salvador is what should happen in Guatemala, uprooting the corrupt and the usual suspects! That's the only way to end a plague and start over fresh. Excellent work @ECastroES @nayibbukele." 
Dive Digital did business with the preceding Salvadoran administration: it developed marketing campaigns for the Ministry of Tourism through at least March of 2019, during the term of former FMLN president Salvador Sánchez Cerén.
Political campaigns, net centers, and armored vehicles
García Manzo is no newcomer to Central American politics. Latin Interactive Group, the Guatemalan digital marketing company he cofounded in 2006 developed diverse electoral campaigns in Central America. In some races, the agency worked alongside advisors working at the time for Bukele or who would work for him in the future.
For example, the company developed the 2007 presidential campaign of Rodrigo Ávila with Salvadoran right-wing party Arena. On Ávila's team were also Porfirio Chica and Christian Guervara, who years later would help Bukele win the presidency. Guevara is now chief of the Nuevas Ideas legislative bloc in El Salvador and Chica is one of the president's top political strategists.
In Guatemala, the agency worked on the presidential campaigns of Álvaro Colom in 2008, who served six months in prison in 2018 for corruption, and his successor Otto Pérez Molina in 2011, who is now in prison for corruption. On the latter campaign the agency worked with the Costa Rican political consultant Danilo Morales, who by then had spent years working on FMLN campaigns in El Salvador. Morales told El Faro in 2019 that he also advised Nayib Bukele during his first incursion into politics in 2012 as mayor of Nuevo Cuscatlán.
In Nicaragua, the agency worked on the reelection campaign of Daniel Ortega in Nicaragua in 2012. It also worked on the campaigns of other leading politicians in Panama, Haiti, and Curaçao, according to a publicity profile of the company published in Guatemalan outlet Prensa Libre in 2015. The profile noted that the company also runs net centers: "The net centers will have the priority of creating a specialized unit to grow brands in the digital realm, according to the client's businesses."  
In July of 2015, Prensa Libre accused a programmer of Latin Interactive, Héctor Mauricio Rodríguez, of cloning their website to spread attacks against the political enemies of presidential candidate Manuel Baldizón Méndez and to promote the campaign of another candidate Jimmy Morales, who won the presidency. Baldizón was arrested in Miami in 2018 on charges of accepting bribes from the construction company Odebrecht. Morales left the presidency in 2019 after dismantling the International Commission against Impunity in Guatemala (CICIG), which investigated him for accepting illicit campaign donations.
García Manzo is also CEO of En Vivo Producciones, a company that promotes events and artists. The Guatemalan newsroom ElPeriódico cited him as CEO of the company when it brought Luis Miguel to Guatemala in 2018.
From 2011 to 2012, En Vivo charged the Secretariat of Administrative Issues and Security of the Presidency 658,000 quetzales (about $85,000 USD) for the rental of armored vehicles, according to Guatecompras. 2011 was the year that Latin Interactive managed the electoral campaign ads for former president Pérez Molina. From 2013 to 2014, En Vivo charged the Ministry of Governance 611,000 quetzales (about $78,800) for the rental of armored vehicles.
García Manzo has been highly critical of the current president of Guatemala. He even joined calls in July of protestors demanding he resign.
"#RenunciaYaGiammattei (resign now Giammattei) @DrGiammattei it's too late. Why haven't there been firings? Where's the money? We're riding purely on donations!! No logistics! Why don't we open up vaccination starting at 18 years old so that all those who want it can get it? Nothing about the dry law [prohibition of alcohol sale after 9 p.m.]!! Out with you already!!", he tweeted on July 20. 
On July 29, the first day of the nationwide anti-government strike, he took to Twitter again: "What time is the protest in the central park?"
*Additional reporting from Julie López and Asier Andrés
Apoya el periodismo incómodo
Si te parece valioso el trabajo de El Faro, apóyanos para seguir. Únete a nuestra comunidad de lectores y lectoras que con su membresía mensual o anual garantizan nuestra sostenibilidad y hacen posible que nuestro equipo de periodistas llegue adonde otros no llegan y cuente lo que otros no cuentan o tratan de ocultar.
Tú también puedes hacer periodismo incómodo. Cancela cuando quieras.
Te necesitamos para seguir incomodando al poder.
Conoce
acá
cómo se financia El Faro y quiénes son sus propietarios.
elfaro.net/en/202110/centroamerica/25799/Bukele

PP:
PC:
PN:
PT:
items_count:
items_pivot:

YY:

MM:

FI slug:
FI name: October 2021
FI sort:

FT slug:
FT name:
FT sort:

FS slug:
FS name:
FS sort: