For years now, the key moment in Salvadoran soccer happens before the game even starts. Once the undisputed best team in Central America, competing in World Cups in 1970 and 1982, El Salvador has since racked up decades of poor standings and scoreless matches. Maybe that's why its supporters, who still place all their little country's hope in the blue shirt of La Selecta, chant the national anthem with unmatched passion at every game. "Never in my life, not at any sport or match ever before, not at any World Cup, have I heard a national anthem sung like this. Just, chills," wrote a reporter from the United States after witnessing the ritual on September 2 in San Salvador's Cuscatlán Stadium. 
In the stadium, the lackluster military march becomes a thunderous roar, an intimidating rhythmic cheer, like the New Zealand All Blacks' Haka. When the game is in America, this is only accentuated. Salvadorans drive hundreds of miles to join the ritual every time their team travels to Los Angeles, Houston or Washington. 
Roque Dalton, the most emblematic of Salvadoran poets, mentions them in his famous 'Love Poem,' an ode to Salvadoran identity: "the ones who cried drunk over the national anthem under the northern snow."
A score of twenty-somethings spent the first half of 2021 memorizing the anthem. Unlike their fellow countrymen, they didn't learn it as kids because they weren't born in El Salvador. Some of them hadn't even set foot in the country. Some don't even speak Spanish. And yet, they're at the center of the collective catharsis and hope, because this year they are wearing La Selecta's blue.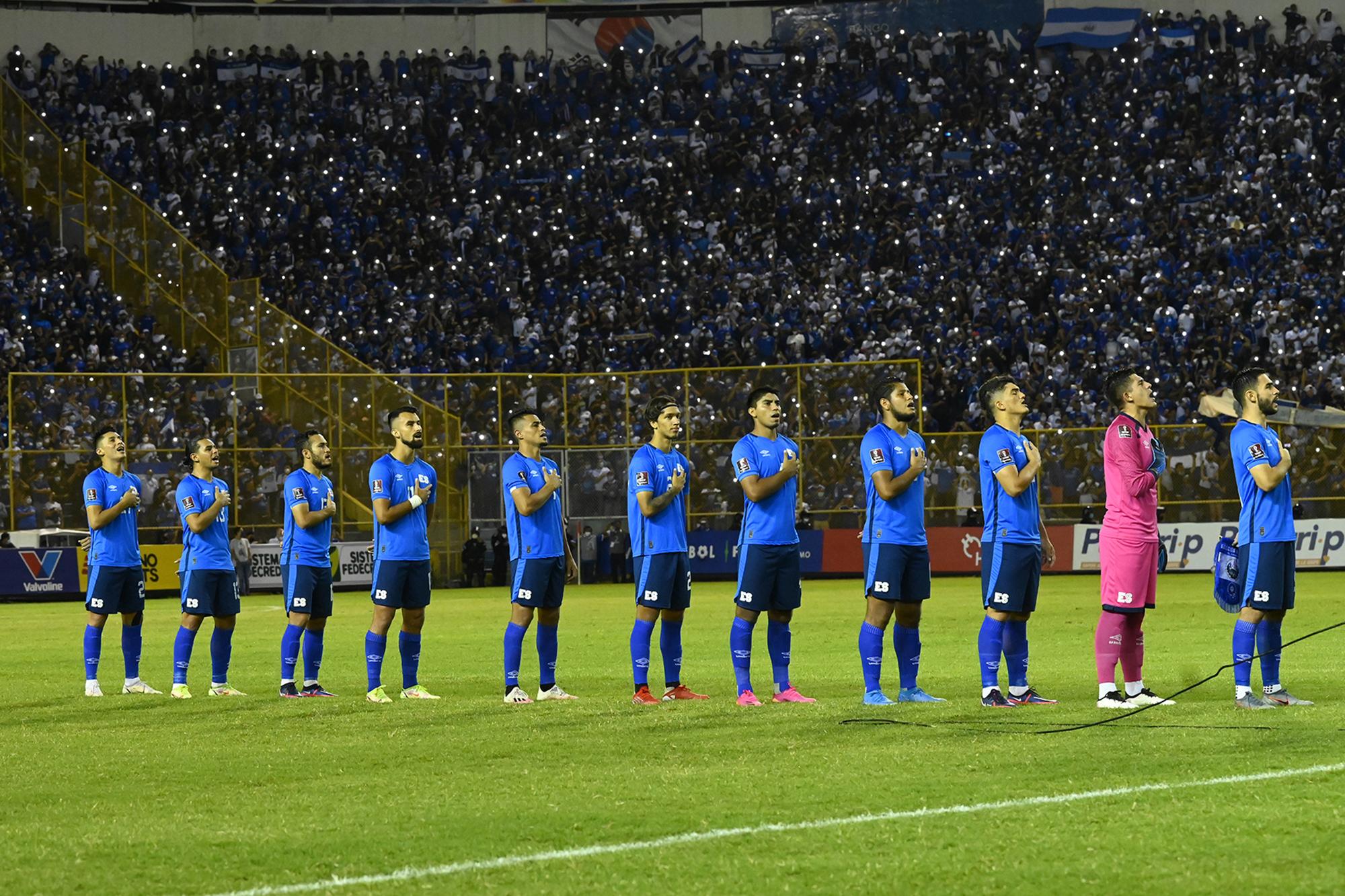 The roster of national soccer teams changes from one match to another. On September 8, in a World Cup qualifying match against Canada, five of El Salvador's starters were born in the United States: Eriq Zavaleta, Alex Roldán, Amando Moreno, Walmer Martínez and Joshua Pérez. Another one was born in the Netherlands. In total, one-third of the 25-player roster was born abroad. 
"I first came three days before the first game against Virgin Islands," says Eriq Zavaleta, central defender. He's 29, answers in English and it's hard to miss his Anglo-Saxon look: 6'1, white skin, blue eyes.  "I didn't have time to learn [the anthem] but I told myself I needed to because this is an important part of the culture," he says. He and Alex Roldán, another California-born defender, rehearsed for hours while listening on Youtube.
Amando Moreno, a New Jersey-born midfielder, also had to memorize the lyrics at training camp. "Obviously. It's something that I had to know from way back but it's difficult being in the United States all the time," he explains. Enrico Dueñas, a midfielder born 20 years ago in Almere, 18 miles away from Amsterdam, faces another obstacle: he doesn't speak Spanish. Once a member of the U-16 Netherlands national team, he played in the minor divisions of the four-time European champion Ajax and finally met the birth country of his father on August 29. Dueñas, the first Salvadoran to score in the final round of qualification, still doesn't sing before matches. 
That El Salvador plays with a team consisting mostly of foreigners is the heritage of an unending diaspora and yet another episode in its complex relationship with the United States. Carlos Zavaleta, father of Eriq, was born in Santa Ana in 1955 and went to Los Angeles at 18. Had he stayed, he believes he would have met the same fate as his college friends: murdered or tortured by the pre-war military dictatorship.
Ana Roldán, mother of Alex, also left Santa Ana in 1982, making her way first to Houston and then Los Angeles. It was the cruelest stretch of a civil war in which the U.S. military funded, armed and trained the Salvadoran army: "there were lots of deaths happening," she says. Sonia Moreno, mother to Armando, left for New York when she was 16 and now owns a gardening business in New Jersey. The Peace Accords had been signed but, back then as it is now, there was no job security or future in El Salvador. Their sons now play for El Salvador. They are part of that thunderous choir that sings before the starting whistle: "We salute the homeland, proud to be called her sons". 
***
The parking lot of the Dignity Health Sports Park in Carson, L.A. County looks a lot like the Cuscatlán Stadium this August 21. The sun is strong, the smell of barbecue courses through the cars, and hundreds of Salvadorans drink imported local beer and listen to cumbia.
A young woman in jeans and a silver bikini top sings to the beat of the drums, sitting on the shoulders of a man with a blue-and-white shirt painted on his face, all while balancing a beer in her left hand. Byron Alvarado, born in Los Angeles 25 years ago, pulls back his blue La Selecta jersey to show off a tattoo of the national emblem over his heart. He walks around the parking lot with an orange flag of Águila, the team from San Miguel, his father's hometown. A man grills near his truck, where he keeps a Salvadoran flag that has two pictures of President Nayib Bukele. A man searches for jumper cables because his car finally gave out after hours of blasting music on the stereo. "I bought the Selecta's shirt instead of the car battery," he explains, giggling, to everyone's delight.
Who cares what the score is? Midway through the first half, the crowd seems less interested in what's unraveling on the pitch against Costa Rica than in correctly executing the wave in the stands and jeering at the sections where it stops.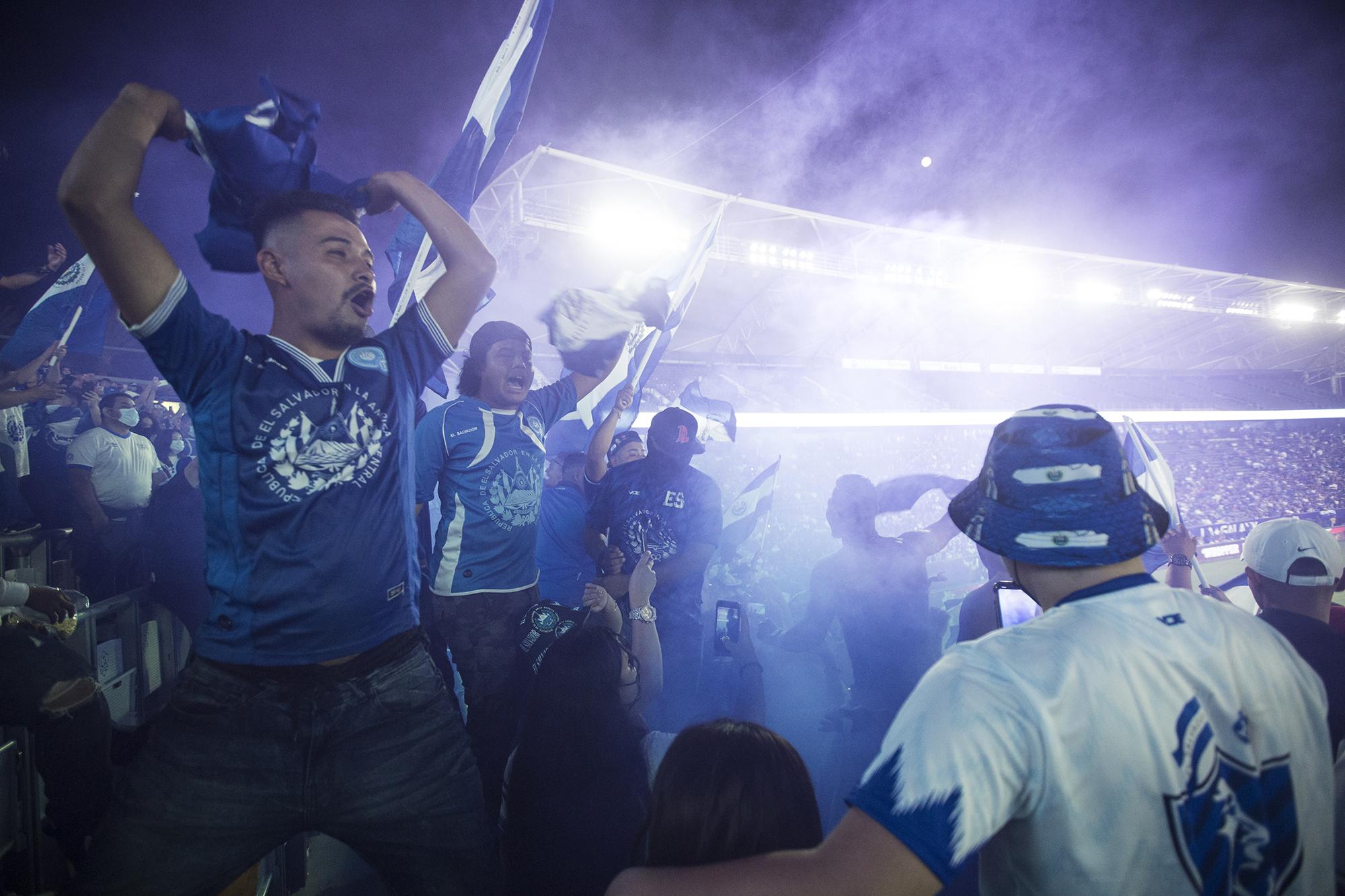 It's hard to argue with them. The game is dull and will end in a boring nil-nil, with few scoring opportunities. Several of the regular starters from both sides aren't playing.
But from the bench, Roberto Molina, a 20-year old man born in Sonsonate, waits for his chance. He has lived in L.A. since he was six and is hoping to debut with the team of his birth country. He plays for Las Vegas Lights, a partner club to Major League Soccer's Los Angeles F.C. The night before the game, his mother and relatives gather around him in the team's concentration hotel, hugging him and taking pictures. His mother sells insurance and his father sells sports shirts. 
With 20 minutes left on the clock, coach Hugo Pérez subs him in. It's the most important moment of the match for the Molina family. After the game, Molina posted pictures holding his relatives on the stands: "I thank God for these opportunities, the marathon continues," he writes. Who cares about the score? 
***
On September 2, 2021, Carlos Zavaleta returned to a different country than the one he left in 1973. He landed in an airport that was built in 1980 to watch his son play against the United States in a stadium built in 1976. Even the place where his mom worked before starting their family immigration journey is gone: Santa Ana's central market burned to the ground in early 2021. 
"My parents left in search of economic opportunities but they knew there was something raucous starting here, a civil war," he explains. His father, a carpenter, left for Los Angeles in 1970 to pave the way for his family to join him. By then, the U.S. Census had registered some 16,000 Salvadorans, mostly economic immigrants. The numbers spiked at close to 100,000 by the end of the ensuing decade, spurred on by the refugees from social and political violence. Ten years later, in 1990, the number was just under half a million.
Migration hasn't stopped since. Pew Research Center estimated that there were 2.3 million Salvadorans scattered across the United States by 2017, though it's not uncommon for people to cite up to three million.
Eriq Zavaleta's grandfather was among those to migrate in the 70s as the economic and political factors started to merge. "I lost a lot of friends," says Carlos. He means that they died. By the time he left, the Army had already closed the Santa Ana campus of National University, where he was a freshman. His memory turns grim: "If I hadn't gotten the green card, Eriq wouldn't play for El Salvador. Maybe I wouldn't be alive."
Though most online profiles state Eriq Zavaleta was born in Indiana, he was actually born in Mesa, Arizona. He was two when his parents moved to Carmel, Indiana. Carlos remembers him at a young age, playing around the living room with a stuffed ball. At six, the parents of his junior league complained because they thought he didn't meet the age cap. He was taller and better. Eleven years later, he played the U-17 2009 World Cup with the Stars and Stripes.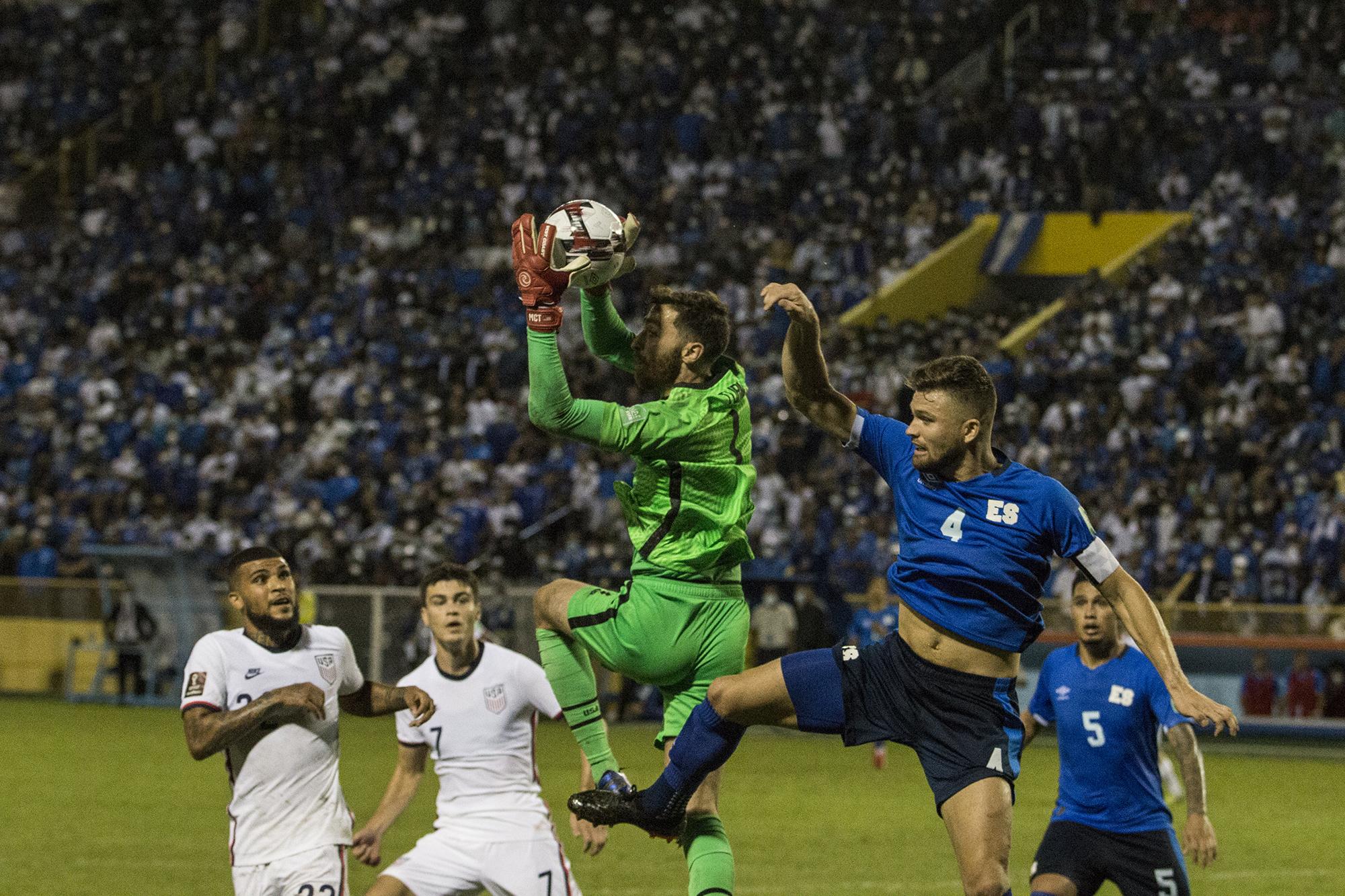 They advanced to the round of 16, making it out of a group where they competed with a team from Spain stacked with stars: Isco, Álvaro Morata and Sergi Roberto, who went on to play with European powerhouses Barcelona and Real Madrid. Then Italy eliminated them.
Zavaleta was a regular starter. Naturally, he waited for the call-up to the U.S. men's national team. It never arrived. El Salvador knocked on his door in 2017 after self-made recruiter Hugo Alvarado discovered his father's Salvadoran roots. "I think that there were questions, and rightly so, from some of the fans. Why did it take so long, and does he really care about this country? I've tried to answer those questions right away. I think scoring and kissing the badge showed a lot of those fans that I really do love this country and this team," he said.
The picture of Zavaleta kissing the badge after scoring against Antigua and Barbuda on June 8 is his father's phone background. "I told him: you're representing El Salvador but you're also representing me as a Salvadoran", says Carlos. "I think when he did that, he also did it for me".
Carlos and Eriq barely know the country that is theirs again. Eriq only travels for practice and games. His father had already forgotten the national anthem. For them, El Salvador is summed up in a stadium and a song. "When the anthem started and people began to sing, I was watching my son," says an emotional Carlos, and he pauses. "It was overwhelming."
Carlos Zavaleta cried in the stadium last night, but today he can't stop laughing. It's September 3. In the Santa Lucía residential compound, in Santa Ana, Zavaleta glances at the memes of his son, voted MVP for the game against the United States. "The white guy takes better care of us than the Police," says one. Another fan posted the image of a flirty woman taking her shirt off because "Eriq Zavaleta" exists. 
He asks for my help trying to figure out what a Salvadoran slang word means: "riata". 48 years later, Carlos doesn't know what it means. I tell him the meme is talking about giving his son a handjob. Embarrassed, he says: "I didn't want to know." 
***
The match on September 2 was a reunion for a group known as "the 98's".
In Desireé Calvillo's house in Lancaster, California, 60 miles outside of Los Angeles, hangs the U.S. jersey her son, midfielder Eric Calvillo, wore four years ago in the U-17 World Cup in Chile. Eric Calvillo was a part of that team and of "the 98's", a generation of American players including Cristian Pulisic, the Americans' brightest star and European champion with Chelsea; Tyler Adams, another Champions League player with German side RB Leipzig; Luca de la Torre, from Dutch league Heracles; and Joshua Pérez, former winger with Serie A's Fiorentina. "It was a helluva of a team," says Desiree, sitting in a cozy living room filled with other mementos of her son's career: flags, trophies, medals.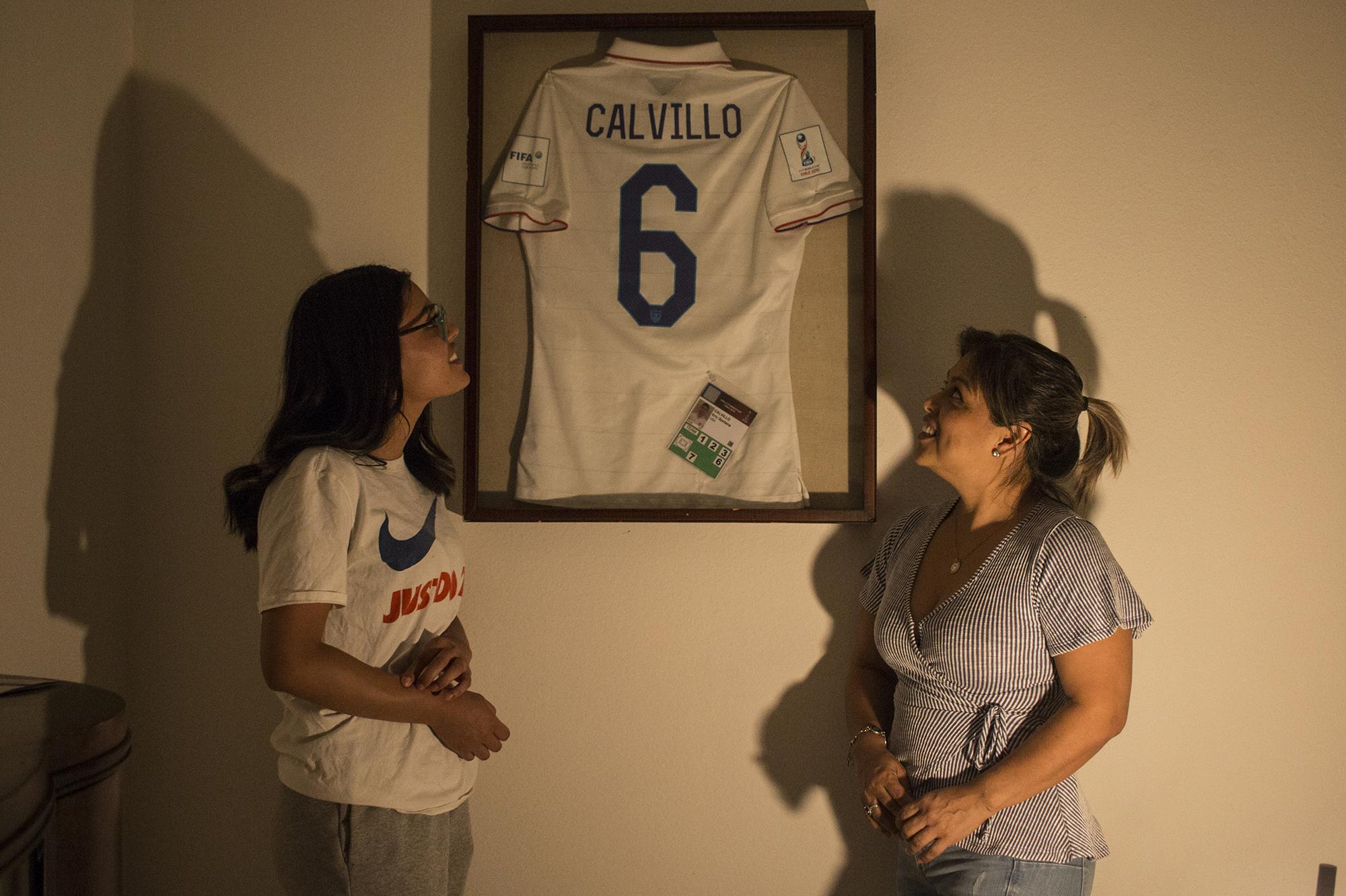 Pulisic and Adams are a vital part of the American side in 2021. Adams was the captain at Cuscatlán Stadium. Pérez and Calvillo switched over to El Salvador. La Selecta's coach, Hugo Pérez, was born in San Salvador in 1963 and during the 80's played in 76 matches for the U.S. He coached all of "the 98's" as teens when they were part of the U-14 American team. 
"I loved the way [Pérez] made them play," remembers Desiree. She was six when she crossed the border undocumented in 1981. Her grandfather was in the military and she fled El Salvador when the guerrilla threatened her mother in San Jacinto. They moved to Koreatown, where many Salvadorans found a haven from the civil war. 
***
The Pérez family had been living near Olympic Avenue in Los Angeles when they decided to move in the early 80s. As hundreds of thousands of Salvadorans escaped their country, they were fleeing a local threat: the Barrio 18 gang. 
Giovanni Pérez was born in Westwood in 1971. He and the gangs came of age simultaneously. Thousands of immigrant sons were thrust into the Los Angeles gang ecosystem, consisting of Mexican, Korean and Black gangs and where others, such as MS-13, were born.
Giovanni, like so many Central Americans today, grew up on Barrio 18 turf.
"Since you're raised there, in the hood, they protected us," he explains, sitting in a roadside diner in Bell Gardens, 10 miles away from Koreatown. "Back then they used knives and bats in the fights. You rarely heard of guns," he says. While the streets grew tougher, a teenage Giovanni found himself with plenty of spare time. His brothers had moved away, his parents had split, and he lived alone with his mother, who worked all day cleaning houses in Beverly Hills. He admits he grew more and more "mischievous."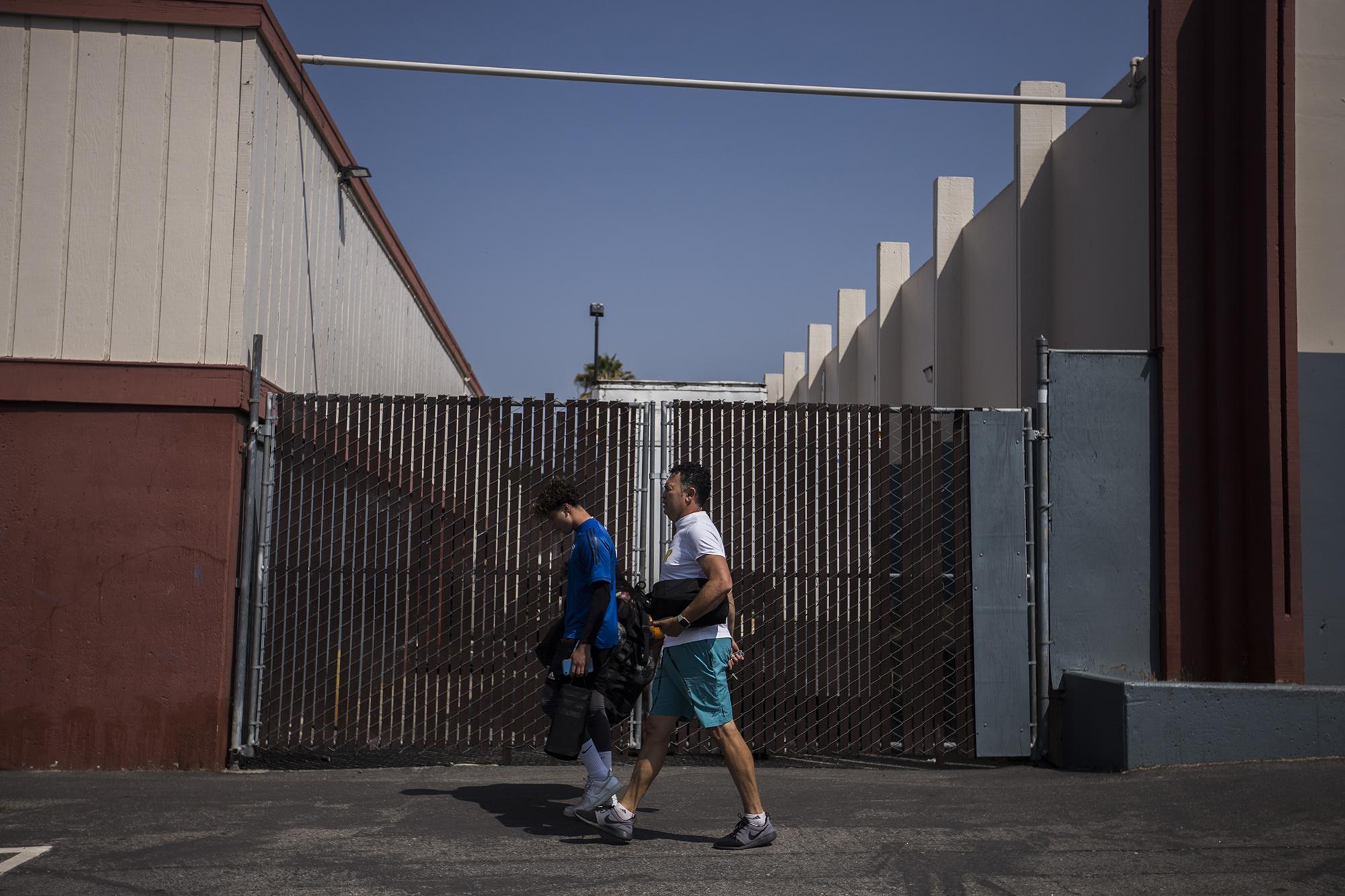 "Cocaine was running high in the 80s," he says. He was a tall kid who, though just 11, looked like he was 16. Nervous laughter hides the details in his memories. "The things you do, let me tell you… there were times where… we were young, trying to make some money. We used to head to Sunset and Hollywood and sneak into clubs way before we were 21," he says.
A full-scale war between Barrio 18 and MS-13 was raging. "I lost a lot of my friends, gunned down by MS-13," he says. "I had started taking some distance and my mom said we were moving." They headed east, near Estrada Courts. Giovanni had started soccer practices and big brother Hugo, already talking like a coach, made him play goalie.
Giovanni thinks pursuing a professional career in soccer led him away from the gang environment. He played for six years: first with a San Bernardino team and then in El Salvador, for FAS, the team with the most league championships. Since 1994, he's been a teamster in California. "We have all lived from the truck," he says.
Hundreds of thousands of Salvadorans have seen the American Dream as a way out of poverty or violence. On average, the U.S. Border Patrol detained 262 Salvadorans every day in the last 11 months. Giovanni Pérez, ironically, now sees the Salvadoran Dream for his son and his brothers in the form of a soccer ball.
***
There was still one more reunion on the Cuscatlán pitch. After the final whistle, brothers Alex and Cristian Roldán swapped shirts. The photograph is history because Cristian plays for the U.S. and Alex for El Salvador. Their proud parents watched on from the bleachers. They asked them to take the photo before the game.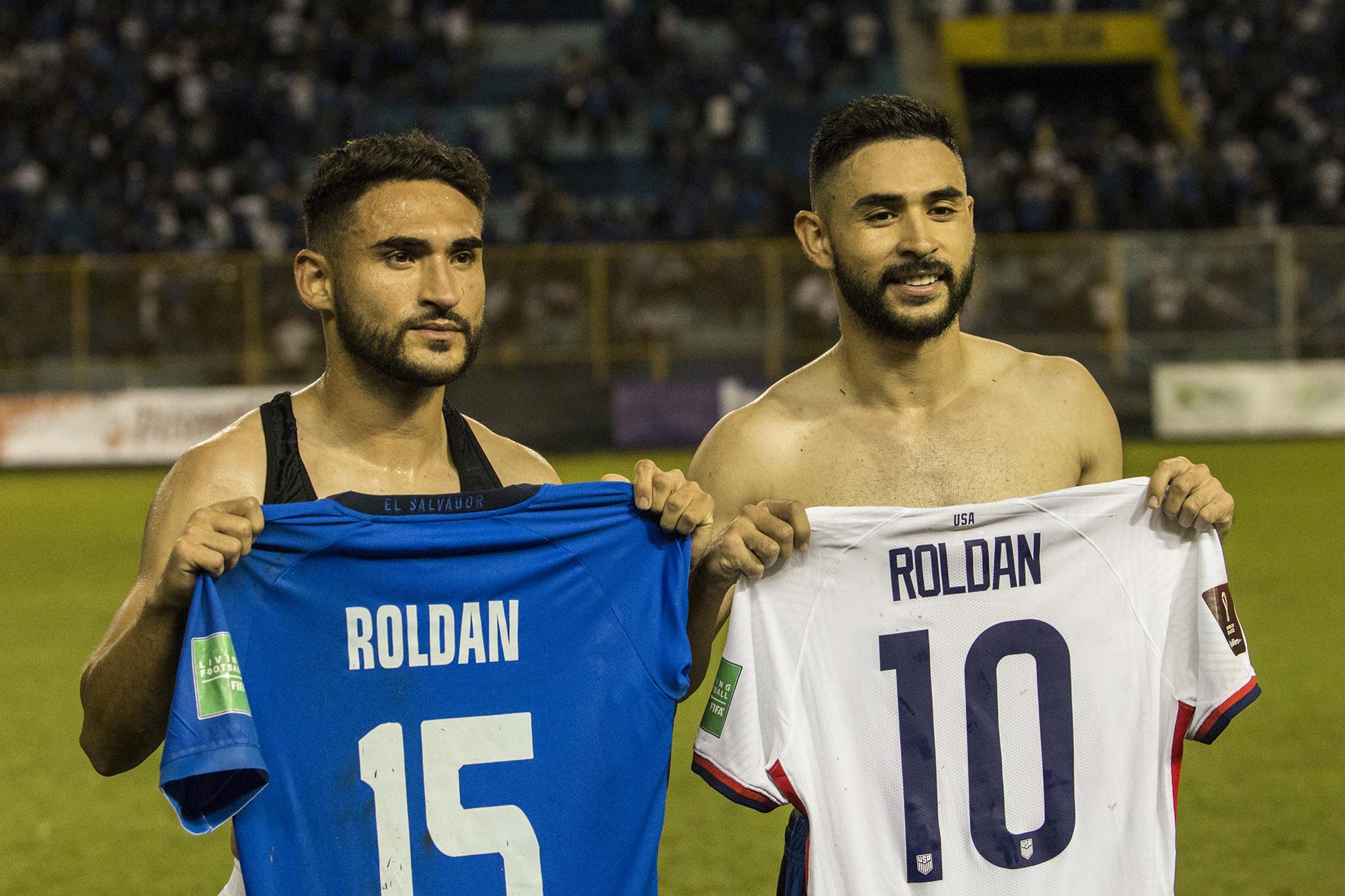 César Roldán is chatty, unlike his wife, Ana, who prefers short answers. They live in Pico Rivera, a family suburb in Los Angeles. A Salvadoran and an American flag hang from a palm tree in their front yard. César was born in Gualán, Zacapa, a rural town near Guatemala's Atlantic coast. Ana was born in Santiago de la Frontera, a Salvadoran town near the border with Guatemala. César, a mechanic, followed his father's advice to head north to make money. Ana worked in a McDonald's before devoting herself to raising their family. "We didn't have any issues but what was happening was scary," she says of El Salvador in the 80s. "A lot of deaths," he says. 
César had a green card by 1984 and Ana took Reagan's migratory amnesty in 1986. The same president who was sending millions of dollars to a repressive army was kinder to Salvadorans on his side of the border.
They grew up modestly, and the Roldáns saw in soccer a way to secure their kids' college education. To get picked up by scouts, young players must participate in big tournaments. That costs money: club memberships, plane tickets, hotel rooms, uniforms. "I made calls, sent emails, even mailed videos of Cristian's highlights to see if someone called us," says César. "It was pure luck he was noticed in a place where scouts don't usually attend." 
The "Broldans," as they're known by fans, now both play for the Seattle Sounders. As to how they end up on opposing sides in the international arena, César likes to tell the story of his sons' audition for an Adidas TV ad in 2009. Cristian walks the streets of LA, picking up plastic bags on the sidewalk, over a barbwire fence or in trash cans, even stealing one from a homeless person. He eventually puts them together and makes a soccer ball. Alex didn't make it through casting, while Cristian got the spot. 
Something similar happened on the pitch. Cristian earned two appearances for the U.S. U-20 side in 2015 and, despite competing offers from Guatemala and El Salvador, he waited for the call-up. He debuted in 2017. Alex, 25, still hadn't been called up with the U.S. and was getting ready to suit up with Guatemala, but El Salvador got in the way. He debuted with El Salvador during this year's Gold Cup in Texas, where he squared off with Guatemala. He scored the opener in a 2-0 win. When his father called him after the match, he apologized: "Sorry it was against your country!"
César says Alex is learning how to be Salvadoran. "You can't learn a culture by traveling a month," he says. Ana, meanwhile, says it's not that hard: "it's in his blood," she flaunts. Maybe she's right: Alex is now captain of the El Salvador squad.
***
There's an old saying in Salvadoran soccer: the solution for the lack of players is to search for them away from the capital, in rural fields and neighborhoods. With three million Salvadorans in America, that search should include the rural towns in North America, according to Diego Henríquez, the sporting director of the Salvadoran Soccer Federation. He's the man behind Alex Roldán's recruitment and is partly responsible for the current experiment of a global Salvadoran squad.
Born in San Salvador in 1987, his profile sharply contrasts with his employers. El Salvador hasn't qualified for a World Cup in four decades. Fans and some journalists blame the men in the Federation, the old board members who fire coaches and have been unable to produce a successful team. Henríquez is cool: a 34 year old who looks like he's still in his twenties. Trimmed hair, stylish beard, wears slim-fitted suits with sneakers, sunglasses, and caps. He speaks English with the players and posts stories of books with the finest authors of European soccer. An International Business major at Tulsa University in Oklahoma, he was also a Salvadoran player with the U-17 and U-20 sides, between 2000 and 2006.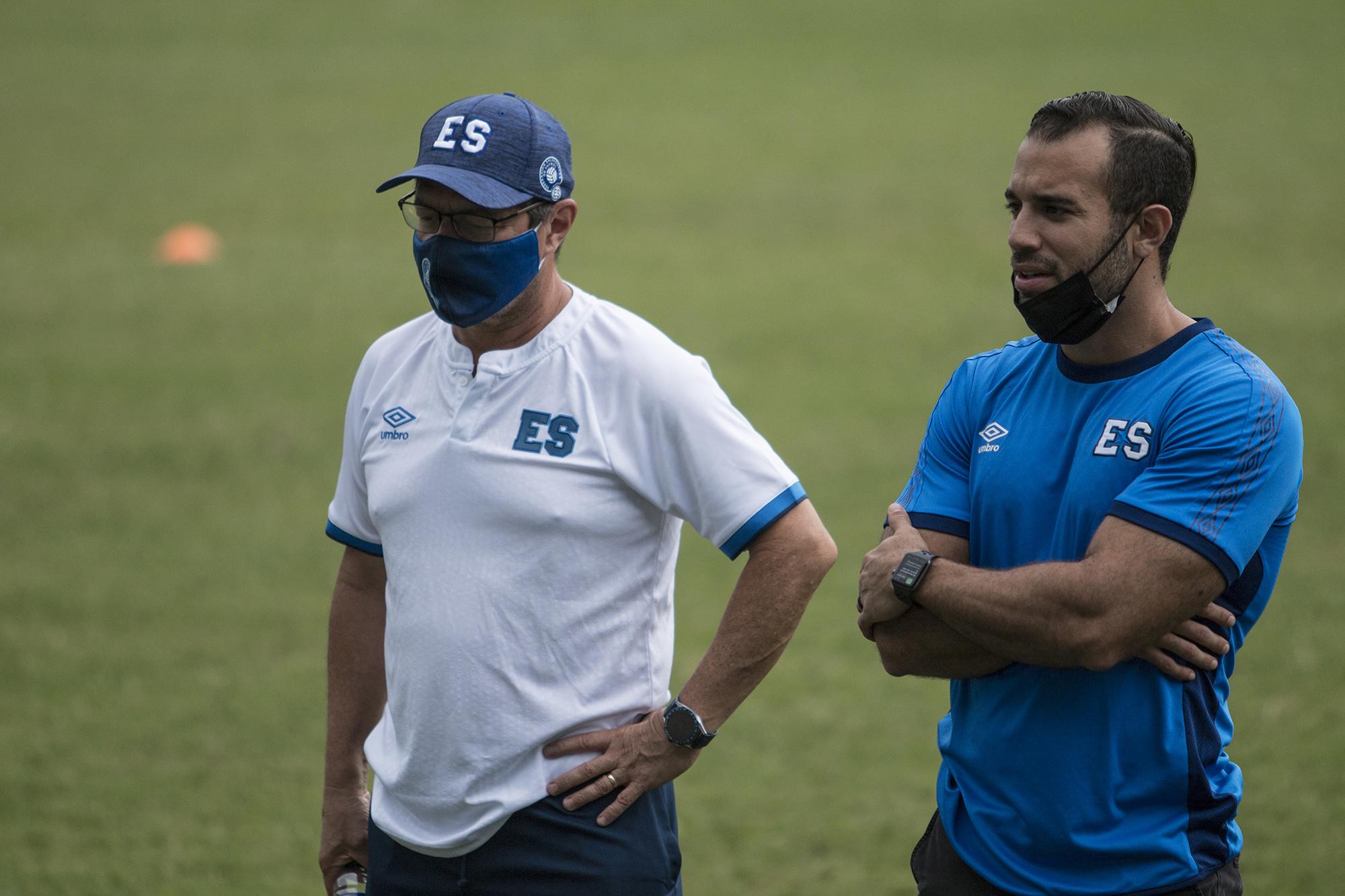 He is well-mannered but doesn't mince words: "The fields in El Salvador are an obstacle. There's no infrastructure, the directors are hard-headed." He's the first sporting director in the Federation's history. Last year, during the Covid-19 lockdown, he put together a PowerPoint, presented it to the Federation's president and started his personal revolution. By October, he was hired. By January, four foreigners were playing with the U-23 side. 
"I knew American-born players with Salvadoran parents were better prepared in several ways," he says in the DoubleTree Hilton's hotel bar, in Torrance, California. "By the time they're 10 or 12 they start having a training infrastructure, gym, nutritionist, soccer coach, personal trainer and training habits we don't have in El Salvador," he says.
Henríquez saw a gold mine and started to dig. Hugo Pérez, a Salvadoran enshrined in the U.S. Soccer Hall of Fame, was key to his talent search. "He was the cornerstone in my proposal, so I could approach American, European or Australian talent and have a coach they would love playing for."
Predicting some resistance to his experiment, it was also his idea for the new Salvadorans to go over the lyrics of the Anthem on the Internet. "I told our press officer: I need you to get these six in a room with Youtube and make sure they learn it, so when the cameras show them they don't just move their mouths, making shit up." 
Henríquez didn't want the squad put on trial for some sort of twisted purity test. The team has connected with the fans at the same time that players who grew up feeling American or Mexican have connected with the country. After the game against the United States, Eriq Zavaleta rang his father and told him it was the most exciting game he had ever played. 
"That's what they are," Henríquez explains, "Half-and-half, and there's nothing they can do to change it." 
***
Relationships between the United States and El Salvador are sometimes described in cold terms with little meaning: "diaspora," "irregular migration," "relationships are complicated," "remittances are a fifth of the economy." For years, the term "distant brother" was coined until it was understood that it made immigrants feel insulted.
Now, the notion that there are too many abroad to be considered peripheral is setting in. One in three Salvadorans has a U.S. zip code. The Virginia aunt, the San Francisco cousin, the Los Angeles dad and the Houston cousin are part of almost every Salvadoran family. Besides volcanoes, beaches, corruption, and war memories, the country is accepting it is also a small Bronx home with immigrant's ashes, a bilingual sign post in a coastal town called Intipucá City and  every rural school built with the generosity of those who left. 
The several thousand deportees, of course, also have a mirror in the Salvadoran team. Lizandro Claros, a Marylander born in Usulután, was deported by the Trump administration in 2017, when he was about to start college on a sports scholarship. He can't play for El Salvador in America, lacking a visa, but plays in the Salvadoran First Division and debuted as a central defender on October 13, in the Cuscatán stadium, against Mexico.
If America is the perennial mythological dream for Central Americans, it's also true that many Salvadorans wish to return to a different country than the one they left. 
Carlos Zavaleta, Eriq's father, got to do it on September 3.
In the San Lorenzo neighborhood, a few blocks away from Santa Ana's downtown, Carlos Zavaleta tried to reconcile his memory with his eyes. 40 years later, he knocked on the door of the house he lived in and asked for those who once lived there. His eyes light up when he finds that Armando Sánchez, his 91-year-old uncle, still lives there. Out of the back of a wood-covered room, an old man slowly walks with the help of a cane.
Tanned chest, an open dress shirt and a facemask hanging useless in the front pocket. They barely recognize one another and immediately go over a list of dead and immigrant relatives. "I'm Raúl and Elena's son," he says, "They both died." "For heaven's sake, we're running out," answers a witty Armando. 
It's the first time they talked in half a century. Carlos never sent a dollar but nobody shows up empty-handed. After a while, he picks up a paper from the table and shows his uncle a picture of his particular remittance: a full-page photo of Eriq, battling mid-air for the ball, sporting the La Selecta blue. "Look," he says, "this is my son. Now you can brag to your friends that your nephew plays for La Selecta."
Editor's Note: Read the original version of this dispatch in Spanish.