After nightfall, a bus loaded with maskless North American and European tourists slowed to a halt at the side of the road in San Pablo La Laguna, a Maya Tzutujil lake town tucked in the Guatemalan highlands. Light spilled onto the dark intersection from a crowded Evangelical church. "San Marcos, San Marcos," the driver called out. One French tourist on the bus nervously muttered to the woman accompanying him: "What are we doing here?"
I alone stepped off the bus with the driver. He took me in the dark to a line of tiny red motorized taxi carts. "I paid for your tuktuk. Good luck," he said, before darting off into the night. Uninterested in the detour, upon arrival in San Pablo he had turned my bus ticket to neighboring San Marcos La Laguna, without consulting me, into a rickety ride in a tuktuk just barely capable of carrying me and two elderly Kaqchikel women uphill.
Both saint-named towns sit along Atitlán, an idyllic lake in the crossroads of three Mayan peoples: the Kaqchikel, K'iche', and Tzutujil. For eight decades the lake, which rests in the crater of a volcano, has been a magnet for tourists, wealthy expats, missionaries, and other wanderers. The first wave of visitors on new roads in the 1940s tried to turn Atitlán into a glitzy "Cancún of the mountains." Two decades later, the lakeside town of Panajachel became the site of a commune of New Age hippies.
It was just a matter of time until bitcoiners arrived.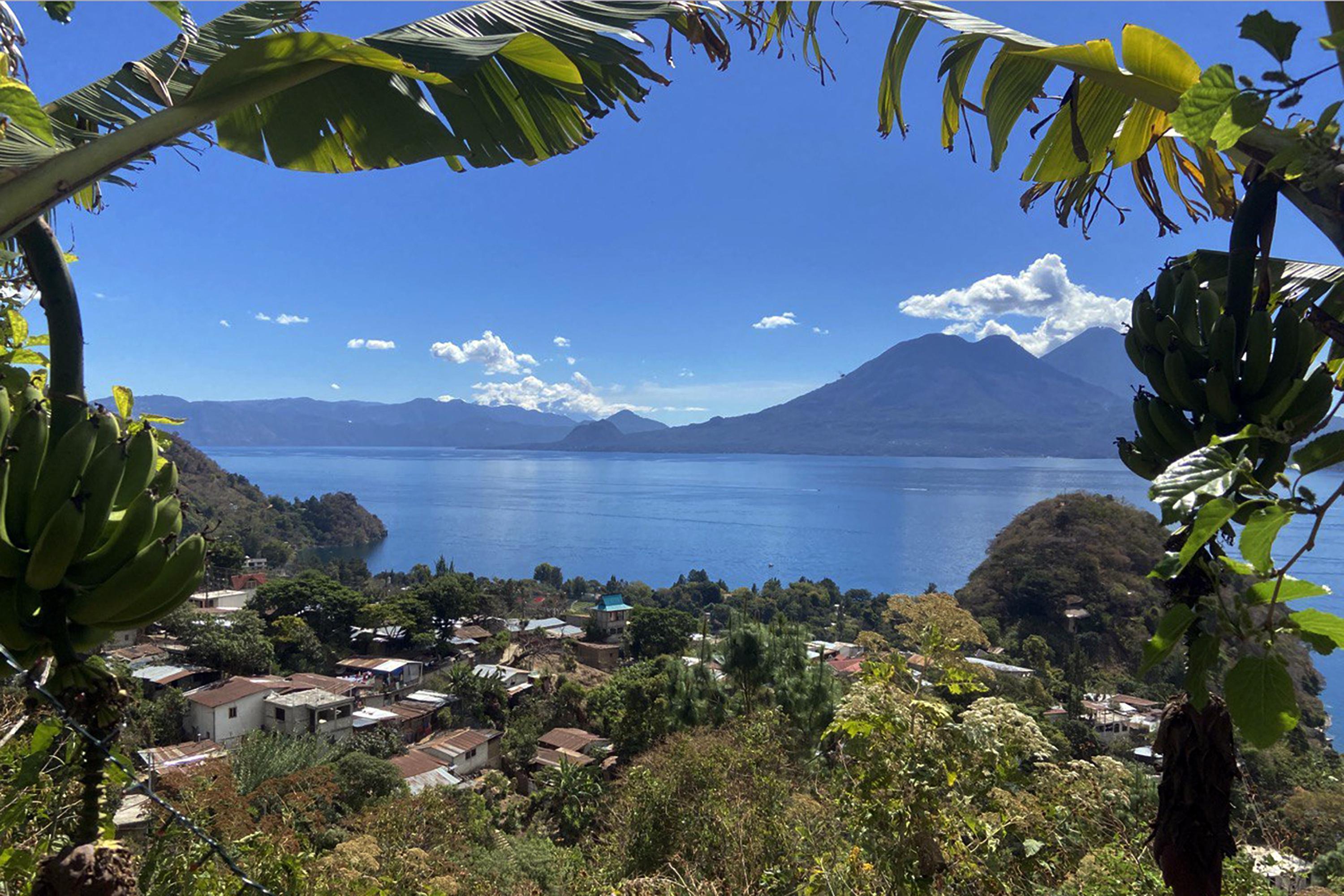 There are those now eyeing Atitlán, where locals live on dollars a day, by its distance not from the capital, but by the half-day bus ride from El Zonte, the home of El Salvador's Bitcoin Beach — a small three-year-old community experiment for moving money outside of the banking system that became a global sensation last year after President Nayib Bukele praised the project and made bitcoin legal tender in El Salvador. El Zonte has since become a holy site for crypto-evangelists around the world.
The bitcoin gospel could spread to Atitlán. A dozen tourist businesses have begun accepting it for tips or payment, persuaded by a U.S. surgeon and Christian mission organizer and an elusive cryptoguru born in Guatemala.
The Bitcoin Apostle
Patrick Melder may be the only author able to say that his writing about bitcoin led someone to Christianity. A trim, gray-haired retired U.S. Army doctor, former ear, nose, and throat surgeon, and inventor of medical devices who lives near Atlanta, he first set foot in Panajachel as a missionary in 2012, when his family of five gave art workshops to the kids from the private Christian grade school Centro Educativo Josué. They became enamored with the community and returned every summer until 2018 — the year he started studying bitcoin in earnest.
Melder, 54, considers himself a maximalist, meaning that he does not promote the use of other cryptocurrencies. He hosts the podcast Mission Bitcoin and, last year, self-published a book, "The Christian Case for Bitcoin," the cover of which succinctly summarizes his argument: "Bitcoin redeems money." When Canadian-Israeli Bitcoin writer and former tech entrepreneur Tomer Strolight —a self-described former "militant atheist"— stumbled upon his writing about bitcoin and Christianity last year, he was smitten. Strolight, who hopes to soon make his first trip to Guatemala, agreed to have Melder baptize him in Lake Atitlán.
The Atitlán Basin is home to just under 400,000 people —over 90 percent of them Indigenous— across 19 municipalities. Whereas some around the lake, like the Tzutujil town San Pablo, have insulated themselves from large amounts of foreigners, Panajachel, a predominantly Kaqchikel town, is peppered with signs in English and has two upscale hotels. Along the central artery for tourist businesses sit a Domino's Pizza and a Mormon chapel with a basketball court outside whose gated, pristine brick façade jumps out from its modest surroundings.
At sunrise, residents bustle to and from the docks on their way to work, mostly in the tourism and fishing sectors. Daytime stores hawk embroidered and leather merchandise to backpackers and vacationers in cash quetzales, the national currency. After sunset, most businesses close, with the exception of nighttime tourist venues. After a Covid-19 hiatus, fresh visitors in recent months breathed new economic life into the town.
Melder returned in January with the idea that businesses can appeal to a new source of income: bitcoiners. "We're trying to create a circular bitcoin economy like they did in El Zonte," he told El Faro over morning coffee at Panajachel's Porta Hotel del Lago, "but with a twist: we're using formal school training versus community training."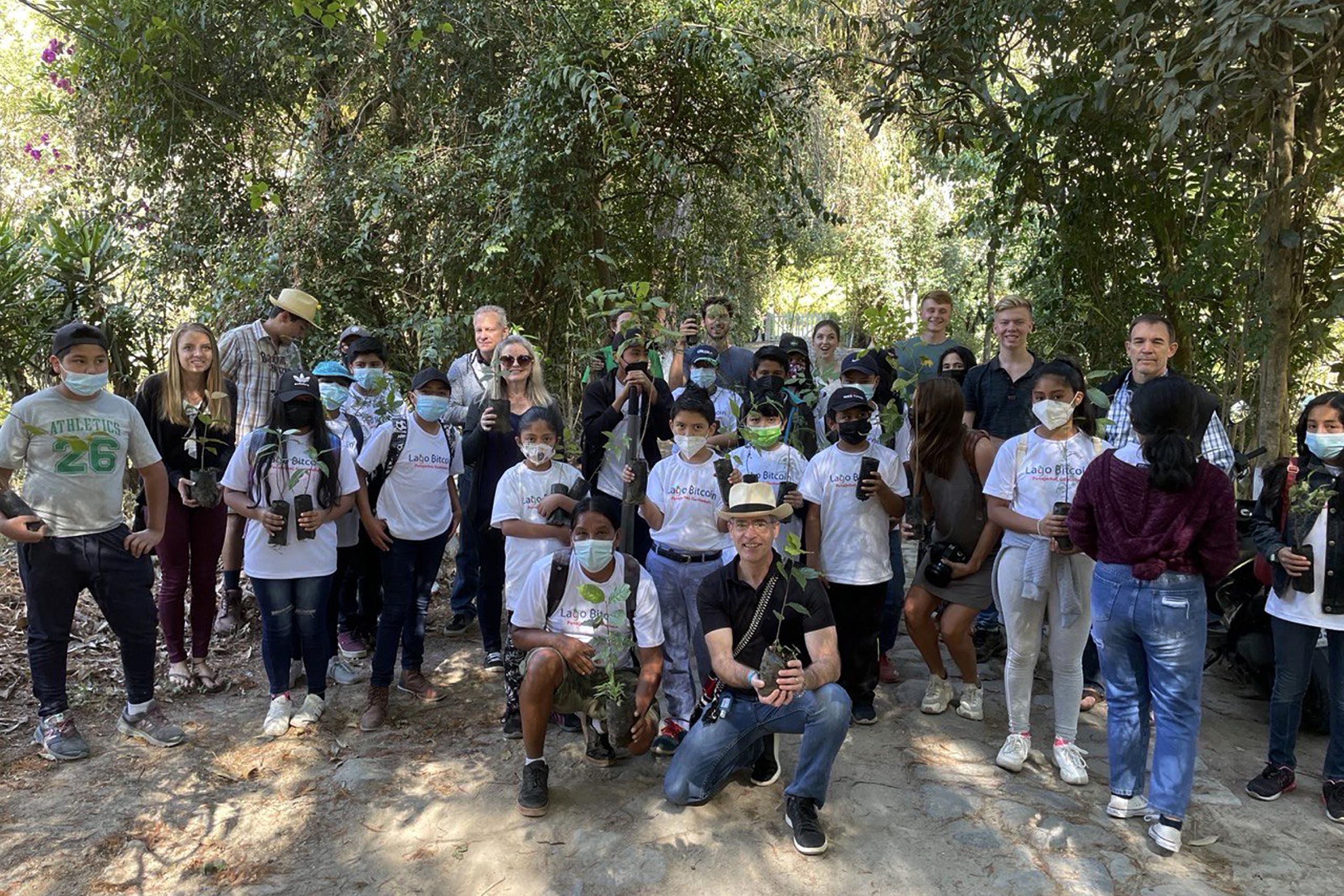 Last year Centro Educativo Josué agreed to let him teach students about the cryptocurrency, under the promise of increasing financial freedom in the community. Melder is working with the school to develop a curriculum they hope will soon be ready to teach to kids as young as 6. He claims that Panajachelenses can develop savings and invest, reap financial rewards from mining the cryptocurrency, and even hasten the adoption of wind and hydroelectric energy.
Though Melder describes himself as a "bleed-red Republican," he says bitcoin opened his eyes to "monetary colonialism" to the point of disgust with world powers like the United States and France. He argues that the digital currency teaches Christian ethics like personal responsibility and delayed gratification. "These truths about bitcoin are pretty similar to what we know about Jesus. I tried to keep the two separate for the longest time, but it became undeniable that they had to be merged," he says. "This could really help Christians in their walk with the Lord."
He notes another key difference with Bitcoin Beach: "In El Zonte they were given an endowment by an anonymous bitcoin donor to help kickstart the economy, and we don't have that," he said. "That's why bitcoin mining is so important: to make sure that not only is there an infusion of bitcoin, but that it's a sustainable source of bitcoin once this project gets going."
He added that he is also eyeing private fundraising for the project, that he personally has no financial stake in it, and that he has had no contact with the Guatemalan government. "I barely know the political situation here in Pana," he claims. "I can't imagine what the political situation is one or two levels up, so there's no need for that right now."
None of Melder's bitcoin evangelism in Panajachel would be possible without his Spanish interpreter, a pensive and brainy 19-year-old college student and tech enthusiast named Josué De León. His mother, Nancy Ríos, founded Centro Educativo Josué. De León grew up taking apart computers with his father and teaching himself over the internet. That's how he picked up the language — he devours global news in English and learned of bitcoin at 14.
"We know how much Pana has suffered because of Covid," says De León, who hopes to one day work with Panajachel youth after graduating with a degree in psychology. "This is a project not based on my generation, but on the ones coming after me," he told El Faro.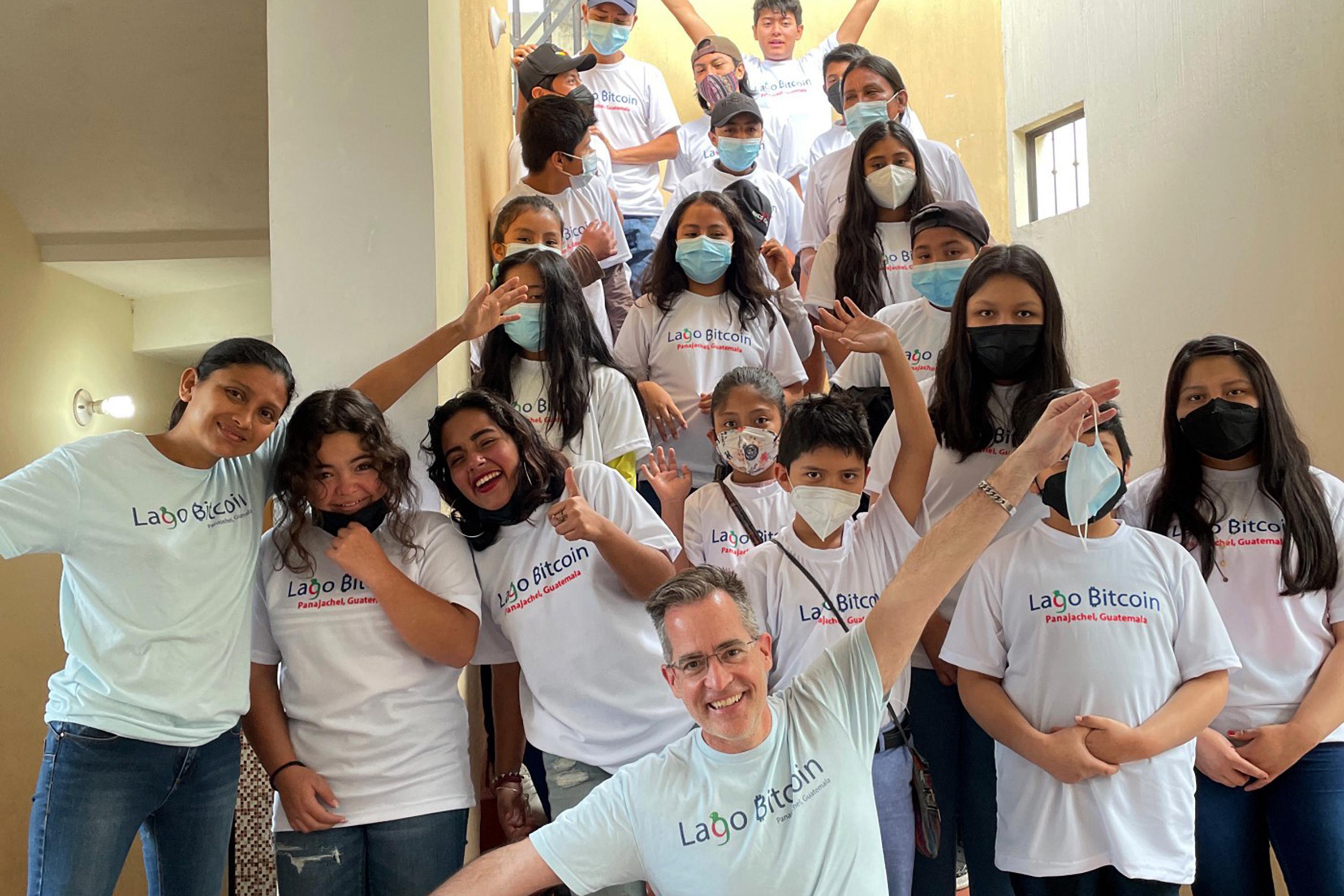 His mother's school, founded in 2011, serves 40 children in grade school from Panajachel and neighboring communities. In pre-pandemic years, attendance was closer to 55. "We've always had people of very few resources and from the middle class," says Ríos.
Last year, Melder and the De León Ríos family agreed to incentivize students' cleaning of the lake and other community work in exchange for satoshis, or fractions of bitcoin. De León, his mother, and his sister Flor, 22, say their yearslong relationship with Melder, hopes of making Panajachel less dependent on tourism revenues, and interest in clean energy were key factors in their decision to move forward with the dream of Bitcoin Lake.
Perhaps Melder did not convey that multiple environmentalist organizations have denounced the high levels of e-waste from worn-out computers used on the bitcoin mining network, as well as energy consumption. Prominent bitcoiner Nic Carter estimates in the Harvard Business Review that the global bitcoin network consumes 110 Terawatt hours per year of electricity. In 2016, the last year of public data, all of Guatemala consumed 86.
The interpreter negotiated his rate with Melder, naturally, in bitcoin. In small daily bitcoin workshops with handfuls of residents held at Panajachel's Calvary Church at the end of January, Melder explained, through De León, that adopters should treat bitcoin as a multi-year investment, where they can see long-term gains despite short-term volatility.
That's how De León ended up attending a series of meetings in late January between Melder and Panajachel Mayor César Piedrasanta. In the first meeting participants included —by Zoom— Salvadoran-American bitcoin miner Gerson Martínez and Ricardo Carmona, co-founder of Biomining, a Mexican company specialized in converting natural waste into a source of energy for bitcoin mining.
"Last time we held a virtual meeting with friends from abroad that mentioned how we can generate [electricity] as a municipality, for the common good of our people," Piedrasanta told El Faro during a follow-up meeting with Melder, De León, a representative from human resources, and a municipal judge. "We need to see how we can apply bitcoin to catch more income," added Piedrasanta, who seems to have already converted to Melder's vision.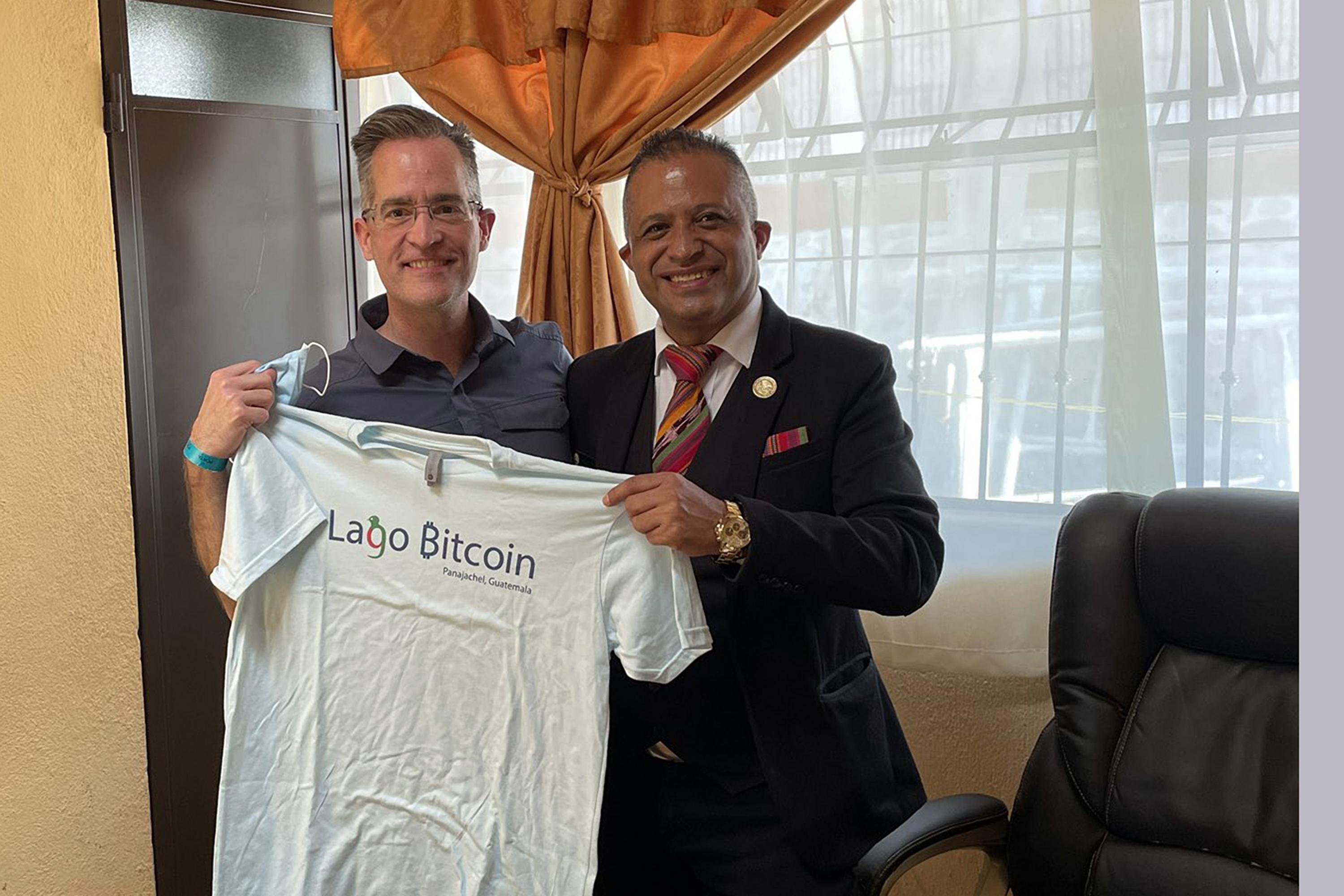 Melder and De León also met with vendors and residents to explain how to install the Bitcoin Beach wallet, send and receive transactions on the Lightning Network, convert to quetzales, and set up QR codes to take payments. Most vendors in Panajachel work in the informal economy and know little-to-nothing about bitcoin. Some of them see it just as a source of tips, given that its use is mostly limited to the occasional tourist.
Artisan Coffee GT and Sarita, a Central American ice cream chain, are two of the handful of businesses now accepting it. The first was Zaruki's Zone, a food truck run by Salvadorans using Nayib Bukele's signature Chivo Wallet.
Enrique González, who sells artisanal textile and leather products at his shop Kique Craft, moved to Panajachel 10 years ago from Chichicastenango, a town outside the capital, in search of the much larger lakeside tourist economy. When the coronavirus pandemic hit, he kept his business afloat by selling embroidered masks. At the end of last year, as the pandemic-induced downturn dragged on, a post from Bitcoin Lake on Facebook piqued his interest.
"I'm looking for a source of income, a new strategy," he told El Faro. After attending a workshop organized by Melder and downloading the Bitcoin Beach wallet, he found conflicting accounts online. "Many say that it can crash, that there's a risk. Others say that it's safe," he says of the cryptocurrency's value. Melder and De León helped him connect a QR code to his wallet.
"All I want now is to be able to transfer it, because I can sell a product but can't see the money physically in quetzales," González told El Faro. A month later, with lingering doubts, his shop had received seven tips from tourists totaling 10 U.S. dollars.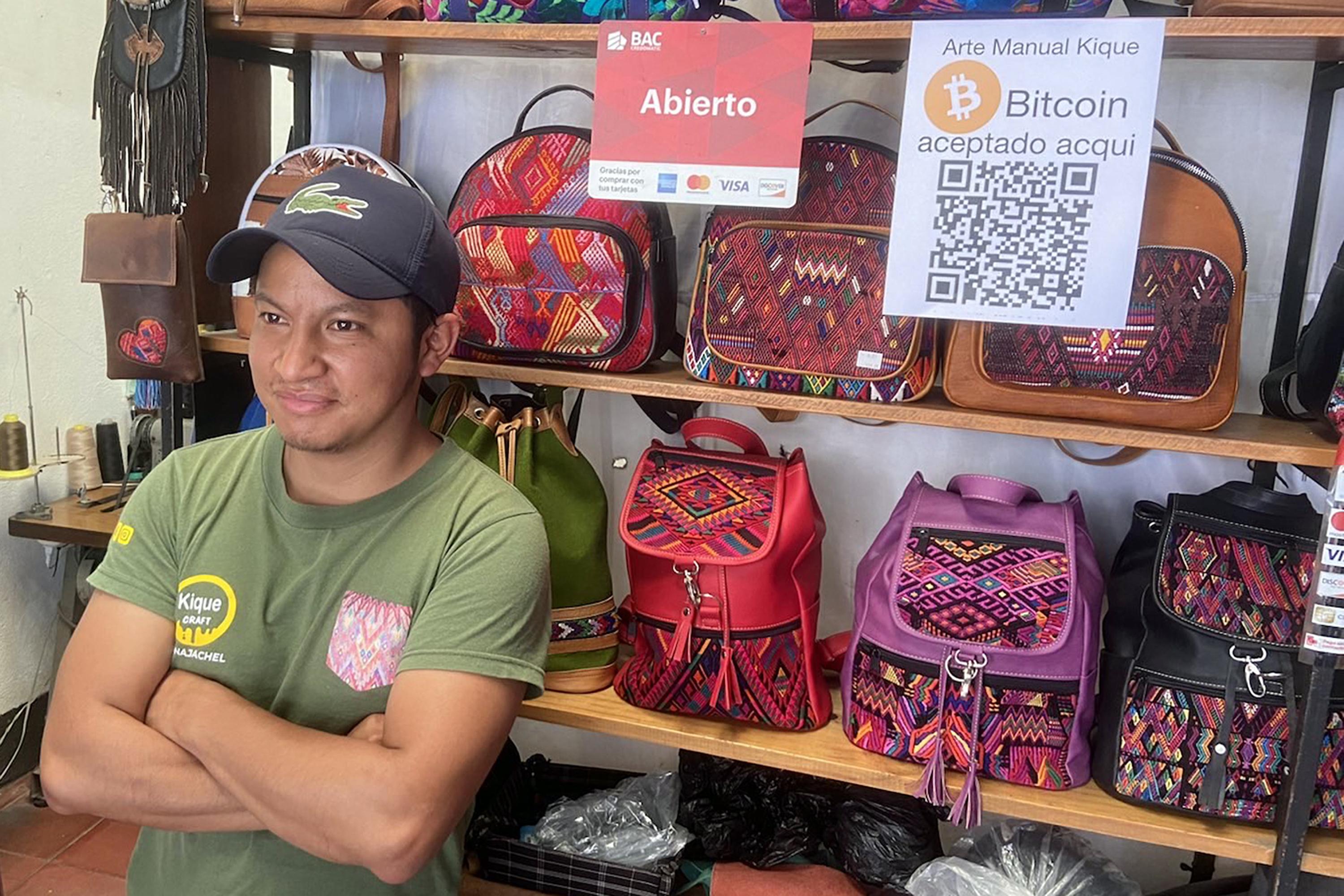 The De León Ríos family understands others' wariness of lofty promises from outsiders. "We've been scammed many times before, so people are distrustful," says Ríos, the founder of Centro Educativo Josué. Even she had heard little about bitcoin before Melder reappeared in their lives. "There are many projects here, and people get used to them, but when something goes wrong or the project closes, they've already developed a dependency," she says. "We like to be self-sustainable."
So Close, Yet So Far
Bitcoin Beach co-founder Mike Peterson told El Faro that the Salvadoran project has no formal ties to any bitcoin initiatives in Atitlán, "but we are sharing what we have learned with a number of projects and are looking to help them anyway we can."
Unlike in El Salvador, where the September 2021 Bitcoin Law created a government exchange to shield transactions from bitcoin price fluctuations between the time of transaction and cash-out, in Guatemala there is no such framework. When asked if Atitlán communities should follow El Salvador's lead and use bitcoin anyway, Melder said: "I don't have any comment on the regulatory environment. I think people are smart enough to figure out if they want to use it or not."
Guatemala's central bank wrote in February 2021 that "the Quetzal," named after the country's tropical, multicolored national bird, "is Guatemala's monetary unit and the Bank of Guatemala is the sole issuer of bills and money." The bank added that "virtual currencies are not backed by the Guatemalan state," in part because of "non-compliance with security and risk management standards." In a January email to El Faro, the Central Bank's Monetary Board doubled down on its stance, adding that it is unaware of internal studies, bills, or draft regulations about crypto.
The quetzal is one of the stablest currencies in the hemisphere, and has never had a spiraling Argentina-style inflation crisis. Until 1987, amid the country's internal armed conflict, its value was pegged one-to-one with the U.S. dollar. The central bank has since devalued the currency to just under eight quetzales per dollar.
For now, bitcoin is less than a whisper in the ear of most residents around Lake Atitlán. Adoption is thus far limited to individual enthusiasts in contact with the two projects and the businesses they have converted in at least three Kaqchikel towns around the lake: Panajachel, San Marcos, and Tzununá.
That could change this year as deep-pocketed bitcoiners begin eyeballing new patches of Central America. Another similar project has sprouted in Costa Rica. Influencer Stacy Herbert —who in January announced that she and her husband and former co-presenter on Russia Today, Max Keiser, will seek citizenship in El Salvador— called Atitlán "the next place to hyperbitcoinize."
Aside from the issue of regulation, the success of that new gospel around the lake could hinge on another unsettled question: how its evangelists will be received by Indigenous authorities opposed to privatization and land speculation and suspicious of exploitation projects that tend to come from abroad. In January, Panajachel's Kaqchikel council of elders sent a letter to Mayor Piedrasanta condemning the central government's usurpation and rental of ancestral land, and demanding that he stop granting building permits along the beach.
"The public beaches historically belong to the municipality," the elders wrote, adding: "As Indigenous peoples we ask for respect for our ancestral forms of organization."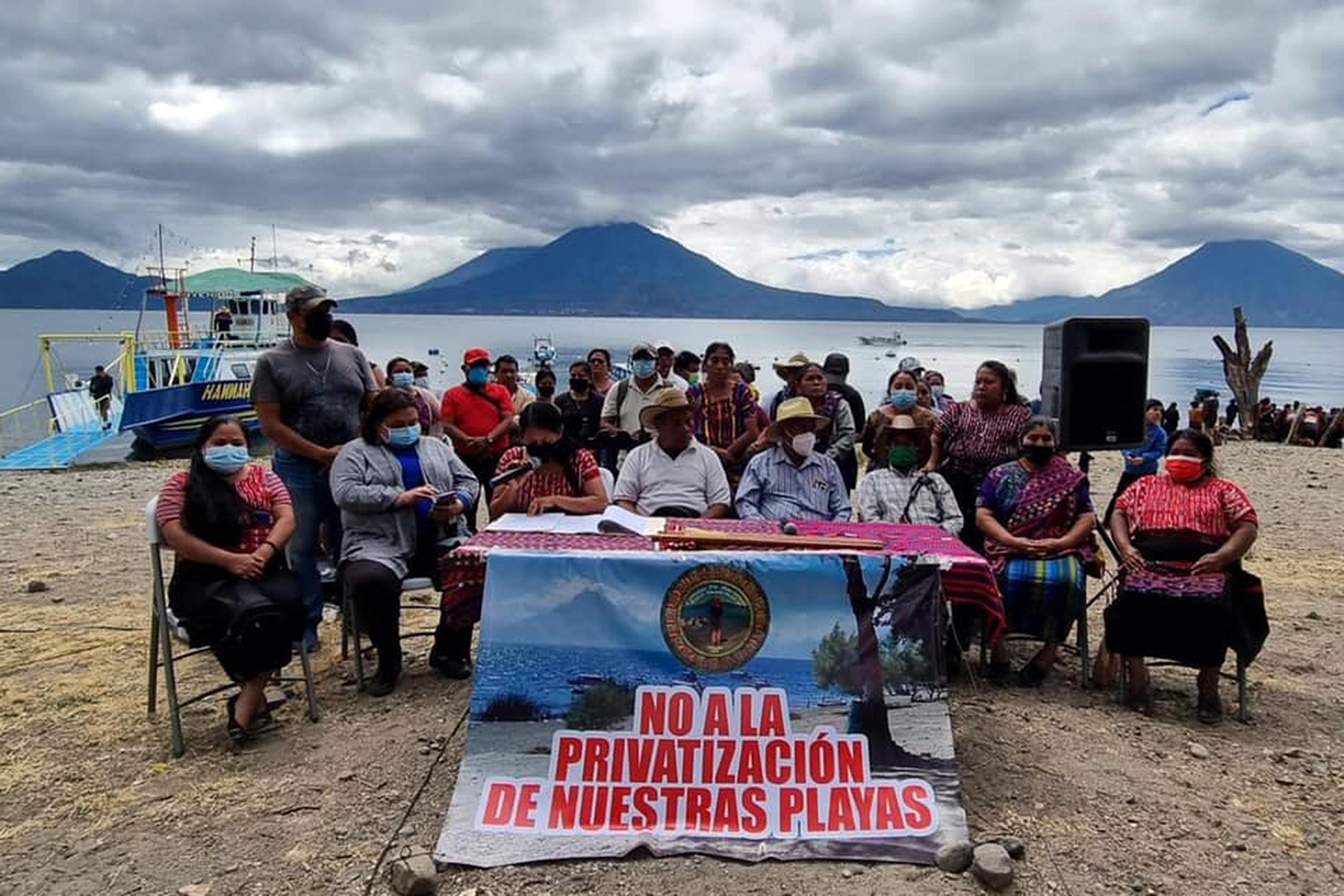 Melder thinks government land expropriation can be a winning issue for bitcoin. He argues that one of the main up-sides to blockchain is the ability to "codify property rights in an immutable way.'
"I'm not coming in here with a messiah complex. My primary goal is to provide an educational and technological opportunity for the children so that they can be exposed to bitcoin," he said. "If that's all we ever did, that's fine."
The Other Bitcoin Lake
Melder is not the first crypto-entrepreneur to plant a flag in Atitlán. Across the lake, most easily accessible by a half-hour ride in a crowded motorboat, is another cryptocurrency project in San Marcos La Laguna that predates his by over a year. The project, initially called Crypto Atitlán, is starting to bear fruit of its own: at least six tourist-oriented businesses in the town and neighboring Tzununá have begun accepting it since November.
The founder is a Guatemalan-American cryptocurrency consultant and industrial engineer who goes by Rishi Bond. In conversations switching seamlessly between Spanish and English over Telegram, he told El Faro that he's 38, born and raised in Guatemala, and got his MBA from a joint program between Tulane University and his native country's bastion of libertarianism, Francisco Marroquín University. 
He says that he moved to San Marcos in 2020 to start a series of workshops a year and a half ago called "Crypto and Cacao," and has cultivated a community of crypto traders and enthusiasts over the same app. He says there are now 465 members, 95 percent of which primarily speak English. The group occasionally holds workshops in Spanish.
"The objective of Crypto Atitlán is to open a formal NGO to receive donations from inside and outside Guatemala solely in bitcoin, to finance social programs here in Atitlán," Bond told El Faro. Solely accepting bitcoin would be a radical turn for his community — unlike Melder, he says they are interested in other cryptos. By March, Bond had begun solely referring to the project as Bitcoin Lake. He told El Faro over email that they plan to officially launch in early April — right in time for the Bitcoin 2022 Conference in Miami.
Bond says the programs will likely teach English, carpentry, or computer science, and provide electronic equipment. "Having a network of bitcoin millionaires, we're going to go to the community and do an economic study where we ask what they're interested in learning, gain participation from the municipality, and from there form different programs," he says.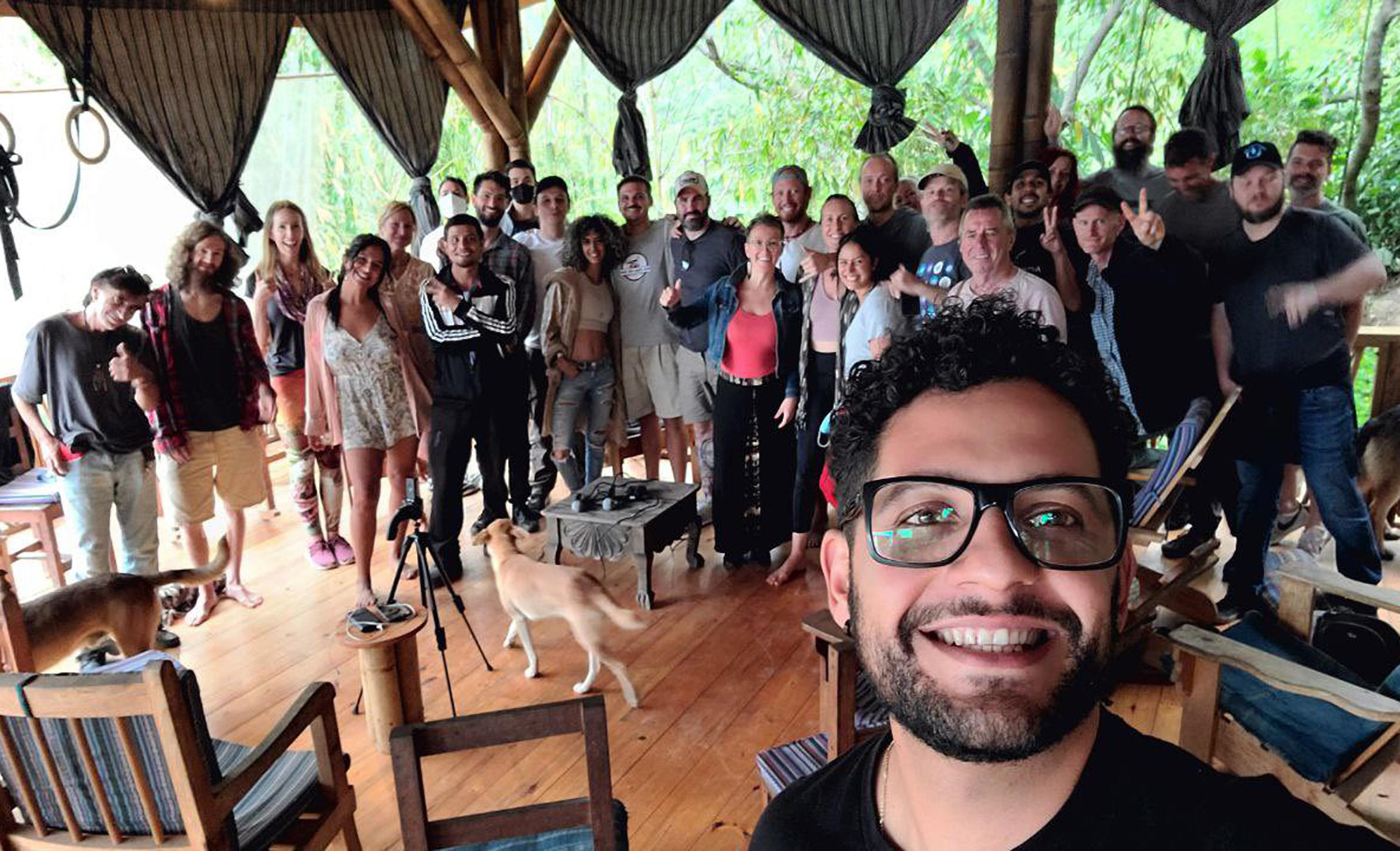 San Marcos has a nickname around the lake: "Gringotenango." Poster boards are covered with ads —few, if any of them, from Indigenous lake communities— hawking workshops of all sorts. Unlike Bond's workshops —which, he says, are free— the rates for other events, including yoga, alternative medicine, sound healing, self-help, and entrepreneurship, range from 50 quetzales (about 6.50 USD) to several hundred.
Attending a workshop at even the low price point is out of reach for many locals. The motorboats around the lake charge locals a discounted rate from San Marcos to Panajachel 20 quetzales instead of the full rate of 25 ($3.25 USD), one ticket seller explained, because otherwise many of the laborers making multiple trips a day would miss a meal.
Then there are the cacao drinking rituals, another staple of San Marcos tourism. Various places hold ceremonies supposedly inspired by Mayan tradition, and it's not uncommon for participants to report trances, and intense spiritual experiences — despite the bean and former Mesoamerican currency's lack of psychedelic properties.
One popular site for workshops of all sorts is a private tourist playpad known to visitors as Eagle's Nest, wedged in a hill in San Marcos La Laguna. Kaqchikel locals call the hill Tz'un Ucuy — or, in English, "tip of the nose of the chipilín branch." Tz'un Ucuy sits at the end of 600 steep meters of winding cobblestone and dirt paths cutting through Barrio 2 of San Marcos, a community of cinder block homes with tin roofs. There's no supermarket in San Marcos, but along this uphill path alone sit two Evangelical churches.
Eagle's Nest, a facility of chalets with lodging, yoga room, massage studio, and matted lounge with a breathtaking view of the lake, began accepting bitcoin late last year. A sign in the restaurant, staffed by Kaqchikel women from Barrio 2, reads, in English: "The Embassy of India in Guatemala conveys its appreciation to Eagle's Nest Atitlán in recognition of its contribution at the 7th International Day of Yoga held in Atitlán, Guatemala, June 2021."
Others in San Marcos, clustered near a path to the docks nicknamed 'Hippie Highway,' have done the same. Lush Atitlán —a luxury hotel feet away from the lake where a night's stay starts at $50 dollars, or some 400 quetzales— is one of them. "San Marcos is a very experimental community," the hotel wrote in an email to El Faro, in Spanish with traces of Portuguese. "We hope to access a market that doesn't want to use normal currencies nor pass through banks."
Lush, which began accepting it as payment on Jan. 28 using the digital wallet Muun, hosted an English-language workshop that day held by the group, called "How to Keep Your Crypto Safe." Three-dozen people attended the sermon in which discussion bounced from cryptocurrencies to CIA brainwashing, social engineering, and Swiss psychologist Carl Jung's philosophy of religion.
Bond and Melder, who have apparently agreed to operate under the same name, agreed to meet. "I have my version of Bitcoin Lake and Patrick has his," said Bond. "I hope to join forces.'