Politics
Nayib Bukele
El Salvador
Russia
Daniel Ortega
Joe Biden
ef_english
Bitcoin
Newsletter
Vladimir Putin
Ukraine
World Condemns War, Bukele Sees Bitcoin Opportunity
El Salvador, in Brief: El Salvador joined Nicaragua in abstaining from the U.N. General Assembly's condemnation of the invasion of Ukraine. A top U.S. official suggests international Russia sanctions will choke off cash even to Nicaragua. As El Salvador prepares to issue a billion dollars' worth of Bitcoin Bonds, Bukele implies the Russia clampdown underscores a key use-case for the cryptocurrency: sanctions evasion.
El Salvador's abstention from a Wednesday U.N. vote condemning Russia's invasion of Ukraine spoke volumes. Before Vladimir Putin ordered Russian troops into Ukraine last week, President Nayib Bukele accused Joe Biden of "crying wolf" on the imminent invasion, but he had since stayed silent. On the day the war broke out, Bukele's propaganda apparatus focused on a new national pet hospital with payment in bitcoin. 
Five of the seven Central American nations voted in favor of the resolution calling on Putin to immediately withdraw troops, while Nicaragua — where Daniel Ortega is seeking an arms deal with the Kremlin — and El Salvador abstained.
It's the strongest clue to date of Bukele's stance toward the conflict, but it may say as much about tensions with the U.S. over financial sanctions and bitcoin as about his affinity with the president of Russia, whom Bukele planned to visit in June.
The U.S. Treasury and E.U. blacklisted the Russian Central Bank and the G7 said their sanctions could eventually include cryptocurrencies. The sanctions may trickle down to Russian allies in the hemisphere. "Venezuela will start to feel the pressure, Nicaragua will feel the pressure, and so will Cuba," said Biden national security advisor Juan González last week.
Bukele, laser-focused on his domestic agenda, is closely watching the drama unfold: "The intrinsic value of #Bitcoin is now in full display on the whole world," he tweeted.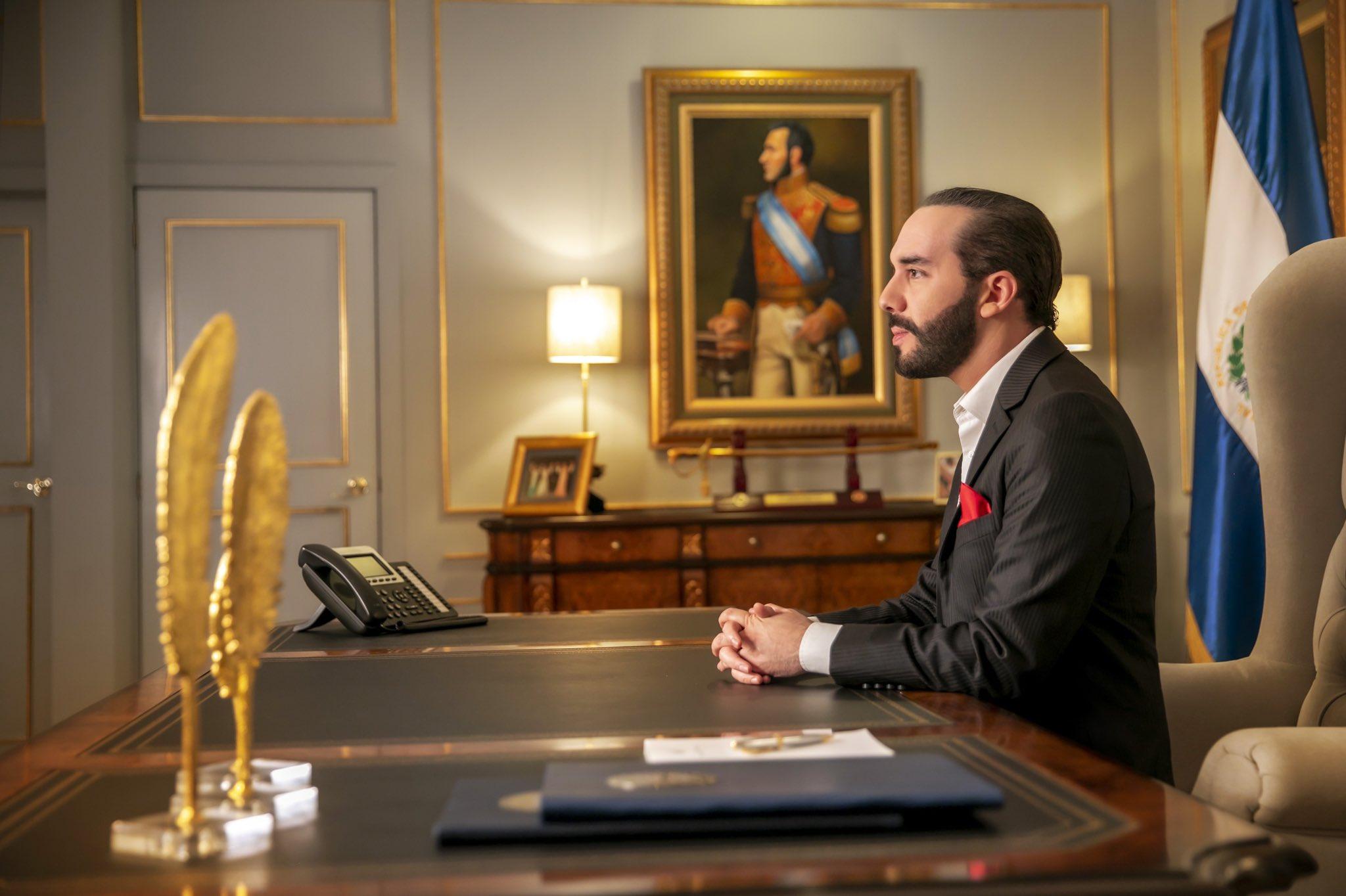 A bipartisan cast of U.S. senators also proposed legislation two weeks ago to require a State Department report on the risks of bitcoin for U.S. foreign policy. "If the U.S. wishes to combat money laundering and preserve the role of the dollar as a reserve currency of the world," said Louisiana Republican Bill Cassidy, "we must tackle this issue head on."
Naturally, Bukele hasn't shied away from confrontation. "Ok, boomers," he responded on Twitter to the bill. "You have 0 jurisdiction on a sovereign and independent nation. We are not your colony, your back yard or your front yard. Stay out of our internal affairs."
Sen. Menéndez took advantage of El Salvador's abstention in the U.N. to insist on the possibility of suspending the country from the Central American Free Trade Agreement — an argument he made as early as last November.
Keep an Eye on Tether
This month, the Bukele-controlled Legislative Assembly could approve sweeping financial reforms to allow the emission of one billion dollars' worth of government bonds denominated in bitcoin.
On Feb. 9, Fitch downgraded El Salvador's credit rating, solidifying its place as the worst in Central America by the 'Big Three' U.S.-based risk evaluators. "Weakening of institutions and concentration of power in the presidency have increased policy unpredictability," wrote Fitch, "and the adoption of bitcoin as legal tender has added uncertainty about the potential for an IMF program that would unlock financing for 2022-2023." The agency noted that El Salvador will need to pay back $1.3 billion in loans from August to October of this year, as well as another $800 million in January.
Bukele-aligned bitcoiners retort that El Salvador has an off-ramp even without the IMF. "It's completely possible for the country to eradicate its external debt in ten years with one or two bitcoin bonds," promises Samson Mow, a Canadian bitcoin influencer and leading lobbyist for the currency in El Salvador.
The same companies that designed the 'Bitcoin Bonds,' Blockstream —from which Mow stepped down on Tuesday to work on "nation-state bitcoin adoption"— and Bitfinex, the exchange that will issue them, admitted to writing the bill that would create the Bonds, known as the Digital Securities Law.
The legislation would also introduce the cryptocurrency tether —a faux dollar used in the bitcoin industry to steer clear of the USD— in El Salvador. We're talking about a cryptocurrency investigated by the New York Attorney General for deceiving the public about the size of its dollar reserves backing the currency.
Hey, one more thing! If you're in New York, be sure to stop by the 7th Annual Feature Shoot Photo Awards, where you'll find El Faro photojournalist and recipient Carlos Barrera's searing coverage of the 2020 hurricanes in Honduras on display.
And if you've gained from our work, consider funding Central American journalism, at its most critical hour, at support.elfaro.net.
Correction: The New York Attorney General's Office, not the Southern District of New York, investigated Tether.
Apoya el periodismo incómodo
Si te parece valioso el trabajo de El Faro, apóyanos para seguir. Únete a nuestra comunidad de lectores y lectoras que con su membresía mensual o anual garantizan nuestra sostenibilidad y hacen posible que nuestro equipo de periodistas llegue adonde otros no llegan y cuente lo que otros no cuentan o tratan de ocultar.
Tú también puedes hacer periodismo incómodo. Cancela cuando quieras.
Te necesitamos para seguir incomodando al poder.
Conoce
acá
cómo se financia El Faro y quiénes son sus propietarios.
elfaro.net/en/202203/el_salvador/26047/World-Condemns-War-Bukele-Sees-Bitcoin-Opportunity.htm

PP:
PC:
PN:
PT:
items_count:
items_pivot:

YY:

MM:

FI slug:
FI name: March 2022
FI sort:

FT slug:
FT name:
FT sort:

FS slug:
FS name:
FS sort: