Four years ago, when Nayib Bukele still used to applaud El Faro's journalism, his brother and senior advisor Karim told this story to a reporter. "At the beginning of the campaign, we went to my mother's hometown, Concepción de Oriente" —132 miles east of San Salvador— "and upon arriving near the municipal plaza, people saw our caravan and stepped out of their houses with their smartphones to take selfies. That's when we realized how much the field had shifted over the last few years."
Karim Bukele was revealing one of the keys to his brother's communications strategy: the creation of "a lot of organic productions that we didn't control and went viral."
Bukele, now in the presidency, has followed up on that principle with discipline, leaning on dozens of YouTube channels distributing daily content that acts as eco chambers not only in El Salvador but internationally. On March 1 alone, 276 new videos were released in El Salvador by non-press accounts with Bukele's name in the title, according to monitoring published by Francisco Gavidia University's Disruptiva magazine. The videos create an apparently organic narrative that deeply influences the political conversation in El Salvador and about El Salvador.
On YouTube, one can find odes to Bukele for challenging U.S. power, the mass imprisonment of alleged gang members, his Bitcoin gimmick, or his alleged ability to bash journalists (even though he hasn't agreed to an interview in El Salvador in almost four years).
Some 15 years ago, communication studies talked about the "television presidents": archenemies Hugo Chávez and Álvaro Uribe both created their own TV shows. Bukele has built his own brand partly as a "Twitter president", standing out for its aggressive stake in YouTube.
A new step in the strategy announced by Karim Bukele came on April 18, when the Bukele-controlled Legislative Assembly announced that it would allow YouTubers and other content creators to get press credentials to cover the legislative sessions in person. Over the last two years, the Nuevas Ideas bloc has accused journalists of being biased or manipulated by their owners and the same old politicians Bukele blames for all of the country's problems. On Twitter, the Assembly promoted the new measure as a step for "bringing information closer to the majorities." A few days earlier, when El Faro announced it had been forced to move its administration to Costa Rica, the Assembly President resurfaced on Twitter a video from last year, of him making an invitation to journalists: "Leave, nobody wants you here!"
Most news consumption happens two ways in El Salvador: 45 percent through broadcast television and 41 percent through social media, overwhelmingly Facebook, according to a national survey by Central American University (UCA) published in January. Print and digital news outlets occupy a dramatically smaller share of the market.
Bukele's cabinet members appear daily on TV: during the first two weeks of May, ten high-ranking officials appeared on the primetime morning shows of the two main private networks, TCS and Megavisión, who broadcast hardly any coverage critical of the government.
In parallel, pro-government content creation is thriving online. As a researcher for Francisco Gavidia University, Óscar Luna saw hundreds of hours of YouTube content in the last year and compiled a ranking of 70 mainly local YouTube channels that promote Bukele and taunt his adversaries.
At the top of Luna's list, there's Siempre en Movimiento, (always in motion), a channel whose logo is a smiling Bukele in sunglasses and whose pinned video features a confrontation between the President and an El Faro journalist two years ago during a press conference. The clip has over 136,000 views. The channel has 750,000 subscribers, and its videos accumulate almost 300 million views. Four other channels —Alfa Producciones, El Presidencial, Nación Sivar and Noticiero La Nueva Revolución— have over 200 million views each. Further down the list, a channel named "Nayib Bukele the Man that Defeated the Devil" has wrangled 11.7 million views.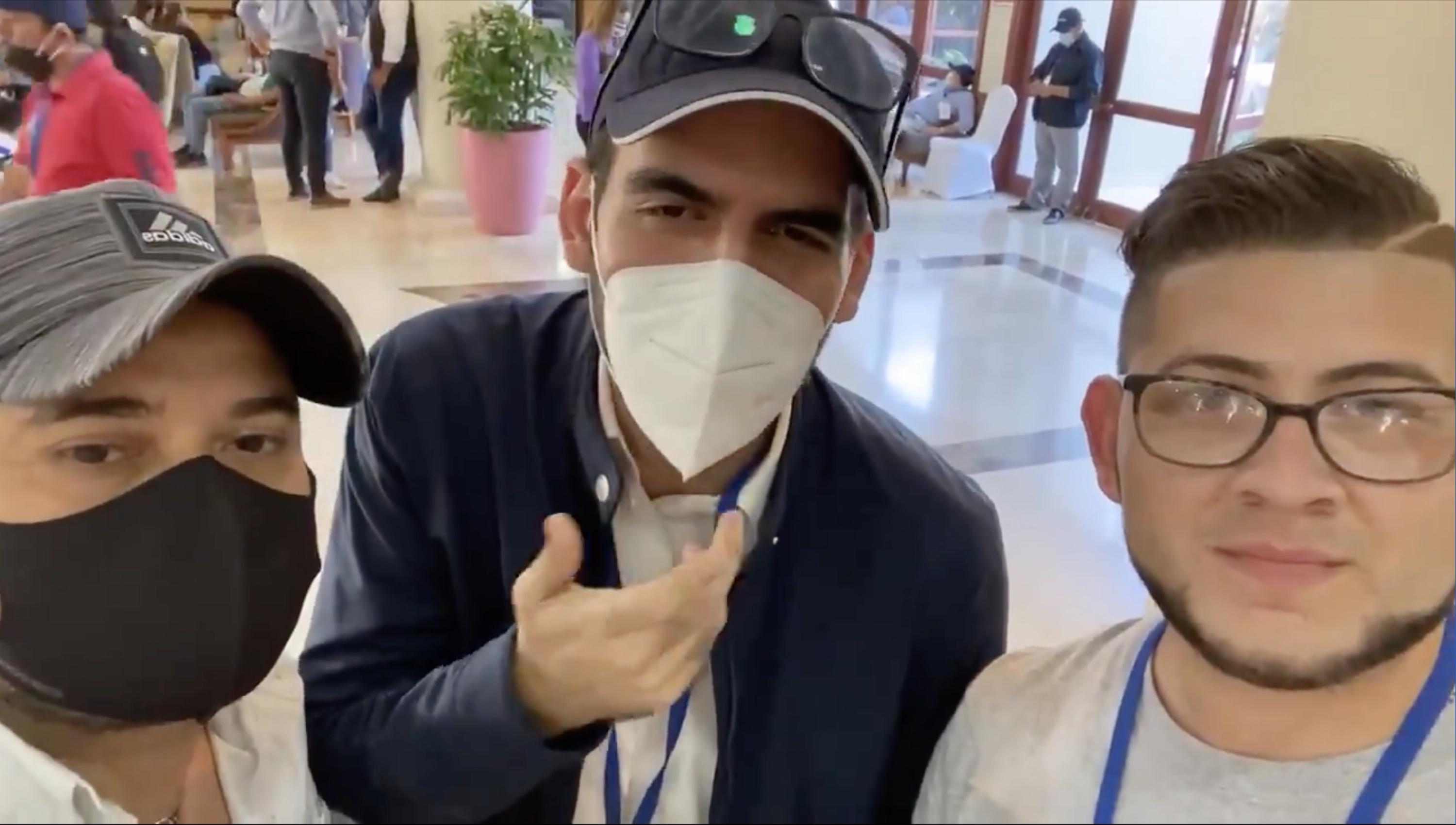 While there are no studies or additional data —Luna's analysis is the first of its kind— there is a trend that scholar Willian Carballo noted in an April column: "Salvadorans, both at home and abroad, are increasingly getting their news from YouTube influencers, whose videos and narratives then bounce around the echo chambers of Facebook, Instagram, Twitter, and TikTok."
In celebration of the newly gained access to the Legislative Assembly, Christian de la O —a pro-Bukele content creator who has a YouTube channel with 72,000 subscribers— tweeted: "We've ended a system of political journalists who shared the interests of a circle that pretended to dominate the mind of Salvadorans! Nice going, YouTubers."
Journalism has been a door into Salvadoran politics for some people. Former president Antonio Saca was a TV sports commentator before becoming a radio tycoon. His successor, Mauricio Funes, had a long career as a local anchorman and CNN correspondent. During their terms in office, both bought the favor of most of the country's mainstream media through advertising contracts. But Bukele enjoys some of the same treatment that previous administrations received from complacent traditional media and also controls over 15 radio stations that broadcast nationally —including those of Saca's former radio group, seized after his sentencing for embezzlement.
Meanwhile, internet influencers promote themselves as an unbiased connection with "the people." Roberto Silva, a loud and staunch pro-Bukele YouTuber, said in a TV interview that some of them haven't even completed high school. Another Youtuber who goes by "Wichito503" and has 150,000 subscribers brags about scoring more views than journalists, even when he only finished sixth grade. According to Luna, far from discrediting them, this creates empathy in a country where only one in 10 people graduates from college.
That effect also pours over to Bukele. "Every time in the campaign that someone attacked Bukele for not having a college degree, they were doing him a small favor," Luna said. Bukele, heir of a millionaire family, presents himself casually in public, with a backwards cap, colorful socks, and never with a tie.
Kim Kardashian and Other Lies
Youtubers act as president Bukele unofficial spokespersons. Felipe Ray Tyson —with over 400,000 subscribers— started promoting the "Bukele 2024" reelection campaign two years before the President publicly admitted his desire to remain in power. Bukele's 2020 military invasion to the legislative chamber, which some of his inner circle admitted was a mistake, has been recast as an inoffensive trip for Bukele to pray in the building. Bitcoin adoption is spun as a success on YouTube, though hardly anyone accepts it for payment in the country and the cryptocurrency's value has dropped since El Salvador invested in it.
Others, while they query journalists for their sources of income, have demonstrated links with the government. Billy Valiente —200,000 followers on TikTok— said in a March video that lawmaker Rodrigo Ayala (Nuevas Ideas) hired him as a consultant. Valiente, wearing an all-black suit and tie, previously worked for the Turín municipality and for a public youth institute under the FMLN government. He has a program with 133,000 subscribers. Romeo Lemus, a former journalist who started working for the Los Angeles consulate in 2016, also has a pro-Bukele channel with 172,000 followers. The numbers are meaningful considering El Salvador's population is less than 7 million, plus an estimated three million who live in the United States. 14 of the channels that Luna identified claim to be broadcasting from the U.S. and targeting the diaspora.
While government financing of online influencers is murky —Bukele still hasn't revealed his 2019 campaign expenses— it's clear the government invests heavily in social media. "I believe Facebook's Mr. Zuckerberg owes us a good amount," Lester Toledo —a former key consultant for Bukele and Venezuelan opposition strategist— said in a 2021 interview. "All the money that could be spent in flyers and rallies was used for advertising on social media," he explained.
Abigail Guerra's channel, Política sin Filtro (unfiltered politics), has almost 200,000 followers. In October, she posted a video with a thumbnail reading, "Kim Kardashian supports Nayib." It's not true, of course: around the 22 mark of the 25-minute video, Guerra says that the socialite was sanctioned earlier that month for not disclosing how much she received for a crypto advertisement, and she magically links that to El Salvador's decision to adopt Bitcoin as legal tender in 2021.
Another of Guerra's YouTube videos states that Disney is planning to transfer their operations to El Salvador (they're not). But she's not alone in her attempts. In May 2022, the Salvadoran Ambassador to the United States tweeted: "Tesla. Stay tuned!" and later said she had been in talks with the company to manufacture automobile parts in the country. The company has factories in the US, Germany and China.
Bukele has always tried to link his name to celebrities in both old and new platforms, exchanging jokes on Twitter with Spanish YouTube star Auronplay, inviting Mexican YouTuber Luisito Comunica —who has 40 million subscribers— to interview him at Casa Presidencial and tour Salvadoran beaches, appearing on the show of former Fox News host Tucker Carlson, or bringing on board the least-known Baldwin brother in U.S. cinema, Daniel, to lead a presidential initiative described as " the most significant film and television company in Latin American history.'
Grandeur seems to be a theme: the temporary hospital that was built for Covid-19 was advertised as "the largest of Latin America." The newly built prison in San Vicente is said to be "the largest in the world." Bitcoin City, the planned city of skyscrapers by the ocean, was revealed to the world in an all-golden model. The render is a fully neon-lit town.
Amparo Marroquín, a professor of communications and culture at Central American University (UCA), said there is not much data or academic investigation about YouTube's political impact. But she offered a hypothesis: YouTubers help people read daily life, in the same way that soap operas did in the 90s. "They talk in your tone. And you must consider the level of functional illiteracy that exists," she said. The scholar conducted focus groups last year in three Salvadoran cities, plus Los Angeles and Washington, D.C.: "We noticed that people are against public figures with a pessimistic view who don't offer any solutions. Whereas Nayib's speech is the most idyllic of worlds."
"I remembered another study in La Chacra, a poor neighborhood outside of San Salvador, where researchers showed Discovery Channel documentaries to people and noticed they were getting depressed," Marroquín explains. "People didn't want to spend the whole day at their jobs and come home to see that humped whales were facing extinction. You can't take that much reality."
Much of the emphasis on YouTube content is in line with the government's assertion that El Salvador has changed and is becoming a beacon for the nations. The country was, in the official rhetoric, "one of the best in the world to handle covid", or is now "the world's safest country." When those messages make international headlines, they reverberate in El Salvador, through television and social media, as validation that things are going the right way.
Marroquín quoted a 2003 study about Salvadoran identity that found that Salvadorans' relation with the U.S. was perceived as one of subordination and an "assumed domination" and that they have few cultural artifacts to boast about. "Mexicans have tequila, mariachis, even Zapata if you go way back. What do we have? Los Hermanos Flores (a music band), the national dishes, and the worst defeat in a World Cup, maybe. (El Salvador was routed 10-1 by Hungary in 1982). We've been systematically screwed and Bukele is strengthening the construction of a national identity."
In contrast, she said, "critical journalism in Central America is not produced in popular formats. We don't engage with popular culture. If journalists say: we're pure, we don't get stained, we're not gonna link up with YouTubers and only those who want to read me should, and I'm not going to pay to promote my content, then that's it."
Old Media Loses Ground
Social media is only half the story. Bukele's rhetoric against traditional and independent media started well before he became president and remains strong. On April 10, noticing a New York Times article on the dismantling of gangs in El Salvador, he tweeted: "Hey mom, I made it to the New York Times front page! Too bad people barely read it anymore." On May 1, he mocked an announcement that the company Vice is filing for bankruptcy. The next day, he added that "every Latin American country has media and journalists paid by (George) Soros, but they're not really journalists, they're political activists with a set, perverse world agenda."
It's not just words. Over the last three years, Salvadoran journalists have denounced threats, harassment, and one of the most obsessive cases of surveillance with Pegasus that has been documented. The pressure, which includes blocking government advertising in independent outlets, had its effects. Teleprensa, the oldest newscast in Salvadoran television, which started in 1956, went off the air in January along with the rest of Channel 33's live programming.
Channel 33's dismantling was gradual. In March 2021, Focos, a weekly show that hosted critical interviews of politicians, including vice president Félix Ulloa, announced it was forced to quit the channel. Four months later, República, a morning interview program, was canceled. Host Wendy Monterrosa stated that the channel owners cited "economic reasons". A year later, in August 2022, Carlos Monterroza, host of the prime-time show "8 O'Clock", resigned and said he had "differences with the direction that the editorial line took and the content of the show."
On January 1, management informed employees that "the company had been struggling with operational costs and to stabilize, but it was not possible," according to an internal message that a former employee showed El Faro English. The channel owners also operate a private university, UTEC, whose polling house hasn't published studies in the last two years.
Upon news of the closure, Angélica Cárcamo, president of the Salvadoran Association of Journalists, said that the government uses its media budget as "reward or punishment" and that some businessmen have been threatened with "not getting government contracts if they keep buying ads in non-aligned media." In October 2021, President Bukele criticized an El Faro tweet that advertised a remittance service, arguing that it explained the newspaper's critical coverage of bitcoin. The client withdrew the ad.
LPG Datos, an investigative unit in La Prensa Gráfica that conducted national surveys since 2004, fired its staff and closed operations in April. La Prensa Gráfica hasn't made the decision public. Managing editor Cristian Villalta told El Faro English that the team had been dissolved for administrative and financial reasons affecting their ability to sustain a team of pollsters, but hoped to keep doing social research in the future. The closure in a pre-electoral year means that there are only two seasoned polling houses not linked to the government, both run by universities: UCA and Francisco Gavidia.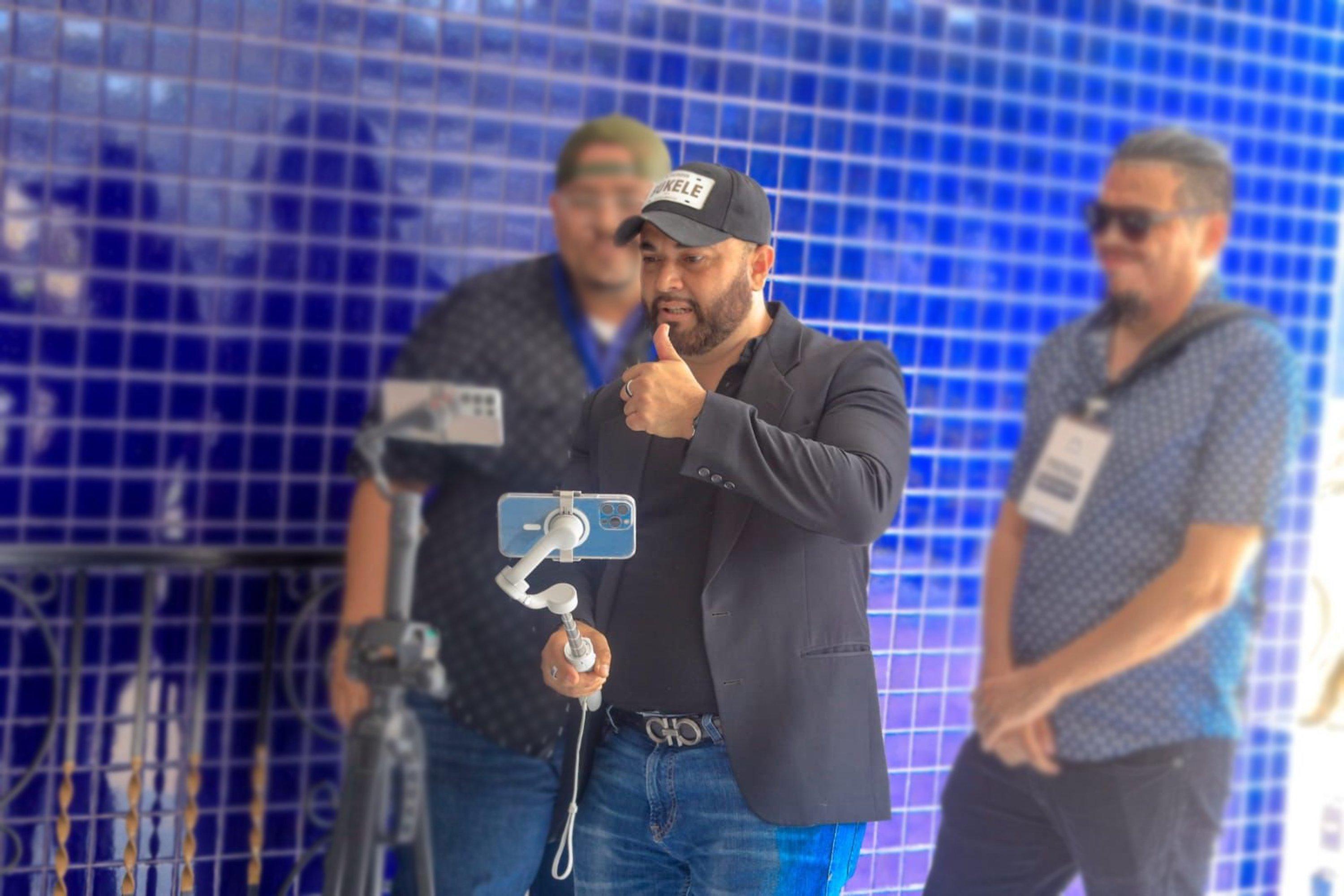 Luna said he believes Silva to be correct, in that no journalist or media organization in El Salvador can get those numbers at the moment. "La Prensa Gráfica has been on YouTube for 15 years and averages 5 million views a year," he said. "There are channels that have doubled that in four months."