Minutes before leaving her house, Rosario López still didn't know how she was going to get to the cemetery where her husband was to be buried. She had hoped to ride in the hearse, as a widow would normally do, but the driver wouldn't allow it. On March 24, El Salvador had already been under mandatory national quarantine for three days. The National Civil Police and the Army had arrested more than 600 people for being out in the streets, according to authorities, who provided no valid justification for the round-up. A few of those arrested were from Morazán. The driver didn't want to take any chances.
The funeral procession left La Joya and turned onto the paved road that winds through the area. These days, even out along this road, there's been fear and confusion. In normal times, a funeral would justify almost any kind of activity, but now, in the context of the pandemic, even funerals aren't granted exceptions—not even the funeral of someone like Mejía, the head of a family that survived, and publicly denounced, the massacre of El Mozote.
Under Executive Decree 12, the executive order that establishes the quarantine, funerals are not included in the special exceptions that allow for people to leave their homes. "We will probably have to watch our loved ones pass away on cell-phone screens—if we're lucky—and it's possible they will have to be buried in a mass grave," said President Nayib Bukele on March 21, referring to those who die of coronavirus. Emergencies throw everyone into crisis, but one way or another, the most vulnerable and unprotected always suffer more. Rosario López—victim, courtroom witness, and one of the massacre's most emblematic figures—is one of the first to suffer through such a lonely funeral, though the virus was not the cause of her husband's death.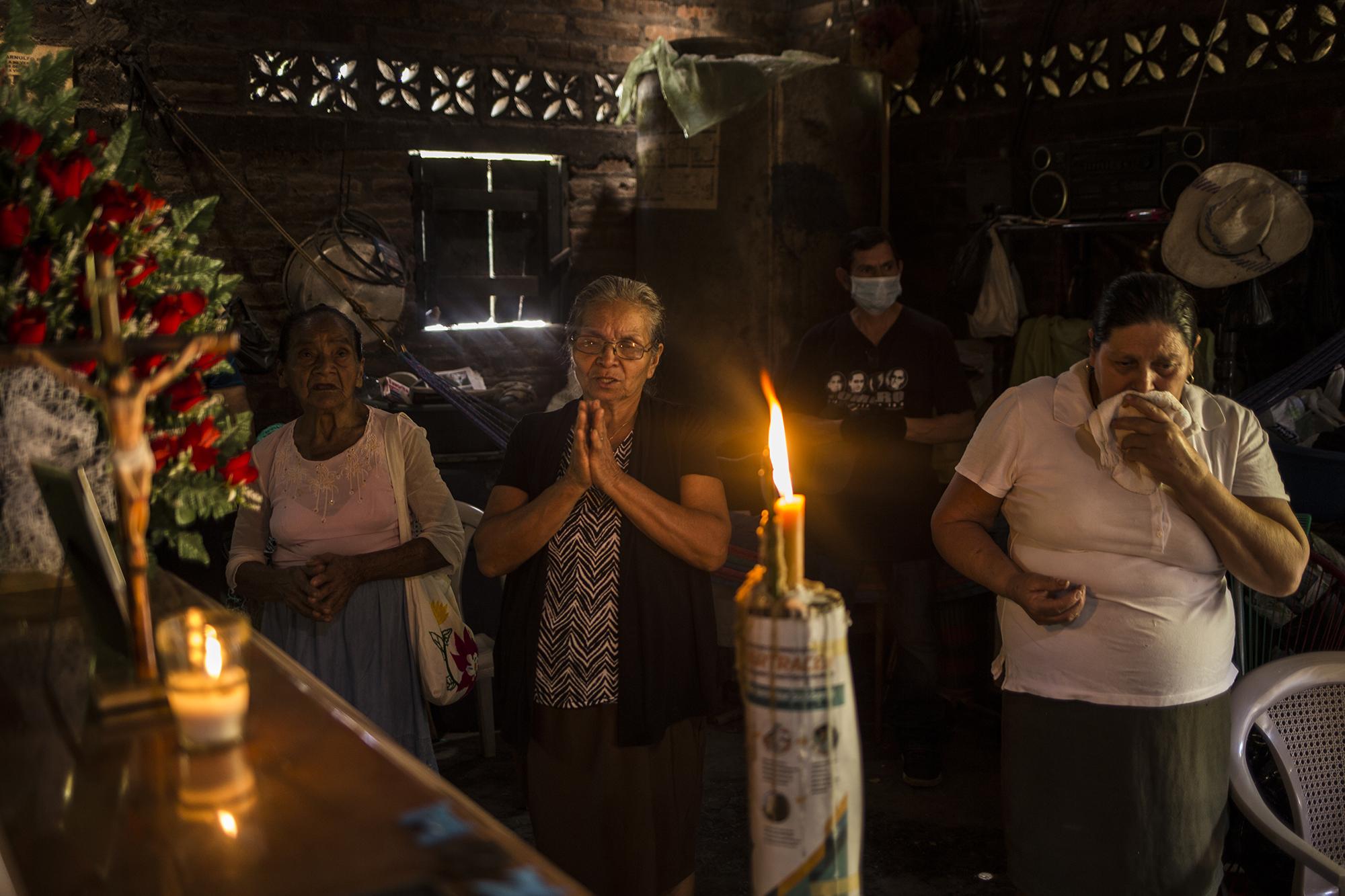 Ángel Mejía died in the early afternoon of March 23, in his home in the small community of El Portrero, in the canton of La Joya de Meanguera, Morazán. To get to the small hill where Mejía's lives, you follow a dirt road and cross a small stream. It's a secluded place, three and a half hours from San Salvador. There is no way to know for sure whether the virus might find its way here, but under Decree 12, the entire country has been declared a 'zone subject to sanitary control.'
According to officials from the Municipal Commission of Civil Protection, Angel's funeral was the first in Meanguera since El Salvador entered a state of emergency in response to coronavirus. Now, there are measures in place restricting crowds and the movement of people. Which is why the police showed up at Rosario's house at four in the afternoon, to advise her on the rules for holding vigil: no more than 10 people at a time inside the room, and everyone must wash their hands when entering or leaving. An officer posted a hand-drawn sign at the entrance to the house: 'Caution, please wash your hands.'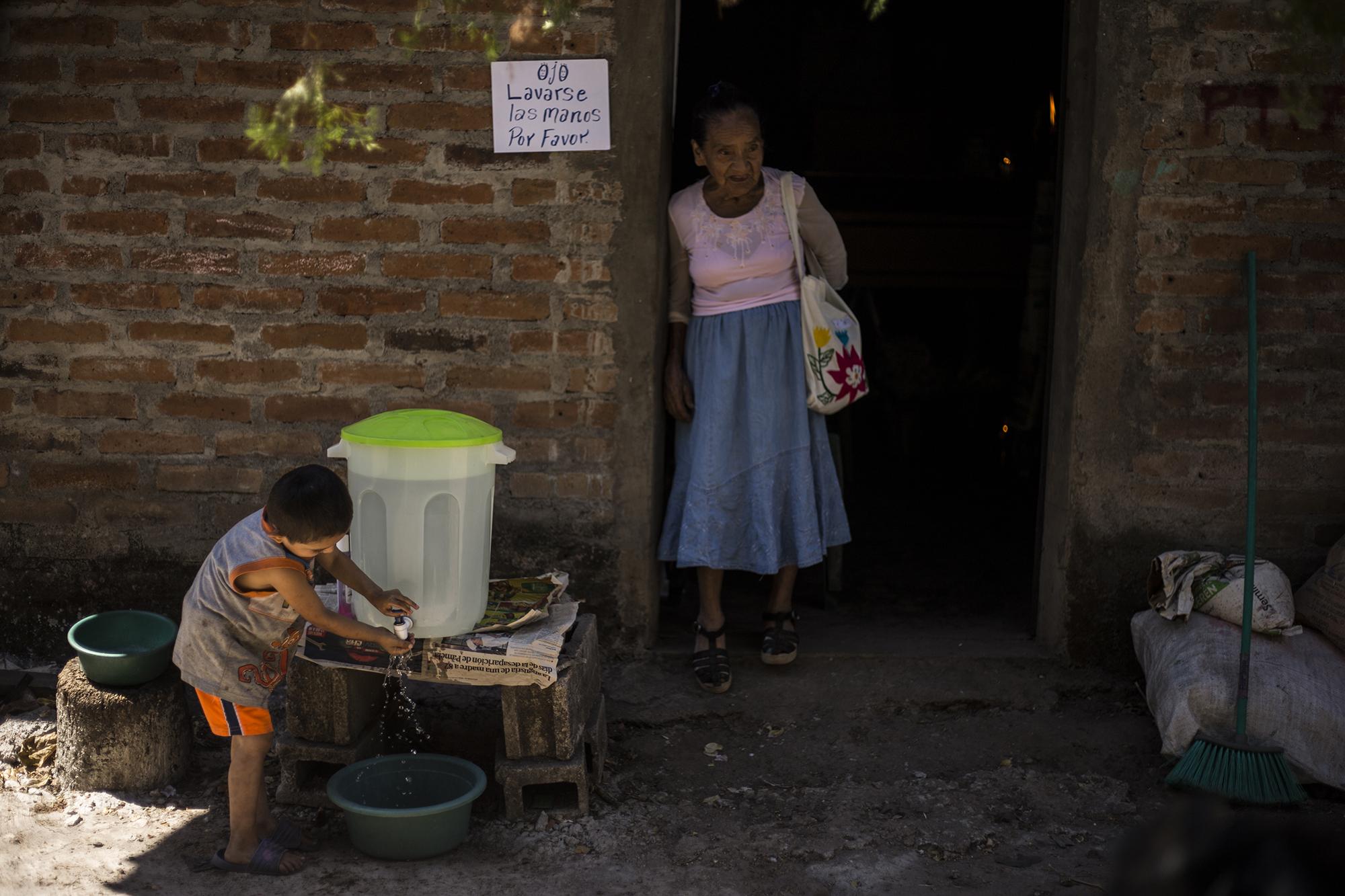 Ángel's wake was an intimate gathering. The guests told stories of their friends who had escaped being taken in by the police, or of the warnings they had been given for being outside their homes. Rosario doesn't remember exactly how many people joined her in vigil, but the five-gallon water container ran out at some point during the night. The mourners had used up all the water, not by drinking it, but by washing their hands—a consistent imperative in these troubled times. "He had so many friends. Before, if it were a different time, more people would have come," Rosario said.
***
The story of Ángel's life has two parts: before the massacre and after the massacre. He lived 37 years before it happened, and 38 years after. The controlling grip of the military, its power, came to define much of Ángel's life, and even his death. When he was born, on November 2, 1944, the military ruled the streets. El Salvador was emerging from the dictatorship of General Hernández Martínez, and Ángel came of age amid the ensuing decades of authoritarianism. As repression increased, by the 1980s, saying the wrong thing at a military checkpoint could mean being disappeared or killed. At that time, the state was fighting another virus—communism—and everyone was suspect. Now, Ángel has died, and El Salvador is a different place. The country has seen its sixth president in office since the signing of the peace accords, but for the time being, the military and police once again rule the streets. They are no longer chasing communists, but still, everyone is suspect—potential carriers of a terrible and silent disease. The Legislature has given the president exceptional powers to implement what seems to be the best plan the world can come up with to prevent the spread of the new virus: social isolation.
Ángel's death might have passed unnoticed were it not for the exceptional suffering he endured while alive. He survived the massacre of El Mozote, buried 24 of the victims—all of whom were his relatives—and testified in the trial of the largest civilian massacre in the history of the Salvadoran war. Now he leaves this world—like Rufina Amaya, like Pedro Chicas, like Sotero Guevara, and like Andrea Márquez—without having seen justice. The victims themselves were left to carry the bodies of their loved ones, to endure the scorn of being labelled guerrillas, to watch as politicians protected the criminals who attacked them, and to see their petitions for justice languish in the courts. Now, yet another injustice: in the midst of a pandemic, their deaths may go unnoticed.
Meanguera's municipal cemetery is a small plot of dry land where graves bump and bulge into each other without any apparent organization. 15 people, all wearing face-masks, attended Ángel's burial. Three of these were municipal officials: municipal trustee Morel Mejía, and representatives from the Ministry of Health and Civil Protection. Trustee Mejía assumed the role of priest, leading the group in prayer and offering a few words of his own. "It's quite unusual," said the official from the Ministry of Civil Protection. He estimated that about 800 people would have attended the funeral under normal circumstances—quite the crowd, considering that only about 9,000 people live in the small town of Meanguera.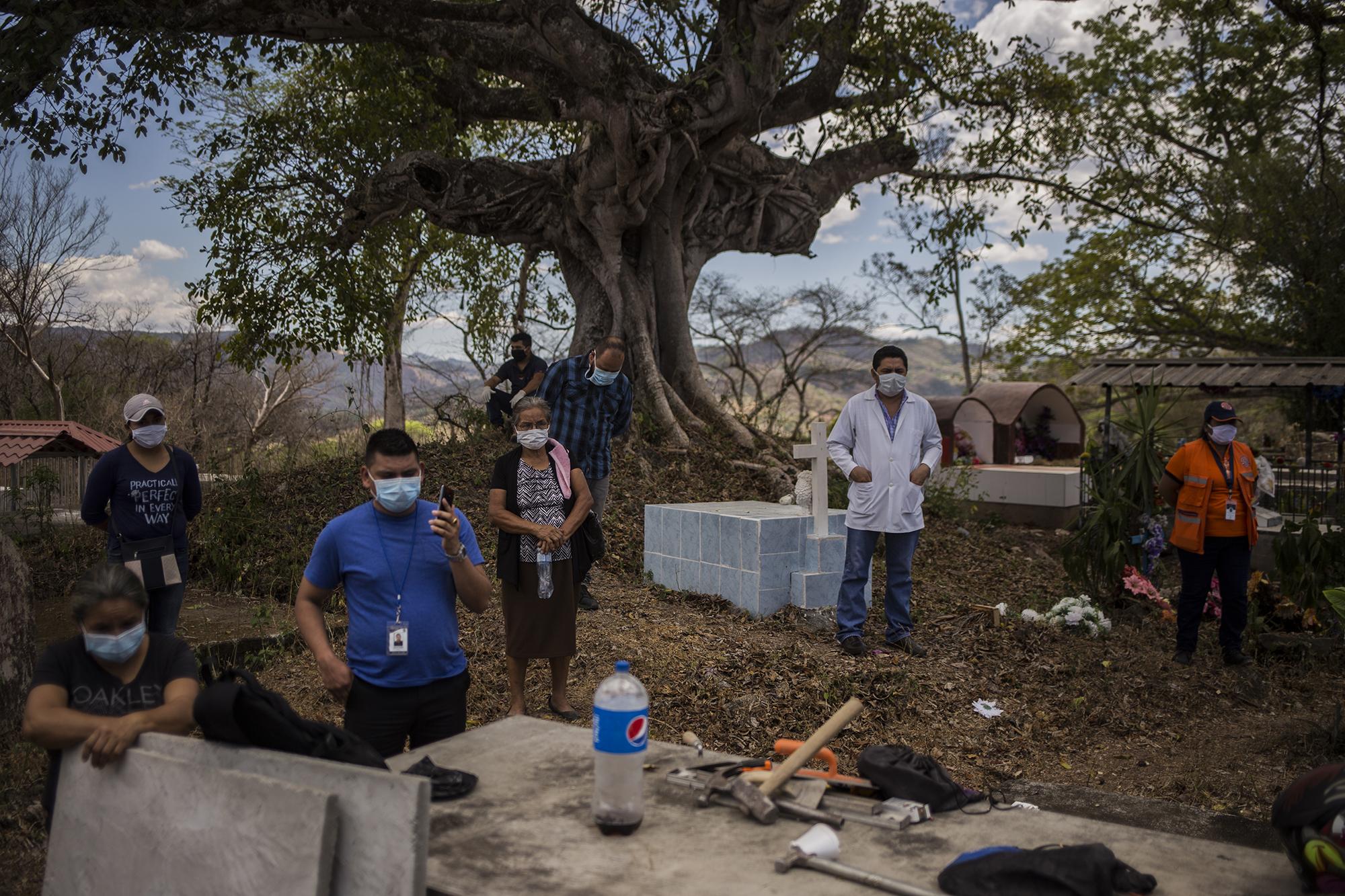 "I'm dying to give you a hug, but we can't," the delegate from the Ministry of Health told Rosario, apologetically, after the burial was over. To prevent the spread of a disease that is throwing the world into chaos, physical contact is discouraged. But Rosario is strong, just like Ángel used to be.
***
Ángel Mejía survived war, hunger, and the pain of losing 24 family members, as well as his house and possessions, but this year, 2020, he couldn't survive the cancer that had moved into his lungs. He had smoked since he was 12 years old. Three years ago, he had begun a treatment for respiratory problems, but even when he was taking medicine, he never stopped smoking. Maybe the only time he went without cigarettes was after the massacre, when he went into hiding with his family, unsettled and wandering the mountains of Morazán.  
Ángel was 37 years old, and Rosario 35, when the massacre took place in La Joya, one of the cantons targeted during Operación Rescate ("Operation Rescue"). It may seem like an insignificant historical detail, but naming the specific place—La Joya—where the suffering took place, and not just referring generically to the massacre in "Mozote and surrounding areas," is important for those who survived. Making their dead visible has been a struggle from the beginning.
They were saved by Angel's insistence. He had heard on the radio that the Salvadoran military was planning 'a scorched earth operation,' and on the morning of December 11, he could hear the shots and screams as they came closer, making their way up the hill to his house. Ángel and Rosario argued about what to do. He wanted to go to a hill he knew in El Perico. Rosario wanted to go to her mother's house. They were still deciding what to do when Ángel went out to try and get a better look. "What I did, at around 9 o'clock, was I threw myself down on the ground and found a little spot where I could see—I could see the soldiers coming, and they were killing people,' he said a year ago.
Faced with Rosario's obstinance, Ángel came up with a plan. "So I thought: if I take the kids with me, then she'll have to follow us. So I grabbed a sack and threw in some cookies and a couple bags of candy, and left with the three kids." Rosario and Ángel would end up having seven children, but at that time they only had three. The plan worked. Rosario followed and Ángel led the family to the hill. He knew the place intimately.
From high up the hill, Ángel saw helicopters and a "flood of soldiers" setting fire to the houses in the canton. The soldiers slaughtered the animals as well: pigs, chickens, dogs. "Then, at a certain point, the vultures must have grown tired of eating," he said. After five days of hiding, they saw that the soldiers had left. Ángel went down and looked on the scene in horror.
At his mother-in-law's house, where Rosario had wanted to take refuge, he saw dozens of her murdered relatives lying dead under mango trees. "¡Púchica! I said, look at the savagery these bastards came here to make! Because it was mostly just a group of kids, children. One of her sisters had six boys and I went to count them. I found my mother-in-law, my sisters-in-law, so, yeah I counted them," he said.
At the next house, his father-in-law's, Ángel found more of his in-laws dead. "I found Priscilla, dead, with her dress pulled up." Ángel covered her body before continuing his survey." I found Arnold, my sister-in-law's first son, with his guts out, his face down." All told, Ángel found the bodies of 24 of his relatives.
He found Rosario's brother, Santos, and his son, Amadeo, both alive. Santos asked Ángel if he had seen his wife María. At first, Ángel lied and told him he hadn't seen her, but eventually told him the truth.
"Look, Santos, you need to be a man, you need to be strong and man up,' he said.
"And where is María?"
"She's in the doorway, where Jacinto Sánchez died. They're all dead."
Santos cried. "Yes, cry," Ángel told him, "but soon the soldiers will hear us," he warned. Moments later, they heard gunshots.
Ángel and Santos buried all their relatives. 39 years later, on the morning of March 24, Santos and his son Amadeo were at Ángel's funeral. Because of the new travel restrictions, Santos was unable to accompany the mourners to the cemetery to bury Ángel, the man who had accompanied him when he buried his murdered wife. Before they took the casket out of the house to transport it to the cemetery, Santos hugged the coffin box, saying goodbye to his friend and brother-in-law.
Ángel and his family lived in hiding for the next five years. "Those were bitter years we lived through, living without hope of doing anything, without hope of getting out. And we hadn't even committed a crime—we should've had no reason to flee and go into hiding," said Ángel. At the end of 1986, the Red Cross evacuated the family to a nearby town.
Although El Salvador is a country that harbors a certain ruthless amnesia towards its victims, Ángel's story is part of an open judicial inquiry into the massacre. Ángel recounted all this—his story—in San Francisco Gotera's Court of Instruction on December 8, 2017. He was 73 years old at the time. Perhaps Rosario will live to see the outcome of that trial.
***
Ten days before dying, on Friday March 13, Ángel's granddaughter, Arely, brought him to the community clinic. At that point, El Salvador had no known cases of coronavirus, but foreigners were already being prohibited from entering the country, and the containment centers had already begun to fill up. This was the same day that the proposal to declare a state of exception was made public. Though Ángel's health was deteriorating, he still had the strength to walk home after going to the clinic. Two days later, on Sunday, March 15, he was hospitalized for one night.
In anticipation of the pandemic, El Salvador's deficient health system has begun taking drastic measures. "On Monday the 16th, they announced that all patients were to be removed from the hospital because of the virus. They told us to take care of him at home," Arely said.
Ángel and his family waited out his final days at home. Staying in the hospital wouldn't have given him much more time either. On March 18, a CT scan showed that the cancer had spread to his brain, and a tumor was causing the right half of his body to be paralyzed. "The right side fell asleep. One of his lungs had burst from all the smoke,"  said Rosario, sitting in a plastic chair in her home before the funeral.
His granddaughter added: "When he got back from the hospital on Monday, you couldn't understand anything he was saying—just a few words."
***
It's hard to imagine Ángel defeated like this. Just this past April, he was climbing hills effortlessly, with a solid step. At 74, he was pure strength and stamina. As we climbed up El Perico, on a primitive path full of high brush, the rest of us sweated and groaned the whole way. Ángel, machete in hand, sandals on his feet, guided us up the mountain without a word of protest. He underestimated the length of the trek, as campesinos are known to do. As he waited for us to catch up, he would offer encouragement, and regale us with stories from his long life while we walked on the path that led to the place where he, along with his family, had survived atrocity. José de los Ángeles Mejía—"Ángel," as everyone called him—did not go to school. "A school was opened here in the canton when I was six years old," Ángel said. "My father told me, 'You don't need to go to school. You don't eat with a pencil. There's the peak,' he would say, 'hay que hacer milpa, you need to work the land.' I went for about three months," he said.
After reaching the top of the hill, we sat down and he told more stories. Ángel said he had played soccer until he was 58 years old. "I would score goals while playing defense. There wasn't a player in all the years who could stop me. But not now. Now I get frustrated when I see those guys play—even when I watch the federated teams," he said. Halfway through his repertoire of anecdotes, he lit a cigarette, right after telling us about the two times that he had been visited by La Siguanaba, the attractive woman of Salvadoran myth who, when she comes upon a man, turns into a demon, traumatizing the man and leaving him insane. Ángel managed to save himself from La Siguanaba, he says, because "you can escape if you don't turn your back on her."
After hiking back down, Ángel again showcased his strength. He laughed at us when we tried to operate his cane mill, a wooden contraption that works by turning a large lever to extract sugarcane juice. Then Rosario served us drinks, mixing the cane juice with aguardiente, or cane liquor. To remember that day, eleven months ago now, as she stands a few meters from his coffin resting in the middle of the room, is to learn yet another lesson of the fragility of life—lessons that abound in times like these. "The pride I have left is that we lived together for 57 years, and I took care of him until his very last day," Rosario said.
The two of them had always taken care of each other.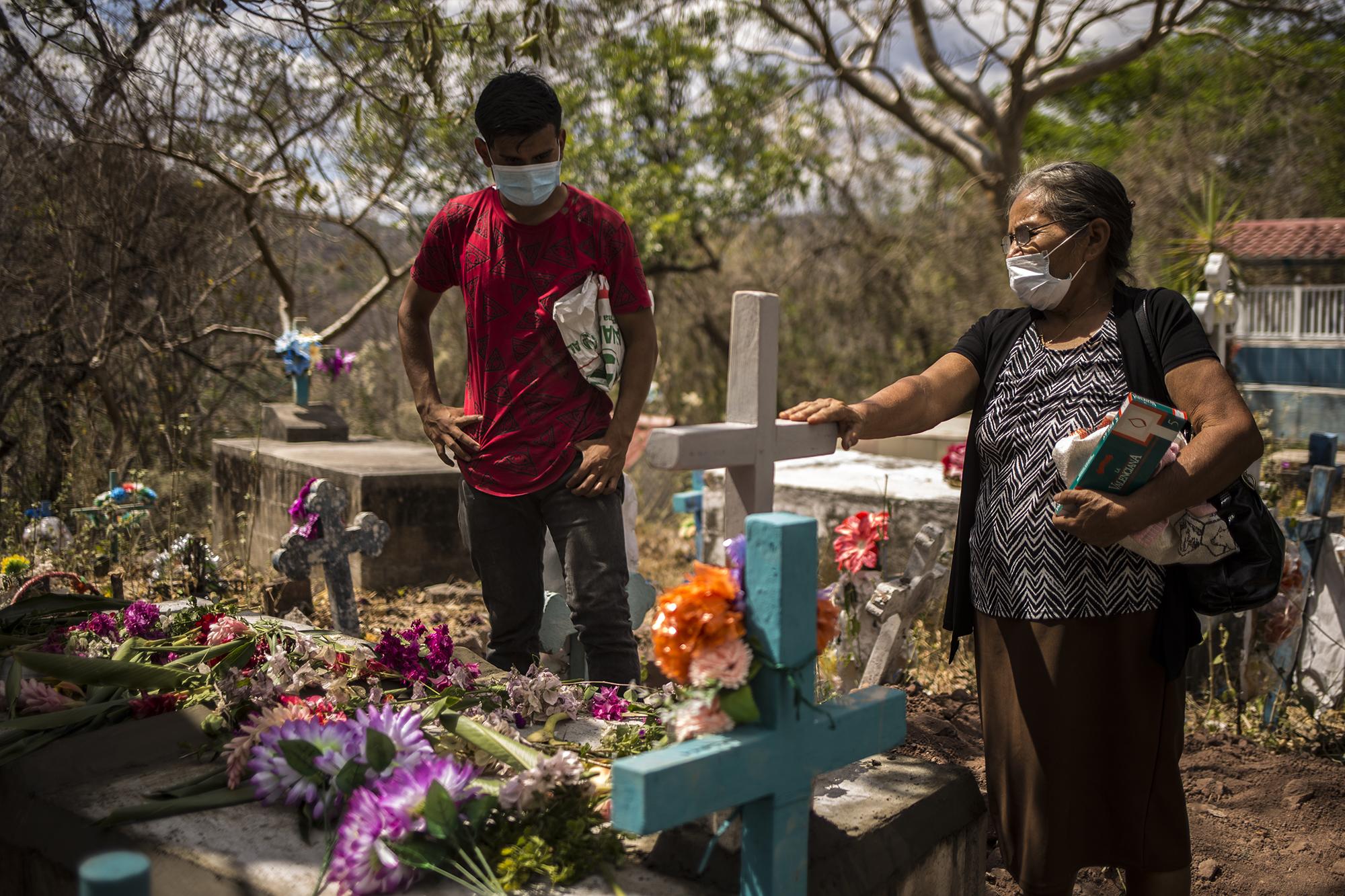 Sitting in front of the open door to her home, Rosario tells me how she and Ángel met, in 1958. He was 14 years old and Rosario was 12. "He would sometimes come to class. I never missed it." She went on, remembering Ángel's physical prowess—the boy who climbed trees like a squirrel to get a closer view of her when she came home from school,  with the complicity of her brothers, Santos and Vidal. On the way back from the cemetery, Rosario pointed out the tree where Ángel would wait for her in La Joya. For Rosario, this otherwise indistinguishable tree is impossible to forget.
"He would tell people: 'This one cost me two years of my life—two years begging her to be with me.' Well, you have to play hard-to-get because if it's not a struggle, it won't last," said Rosario, laughing. "Imagine, to live 57 years. These days, people live together for like two years and then they can't stand each other." Rosario and Ángel started dating, then got married as soon as they could. Ángel was 18 and Rosario 16. Because she was still a minor, they were married only by the church. "He would say to me: religious marriage bestows God's grace. Civil marriage just provides material benefits," said Rosario.
Toward the end of his life, Ángel would think back on those years with nostalgia. When he and Rosario first became a couple, José María Lemus was the president and El Salvador was experiencing years of industrial and economic growth, coupled with dictatorship and strict social control. Ángel was enjoying a different kind of prosperity. "Look," he said, "before, when I was a kid, I'd come down to these little ravines, at like two in the afternoon. We'd fill our sacks up in no time, fill them with crabs, with shrimp. We had it down. Hauling back that full bag—it was so light! But now, maybe from so many bombs being dropped, even the water is drying up. It's not the same as before," he said.
In the absence of a formal education, Ángel cherished the lessons instilled in him by his father. "Before, there were rules for everything. My dad made me bathe every eight days. And you couldn't cut your hair during a crescent moon, because it would grow back thick, like a cup stuffed full of grass. That's why his whole life, he would only cut his hair when the moon was empty, every three months. He'd take off his hat to show it off, bragging about his thin hair—just a few silvery threads. Otherwise, I didn't have any rules at all. That's probably why I can't stand going to work, hahaha!'
Rosario, now a widow, remains strong even in her 74th year. Although her age and her diabetes mean that she is in one of the groups most susceptible to the impacts of coronavirus, Rosario isn't afraid of the pandemic. She is as resolute in the face of the virus as she was when, on July 18, 2019,  she confronted one of the generals accused of carrying out the massacre that claimed her family.
Before the threat of coronavirus, Rosario had known a thousand other mortal threats. Her life had been in danger many times, and she has recounted her experiences in both the recent hearings on the massacre in Salvadoran court, before the Inter-American Court of Human Rights, and in dozens of interviews and testimonies. She's tough.
"I saw on television that snakes and bats had been the source of the virus, and that it passed to the Chinese through these foods," said Rosario. "Now they're saying that it's transmitted through the air, that if it gets into your mouth, if you don't drink water it gets into your lungs or straight into the stomach and that's how you die. What a story!" Rosario doesn't ignore or deny it. "I know what it is and that it's dangerous. If I worry about, it will take me down much more easily."
Unafraid of the virus, Rosario enlisted her grandchildren to help with her and Ángel's last trips to the hospital. On Sunday, March 22, the day before Ángel died, she travelled to Gotera to buy sugar, oil, and rice. It was a risk. The night before, President Bukele had decreed that no one was to leave their homes without justification, and hundreds of people were arrested because the authorities didn't believe the reasons they provided for being out of their homes. But Rosario wasn't stocking up for the quarantine, she was preparing for the wake. "When he was doing really poorly, I went out for groceries so I wouldn't be unprepared, because you always have people with you and you have to give them something to eat at night," she said.
On the morning of March 24, a pickup truck drove the paved road that connects San Fransisco Gotera to Perquín, broadcasting a message over megaphone: "If you don't have anything you need to do, stay in your home, avoid contact with coronavirus 19, prevent the spread of this lethal illness." Twitter has been President Nayib Bukele's favorite platform for making announcements and updates about the emergency. Despite the prevalence of cell phones throughout the country, authorities are nonetheless using other methods to communicate information in rural areas: perifoneos, or vehicles strapped with rooftop megaphones or speakers, as well as Whatsapp messages and through community groups like the Community Development Associations (ADESCO).
Before leaving the house, the mourners sang a traditional hymn from the liturgy of the dead. "Al Paraíso te lleven los ángeles… May the angels carry you to Paradise, may the martyrs welcome you when you arrive, and present you in the holy city of Jerusalem," they sang. Ángel's burial coincided with the 40th anniversary of the murder of Monsignor Romero. Rosario didn't mention it, but Saint Romero is everywhere in El Salvador: in the name of a community near La Joya, or on a dusty calendar in Rosario's home. Impunity is a painful part of Salvadoran life: whether it's the high-profile assasination of a saint, or the massacre that forever defines a campesino's life. Two emblematic crimes, both mentioned in the Truth Commission report, and both with known material and intellectual authors. In the first, Major d'Aubuisson and a death squad; in the second, the Army and the Atlacatl Battalion. And yet, still no federal convictions. Ángel, there is no doubt, represents the people of Monsignor—he is part of Saint Romero's flock and suffered from the same lack of justice.
Away from the dusty streets of La Joya and out on the pavement, the confusing new rules frighten the mourners. The soldiers are suspicious of any vehicle carrying more than one person. This is why the funeral caravan to the cemetery in Meanguera has just two big pickups and one small truck—the kind that you see packed full of people and making the rounds in small towns and places where there's no public transportation. This time, there are only eight people in the truck.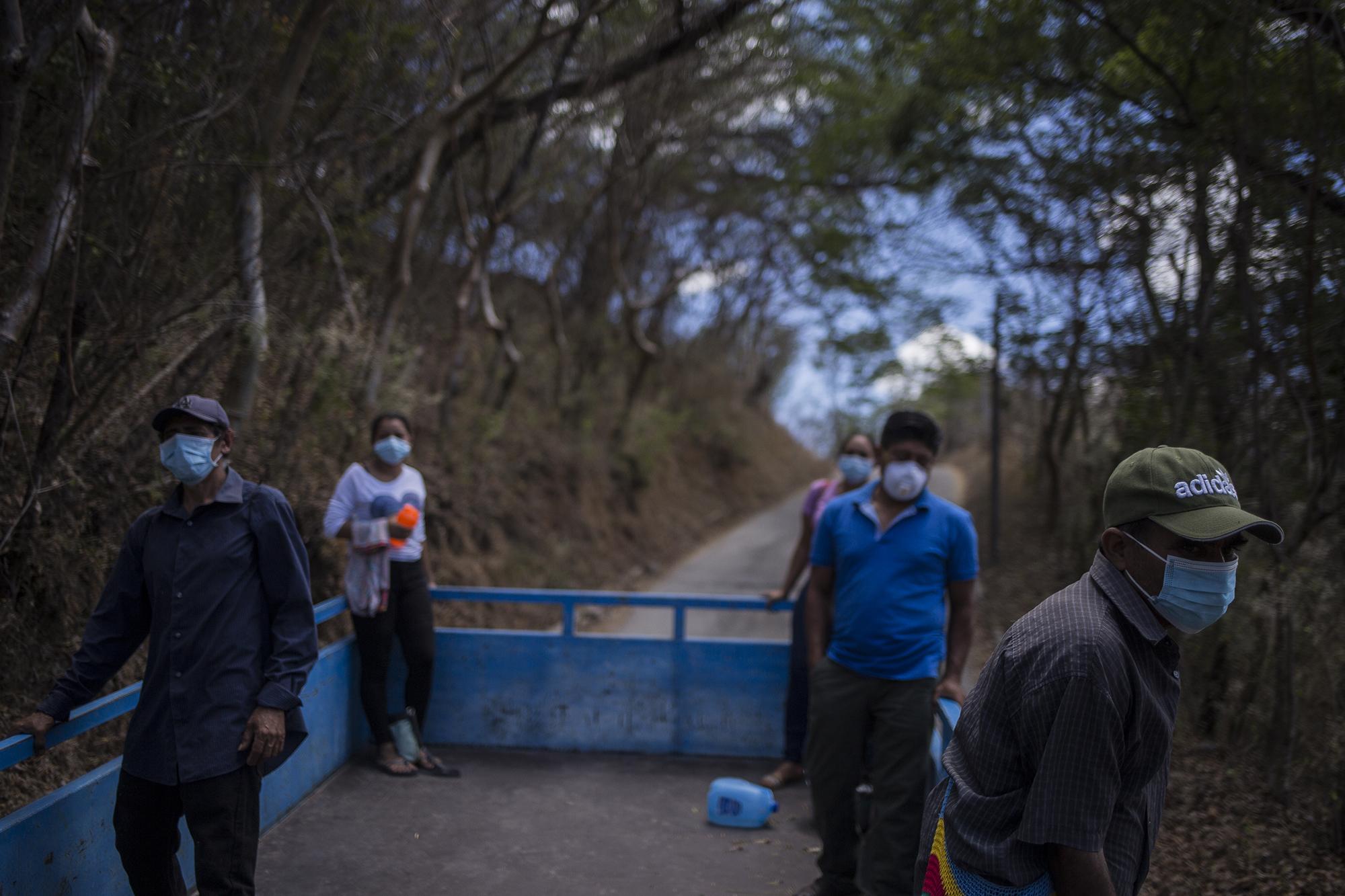 A few more people join in at the cemetery. Rosario and Ángel's relatives straighten his body into the coffin and rub him with lotion before closing the lid. After placing the box in the grave, they empty sacks filled with personal belongings into the space beside the coffin: hats, shirts, pants, shoes, bedding, pillows, bandanas, towels, a backpack, headbands. Priscilla, one of the granddaughters, takes off her mask to cry.
Ángel will be remembered for his strength and vitality, his resilience, his testimony about the massacre. His family lineage will forever include someone who did everything he could to protect the ones he loved. Until the very end. Back at home, Arely tells me how nine days before he died, Ángel could no longer speak, but he had one last message to give Rosario. 
Just as in life he had made a plan to save her from the Atlacatl Battalion, from his deathbed he devised a strategy to help make her last days more bearable. With his body half paralyzed, Ángel once again called on his extraordinary strength. Arely devised a way to communicate: she would ask him questions and he would answer yes or no by squeezing her hand. Ángel moved his left hand back and forth, palm extended, then showed her five fingers and then only two. After many questions, his family deciphered the message. "He told my grandmother to stop fighting with the animals and to sell three of her five cows, and to keep only two," said Arely, the interpreter.
Now, in the canton of La Joya, three cows are for sale at Rosario's house.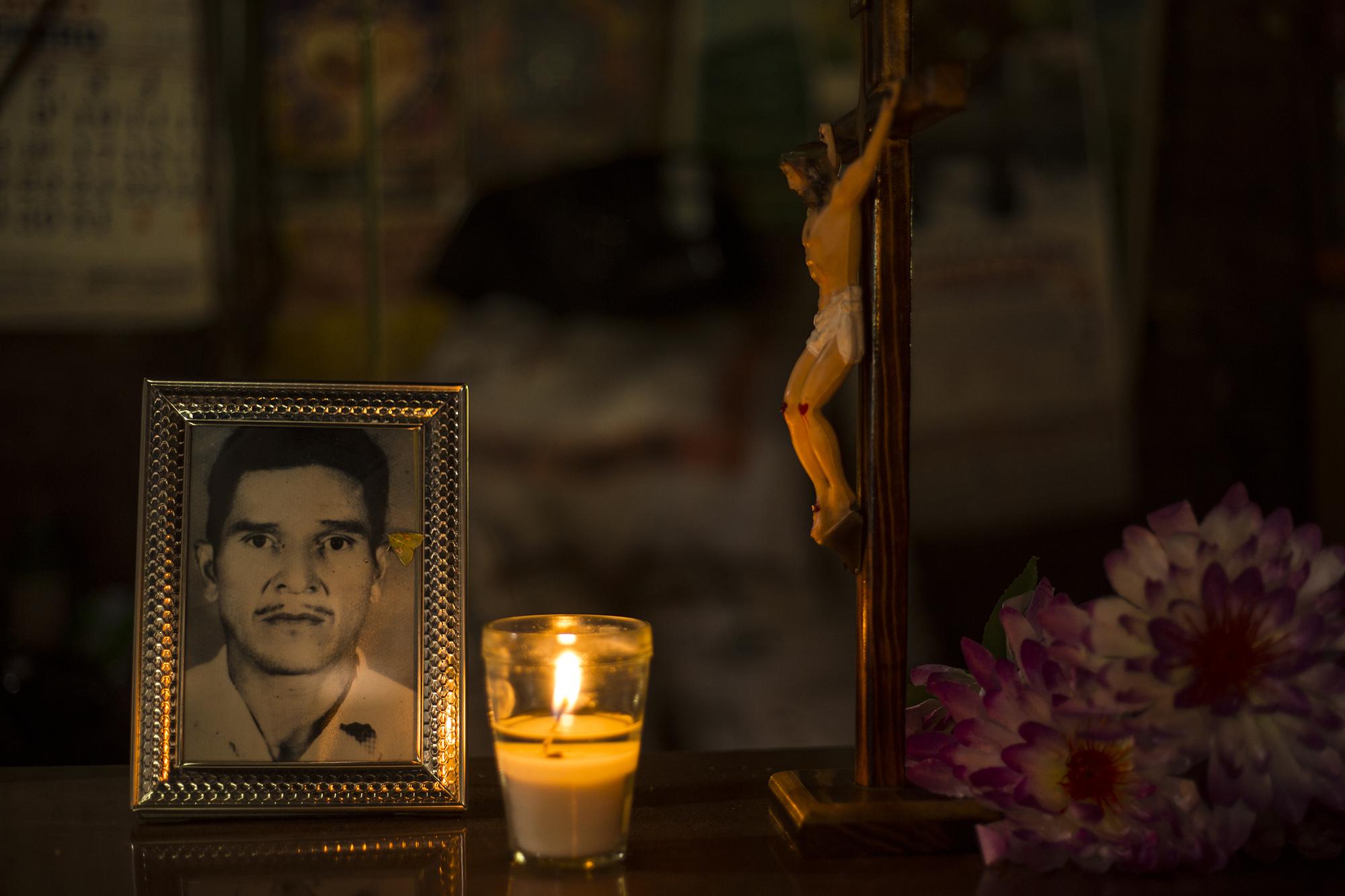 *Translated by Max Granger