A prominent Venezuelan opposition figure is working as campaign manager for Nuevas Ideas, the party of Salvadoran president Nayib Bukele that won control of the country's Legislative Assembly on February 28.
Lester Toledo, a man well known in conservative political circles in both the United States and Venezuela, is also the primary elections administrator for Nuevas Ideas (NI). During NI's 2021 mayoral and congressional campaigns, Toledo presented himself to voters as the party's "senior campaign manager," and has assumed responsibility for organizing teams of campaign field organizers, conducting trainings, and mobilizing displays of party militancy in "defense of the vote."
The Venezuelan consultant began working with the Bukele family in 2018, shortly after Nayib Bukele's expulsion from the FMLN in 2017, when he and his group were still attempting to form a new political party to compete in El Salvador's 2019 presidential election. Speaking at a private conference of political communication specialists in Washington, D.C. on July 22, 2020, Toledo himself recounted his early days with the Bukele team: "[Bukele] rose to mayor under the banner of the FMLN, which was a traditional party, and they always left all the organizing to him," he said. According to Toledo's account, toward the end of 2018, Bukele's team contacted Toledo in Colombia and asked him to develop an analysis and strategy for their presidential campaign.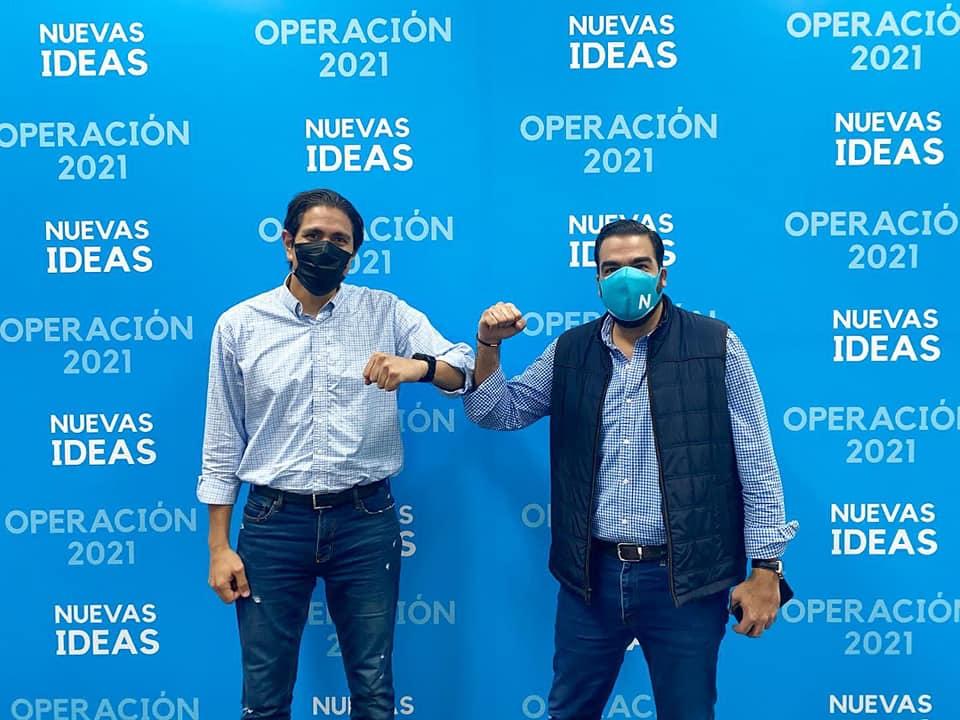 El Faro recently obtained access to a recording of the conference, where Toledo had been invited as a kind of guru, to talk about his work in El Salvador. In his presentation, Toledo described how in 2018 he became involved with the presidential campaign, led by the Bukele family's most powerful brother, Karim Bukele: "Bukele's campaign team was 14 people, including himself: Bukele, his three brothers, and ten associates who met in his brothers' office, which was where they developed the president's proposals," Toledo said. 
At the last minute, another major Salvadoran political party, GANA, agreed to support Bukele so that he could compete in the 2019 presidential elections.
At the conference, Toledo highlighted a few key features of Bukele's strategy: the president's close relationship with international conservative political circles, the importance of social media, and loyalty to the leader as the highest value.
Toledo is a partner at Salto Ángel Consulting, a company that promotes his work in El Salvador as one of their great successes. In 2020, the firm received a "Napolitan Victory Award" from the Washington Academy of Political Arts & Sciences in the category of "breakthrough firms of the year," for the company's work "mobilizing the bases" during Bukele's presidential campaign. 
Although the fact that Toledo had worked for NI was already public information, what was not known was the nature of his role, or his level of involvement in Bukele's political project. In July 2020, Toledo began assembling a slate of congressional and mayoral candidates for the February 28, 2021 elections, through a virtual platform used for NI's primary elections. "The Salto Ángel Consulting team organized the first virtual election in the history of El Salvador," Toledo said at the conference. "160,000 people participated. It was a model for any party in the region. The system never crashed and provided minute-by-minute updates on voting results."
Toward the end of July, accusations of fraud in the primaries surfaced, which included the alleged buying of votes and the use of fraudulent phone chips to cast votes. The party's National Electoral Commission responded that while the commission did detect primary candidates buying multiple phone chips in order to cast multiple votes, they claimed to have used identity document validation to block these attempts.
While it is unclear how much Toledo is being paid, or whether the party pays him directly or pays his company, Toledo has, in practice, become NI's second in command. In November of last year, he accompanied party President Xavier Zablah Bukele to register the list of mayoral and Legislative Assembly candidates. On his Instagram account, Toledo shared a photograph of himself and Zablah — who, in addition to being NI party president, is also Nayib Bukele's cousin — standing in front of a party banner. "El compromiso es poner nuestro granito de arena para GANAR de nuevo #Operación2021," he wrote. (A pun alluding to the names of right-wing Salvadoran political parties ARENA and GANA, that otherwise translates to: "We're committed to adding our grain of sand to win again.")
El Faro attempted to interview Toledo about his work in El Salvador, but he did not respond to calls or emails.
A Partner of Juan Guaidó and Leopoldo López
Lester Toledo, 38, is a lawyer who participated in the 2007 protests against then-president Hugo Chávez's referendum on the Venezuelan Constitution, and who, together with Leopoldo López and other anti-Chávez opposition activists, founded Venezuela's Voluntad Popular party in 2009. After his exile in 2016, Toledo dedicated himself to conducting campaign training sessions. In February 2017, he moved to Spain, where conservative Prime Minister Mariano Rajoy granted him Spanish citizenship. In Spain, Toledo assisted with organizing the primary elections for the country's right-wing Partido Popular (Popular Party).
Toledo also worked for Juan Guaidó — the president of Venezuela's National Assembly who in early 2019 proclaimed himself interim president — coordinating the flows of humanitarian aid imports from Miami into the country. In February 2019, Toledo accompanied Guaidó to Venezuela Aid Live, a benefit concert that took place in the Colombia-Venezuela border city of Cúcuta. The event was also supported by Colombian president Iván Duque, Chilean president Sebastián Piñera, Cuban-American U.S. senator Marco Rubio, and the Secretary General of the Organization of American States (OAS), Luis Almagro.
Toledo fancies himself a man obsessed with the collection of data and the creation of profiles on party activists, "vote defenders," and field organizers. He has his own methodology for doing it: circles of trust. "We identify those who sympathize with the campaign, then those who are willing to vote for you, then those want to volunteer their free time, then those who are willing to dedicate their time 24/7 to the campaign, and finally those who are willing to donate," Toledo explained in his presentation, speaking in front of a PowerPoint slide depicting the hierarchy of members and supporters. The greater the commitment, Toledo explained, the closer the person becomes to the candidate. "This will allow you to section off until you get to the candidate's close inner circle: his family, his campaign team, people who would kill for him."
In the presentation, Toledo explained his recruitment methods: "I survey the number of tweets, retweets and comments. If the person is not on social media, I assess the level of event attendance. If they are someone who is committed, we move them up the ladder until they end up a member of the campaign team." Toledo also boasted about the tools his company uses to collect data and measure people's level of engagement: "The most dedicated people, the ones who have the most stars, who would take a bullet for the candidate — those are the ones we post at voting centers, because they have a very high level of commitment. Nobody is going to buy them off or intimidate them with violence," he said.
The Party Expert
Toledo says that when he joined Nayib Bukele's team, he learned that months earlier, the campaign crew of only 14 people had successfully organized the collection of 200,000 signatures in just a single weekend.
Toledo requested this data to use it as a training tool for the national campaign team, but Karim Bukele informed him that "the campaign did not keep anyone's data," and that all of the information had been handed over to the Supreme Electoral Tribunal (TSE). After this experience, Toledo requested that from then on the campaign capture all the data of all attendees and supporters. On December 9, 2018, Bukele launched the website xelsalvador.com, using the site to register volunteers to monitor voting on election day. The site was developed by Salto Ángel Consulting, Lester Toledo's company.
Toledo explains how they created a system of incentives for those who could mobilize the most volunteers: promotional materials, hats and shirts, and even a private dinner with Bukele. "The ten individuals who were able to mobilize the most people were rewarded with a dinner with the candidate," Toledo said. "This strategy allowed us to register 412,000 people." Toledo added that most of the people who signed up were very young and had never participated in poll-guarding, and that from the total number of registrees they selected a smaller group of 80,000 to train, then gathering participants, with up up to 1,000 attendees at a time, in large rooms with giant screens, where Toledo would explain the functioning of the voting centers and how to monitor the vote. One photograph from these training sessions shows Toledo, standing in front of a projection of a map of El Salvador along with the terms "Junta Receptora de Votos (JRV)" and "Junta Electoral Municipal (JEM)" (Voter Registration Board and Municipal Election Board, respectively). "We trained the vote defenders and the candidate swore in more than 80,000 dedicated team members," Toledo explained.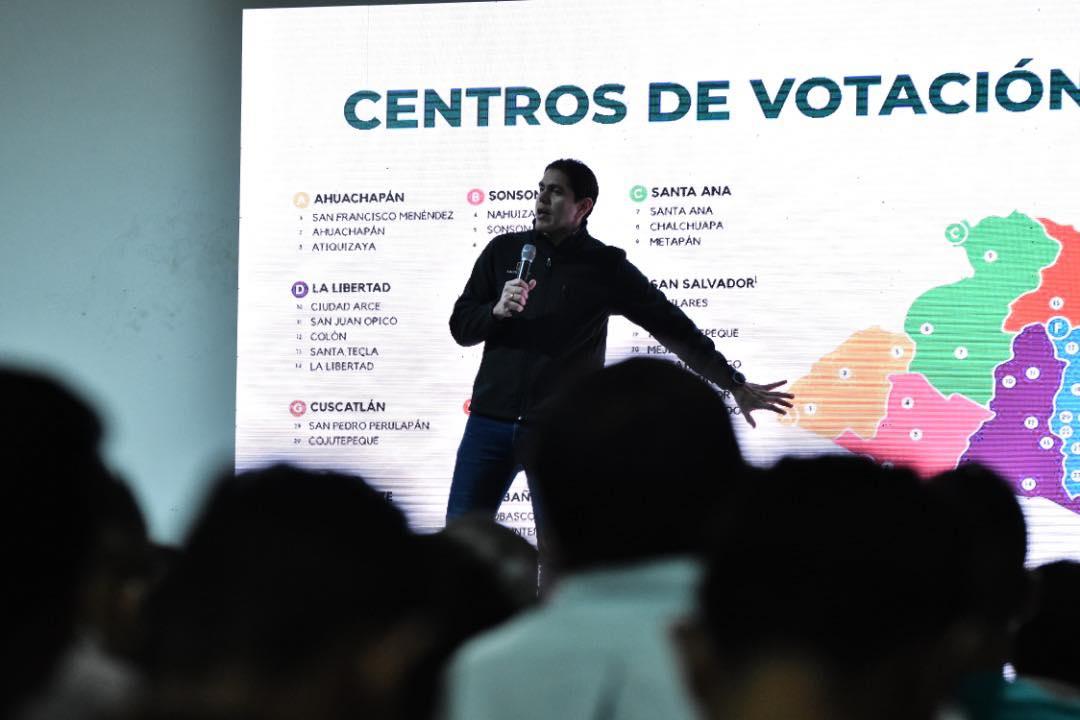 While El Salvador's traditional political parties continue to organize their leaders by conventional means, using clipboards and pens, Toledo's company was able to mobilize the party base using virtual platforms, building robust electoral support for Bukele — support which has continued to grow over the past three years. But in 2020, in addition to changes in the methods of mobilizing support, the question of resources has also played a major role: NI far outspent all other contenders in the legislative and municipal elections. According to party spending estimates by the organization Acción Ciudadana (Citizen Action), from November 2020 to January 2021, NI spent $7.1 million on its campaign, followed by Arena, which spent $726,000. 
In his video-conference presentation, Toledo claimed that his company coordinated the distribution of the party's advertising campaign on social media, a tool used to deploy targeted messages during the months of quarantine mandated in response to the pandemic. "Mr. Mark Zuckerberg should give us royalties from Facebook because all the money they could have spent on flyers and door-knocking, instead they put it into online publicity and advertising," he said jokingly during the conference.
The Salto Ángel Consulting team hired by Nuevas Ideas is led by four Venezuelans: Lester Toledo, Lender Toledo, Esteban Vicuña and Víctor Julio Barboza. During El Salvador's legislative and municipal campaign, five Venezuelan opposition members linked to Venezuela's Voluntad Popular party participated as volunteers in the defend-the-vote trainings: Ángel Machado, Danny Lozada, Efrendy Campos, María José Vásquez Fossi and Andrea Márquez. 
Venezuelans Working for the Salvadoran Government
On February 17, 2021, President Bukele announced that he would be delivering a speech at the Salvadoran Social Security Institute's Atlacatl Health Unit in San Salvador. This is where, according to the government, a special unit was being established as part of the logistics of rolling out Covid-19 vaccines to the whole country. The event was also attended by ISSS director, Mónica Ayala, and the Salvadoran minister of health, Francisco Alabí, who had arrived at the site ahead of the president. Among those responsible for organizing the logistics of the event were four Venezuelans.
Entering the unit where Alabí would later vaccinate nurse Mirna Moreno—the first person in El Salvador to receive the vaccine—was a bald man named Esteban Vicuña. Vicuña is an associate at Salto Ángel Consulting, and has been with Toledo since Toledo's time as a state legislator in Venezuela. Minutes before, another Venezuelan named Sara Hanna had been in the same place where Alabí was now waiting for the arrival of the president. Two other Venezuelans, Miguel Sabal and Miguel Arvelo, were waiting in a restricted area set aside for the press, near the unit and the press conference podium. The roles played by these last two Venezuelans in the Bukele administration remain unknown, due to restrictions placed on the information.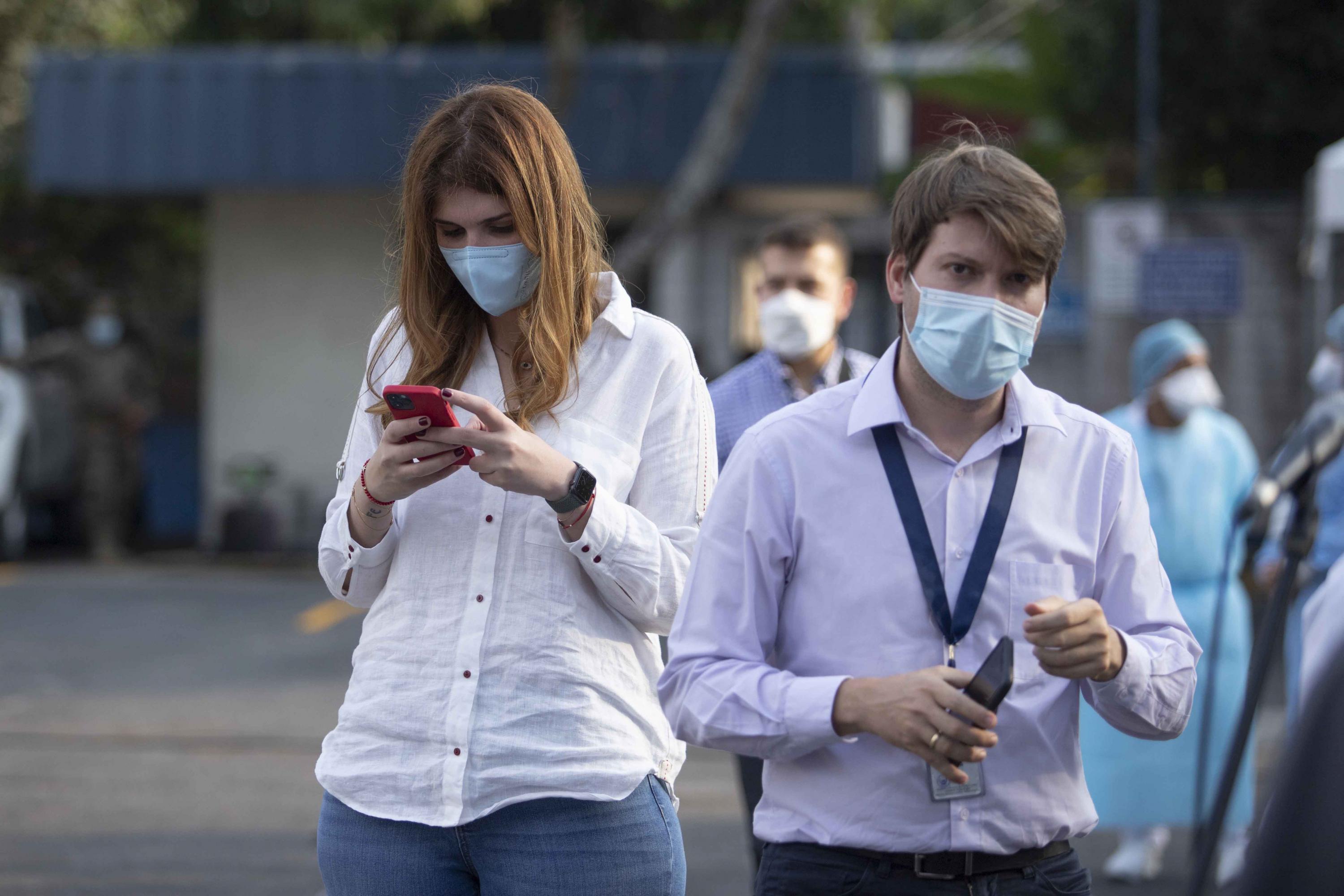 On December 16, 2020, the Salvadoran minister of health responded to a public information request on the roles of Lester Toledo, Sarah Hanna, Miguel Sabal and Miguel Arvelo, stating that none of these individuals were registered as employees with the ministry's human resources department. Casa Presidencial, for its part, stated that contracts with these consultants were "nonexistent" and "private," in a response dated July 2, 2020.
On February 24, four days before the elections, El Faro called Vicuña to ask him about his company's work on behalf of the Salvadoran government and NI. "I'm at an event," he responded, "but tomorrow at 8am I'd be happy to answer all of your questions." On Thursday morning, Vicuña did not answer El Faro's five attempts to call him, nor did he respond to questions sent via email or text message apps.
In early June 2020, a memo from the National Health Institute (INS) circulated on social media networks. In the document, dated June 1, a lab technician reported to the deputy director of the INS, Xóchitl Sandoval, that she had received a message via WhatsApp from two Casa Presidencial delegates, Sara Hanna and Miguel Arvelo, instructing her not to process Covid-19 tests. The memo states that on May 23, Hanna requested that the institute not process 1,674 test samples received on previous dates. It also states that on May 24, Arvelo sent instructions not to accept sentinel surveillance samples, collected in hospitals and health clinics, and to adhere to a schedule that specified which samples were to be given priority.
On June 11, El Diario de Hoy published complaints from the United Salvadoran Public Health Workers Union (Unidad de Sindicatos de Trabajadores de Salud Pública) against Sabal and Arvelo. "Despite the authorization for conducting Covid-19 tests [on frontline workers], Mr. Miguel Arvelo objects," the union said. According to El Diario de Hoy, Sabal and Arvelo presented themselves as President Bukele's advisors to two medical labs in San Salvador, Max Bloch Laboratories and San Miguel Laboratories, and instructed the labs not to test frontline workers showing symptoms of Covid-19. "They harass and mistreat staff and lab workers," the employees said.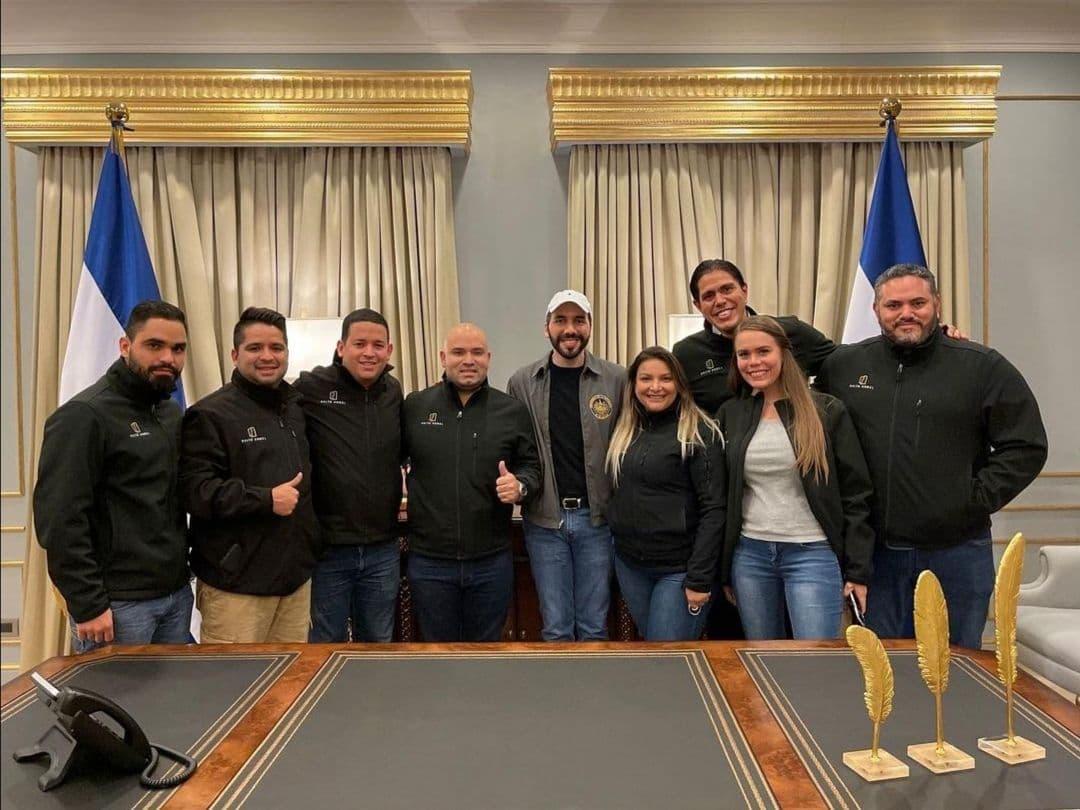 Toledo has participated in Bukele's cabinet meetings, and in April 2020, he accompanied the president to a planning and promotional event for the government's Health Emergency Program (Programa de Emergencia Sanitaria). On April 30, Toledo shared a photograph on his Instagram account from the "Emergency Plan Operations Center" at the San Bartolo Customs Building in Ilopango, San Salvador, and in the description wrote that "together with President Bukele" he had participated in the planning of "a series of actions to lessen the economic impacts caused by the pandemic." President Bukele gave a press conference in that same place on May 18, together with his brother Karim, to announce his food basket delivery program, but before that, both were received by Toledo, who gave them a tour of the facilities. Neither Karim Bukele nor Toledo are officials of the government, at least not publicly.
Six days earlier, on May 12, Toledo was at Casa Presidencial. A photograph shows him giving a presentation in front of cabinet officials involved in the purchase, importation and distribution of the food baskets, among them the director of the National Civil Police (PNC), Mauricio Arriaza Chicas, and Minister of Agriculture Pablo Anliker, who authorized the more than $200 million in food purchases for the program. "Before starting the Health Emergency Plan," Toledo wrote in a post. "Happy to be able to offer our assistance, our ideas, dreams and talents for the public good." 
Describing the meeting, Toledo repeated the rhetoric the Salvadoran government has been promoting since April: "El Salvador has managed this pandemic better than any other country in the region, in terms of numbers, and this is because the country has capable and committed people at the helm, led by President Bukele," Toledo said.

*Translated by Max Granger