The National Civil Police opened an investigation into Vice Minister of Security Osiris Luna Meza after the publication of pictures in November, 2019, of Luna on a private jet, purportedly while traveling in Mexico to meet with possible security contractors. In an internal report five months later, the Police Intelligence Subdirectorate (SIPOL) hypothesized that Luna, who in his capacity as vice minister also directs the Prison Bureau, illicitly paid for the trip with prison commissary funds. 
SIPOL wrote in the report that what it called "Mr. Osiris Luna Meza's criminal circle" included the leaders of the Mara Salvatrucha and 18th Street gangs, as well as a drug trafficker, a money launderer, and legislator Guillermo Gallegos, a prominent ally to President Nayib Bukele that the police intelligence office accused in the report of having ties to drug trade.
The report, 13 slides with information from intelligence records prepared by the counterintelligence division of SIPOL, was emailed on April 30, 2020, from an official email account to a high-ranking SIPOL investigator. The presentation did not list how the office produced the findings, only citing "open" and "human" sources. The email does not indicate whether the PNC acted on the report — the sender only wrote that they had submitted it "for your review" and were "awaiting instructions."
SIPOL hypothesizes that Luna was involved in a web of corruption in prisons. The intelligence report states that "upon his arrival at the Prison Bureau, Osiris Luna received four million dollars from Asocambio, as well as $80,000 from the Apanteos prison, the destination of which is unknown."
The presentation also names Luna as involved with a series of illicit actors, such as Borromeo Henriquez (also known as "Diablito de Hollywood"), one of the most senior leaders of the Mara Salvatrucha-13, a criminal organization involved in negotiations with the Bukele administration since 2019.
The report mentions meetings on April 3 and 4, 2020, in a maximum-security prison. "Osiris Luna arrived with four people and they entered the facility avoiding security controls to meet with Borromeo Enrique Henríquez Solórzano (Diablito de Hollywood) and Jorge Ulloa Sibrián," the report says. The document does not provide details of what the men discussed. 
The report also notes a relationship between Luna and Jorge Ernesto Ulloa Sibrián, also known as "El Repollo," serving a 77-year sentence for international drug trafficking. The annotation on the presentation reads Luna "meets in prison" and has two arrows pointing to Ulloa Sibrián and former congressman Wilber Rivera Monge, currently serving 15 years in prison for laundering Ulloa Sibrián's money.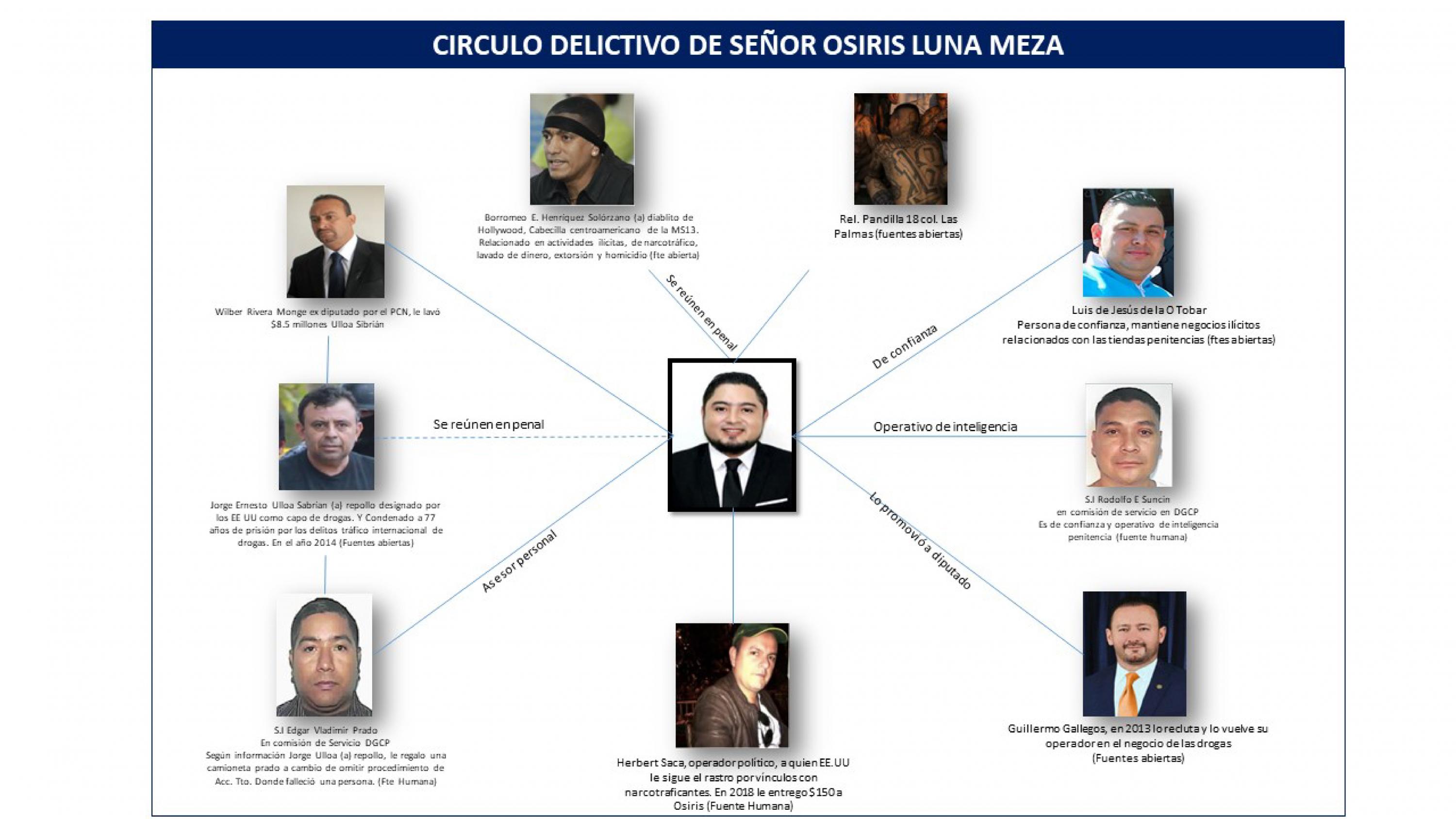 SIPOL also asserts that Luna's subordinates have committed improprieties. For example, the presentation states that Luis de Jesús De La O Tobar, head of the Department of Prison Records, "was responsible for preparing and manipulating the files of 25,000 inmates in the penitentiary system." After Revista Factum revealed that De La O Tobar falsified documents from his studies to obtain the post, Luna transferred him to another area. 'He [Luna] changed his [De la O's] post and put him in charge of prison stores; [he's been there] since January 2020,' the police report says.
Luna did not respond to a request from El Faro to comment on the allegations in the police report.
El Faro obtained the SIPOL presentation through DDoSecrets, an organization that has received millions of emails from El Salvador's National Civil Police directly from Guacamaya, the hackers who breached millions of law enforcement emails from El Salvador and elsewhere in Latin America.
These are not the only corruption allegations against Luna. His stewardship as Prison Bureau director was the subject of an investigation by the Attorney General's Office prior to the illegal removal of top prosecutor Raúl Melara in May, 2021. Operation Cathedral, dismantled after Melara's ousting, concluded that Luna spent $278,000 on phantom positions and that ten supervisors were paid excessive salaries in exchange for giving Luna money. 
Two of these supervisors gave protected testimony to the Attorney General's Office, which had also wiretapped Luna and his mother, Alma Yanira Meza Olivares. Catedral found that Luna, his mother, and a trusted employee schemed to steal and sell 42,000 sacks of food worth $1.6 million from a pandemic relief program designed to assist vulnerable households during the mandatory 2020 quarantine.
In July, 2021, the U.S. State Department barred Luna from traveling to the United States by naming him in a list of corrupt actors known as the 'Engel List,' citing his participation in the Bukele administration's gang negotiations. Five months later, the Treasury barred him from doing business in the U.S. and with economic actors from that country.
Briefcase of Cash
The police intelligence report leaked by Guacamaya asserts that Luna was a street vendor with contacts in the 18th Street gang in the Las Palmas neighborhood in San Salvador, one of the gang's main strongholds. "There, he established contact with the Barrio 18 gang and started dealing marijuana," the report says.
The report also notes that Luna's political career began in the GANA party, first as a legislative advisor, then as an alternate congressman and an elected congressman until his appointment to Bukele's Security Cabinet in June 2019. "In 2013, Legislator Guillermo Gallegos recruited him and made him his operative in the drug trade," the report says, citing 'open sources." The report adds that Gallegos made Luna "his right-hand man and eventually his legislative advisor." 
According to the report, Luna received a briefcase of money from Herbert Saca, a political operative influential during the governments of Antonio Saca (2004-2009) and Mauricio Funes (2009-2014). In August, 2019, Saca was photographed at a party attended by Bukele and GANA financiers. The police presentation documents the delivery of the money during the Sánchez Cerén administration. "In 2018, [Luna] received a briefcase from Mr. Herbert Saca with $150,000; the transaction took place in the restaurant area of the Metrocenter mall in San Salvador," the report says, citing an anonymous informant's testimony.
Internal police records from the Police Directorate for the Protection of Public Figures leaked by Guacamaya and published by Revista Factum stated that Herbert Saca received taxpayer-funded security details between January 2020 and December 2021, despite the fact that he did not hold any official government position. The Office of the President ordered the Director of the National Civil Police, Mauricio Arriaza Chicas, to assign bodyguards to Saca.
On November 3, the outlet left messages with Gallegos' assistant and was only told that they wanted a copy of the report so they could decide whether to respond. That same day, El Faro called Saca's office at his vehicle sales business and wrote him an email requesting an interview. There was no response.
Private Jet
On November 10, 2019, photographs of Luna and a woman on a private flight created a fleeting scandal on social media, causing Luna to publicly assert that he had not used public funds to pay for the trip. 'I was invited to Mexico to learn about various security projects," he tweeted. "I traveled round trip on Avianca (also upon invitation) and, in order to make the entire trip in a short time, flights within Mexico were offered to us at no cost on a private flight," he claimed. On December 11, 2019, the Mexican government denied having extended an invitation to Luna.
On April 30, 2020, SIPOL internally circulated a report entitled 'Questioned the Seguritech company in Mexico about [the] visit of the Vice Minister of Security and the superintendent of Siget.' The details in the email and file do not indicate whether Vice Minister Luna and the director of the Superintendency of Electricity and Telecommunications (Siget), Manuel Aguilar, received any undue economic benefit after a visit to the Mexican offices of a company that sells video surveillance equipment and wanted to become a contractor for the Salvadoran government. Although the report's title mentions two public officials, the document focuses on Luna.
The intelligence report asserts that there is no link between Aguilar and Luna, and that both traveled to Mexico for work via Avianca commercial flights, but also mentions that Luna and his companion's trip had 'the peculiarity of using a private jet, [and] the nature of these domestic flights is unknown." 
SIPOL hypothesized that Luna paid for the flight with funds from prison commissaries: "On October 10, 2019, Osiris Luna took a trip to Mexico with two other people that cost $27,000; supposedly, these expenses were paid by the Seguritech company, although it is assumed that [the funds] were taken from Asocambio." The Asociación Yo Cambio (I Change Association) was founded in July, 2018, under former President Salvador Sánchez Cerén (2014–2019) to administer the prison commissaries.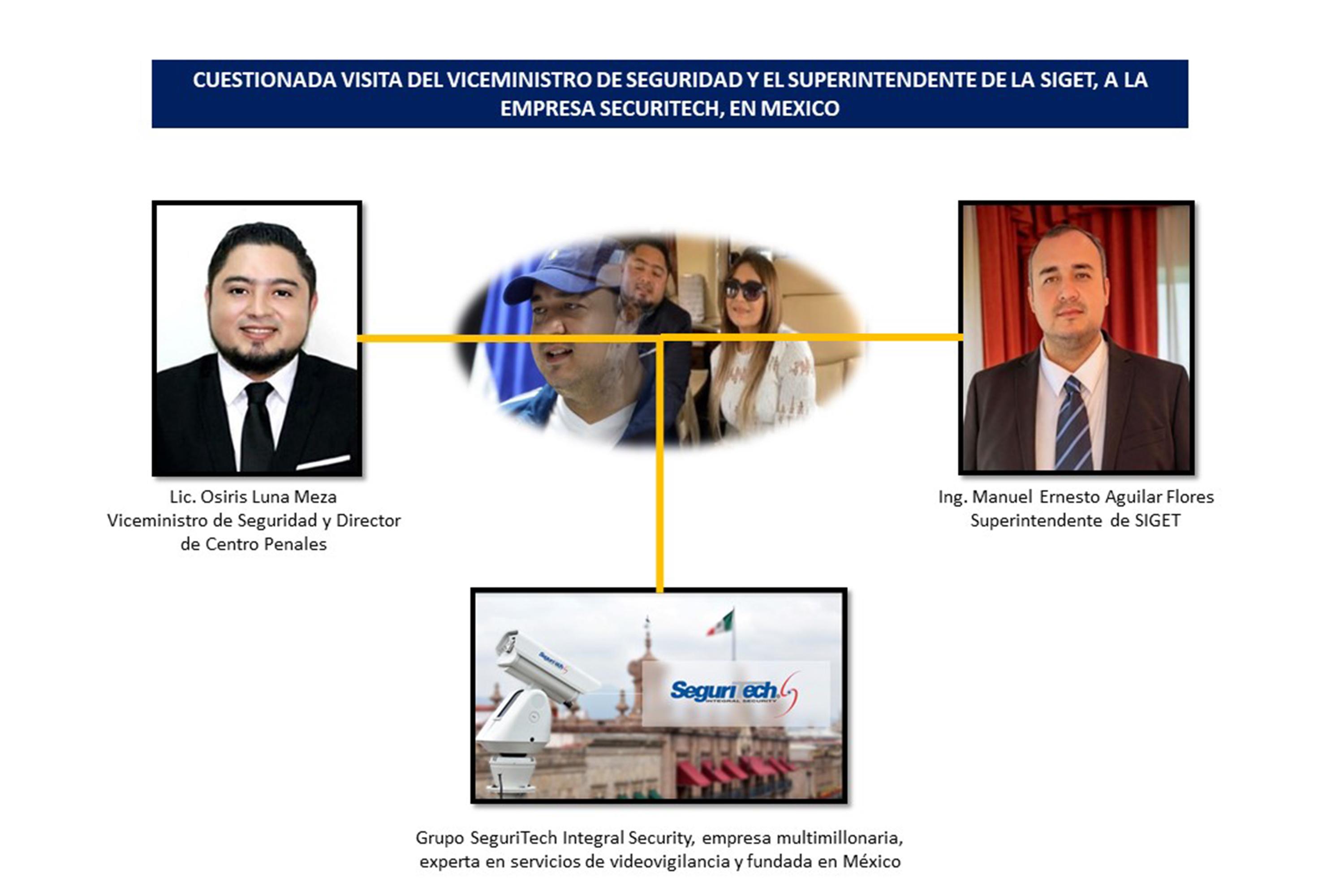 El Faro requested two price quotes from companies that offer jet transportation services within Mexico. A round-trip flight for two people on a private jet between two cities in Mexico costs $6,000 to $29,000, depending on the distance, number of people traveling, and type of jet.
In response to an information request in November, 2019, the Ministry of Security refused to reveal the cost of the trip or the origin of the funds: "We are only obligated to provide information about flights that have been paid for with public funds…otherwise, we only do so with third-party consent."
Despite SIPOL's accusations against Luna, he continues in his post a year and a half later. At a press conference in June, 2019, Bukele and Luna accused Sánchez Cerén's Security Minister Mauricio Ramírez Landaverde of embezzling $14 million through Asocambio. The following September, de facto Attorney General Rodolfo Delgado ordered the capture of Landaverde and 20 other people.
*Translated by Jessica Kirstein and edited by Roman Gressier